15 things I wish I knew before becoming a digital nomad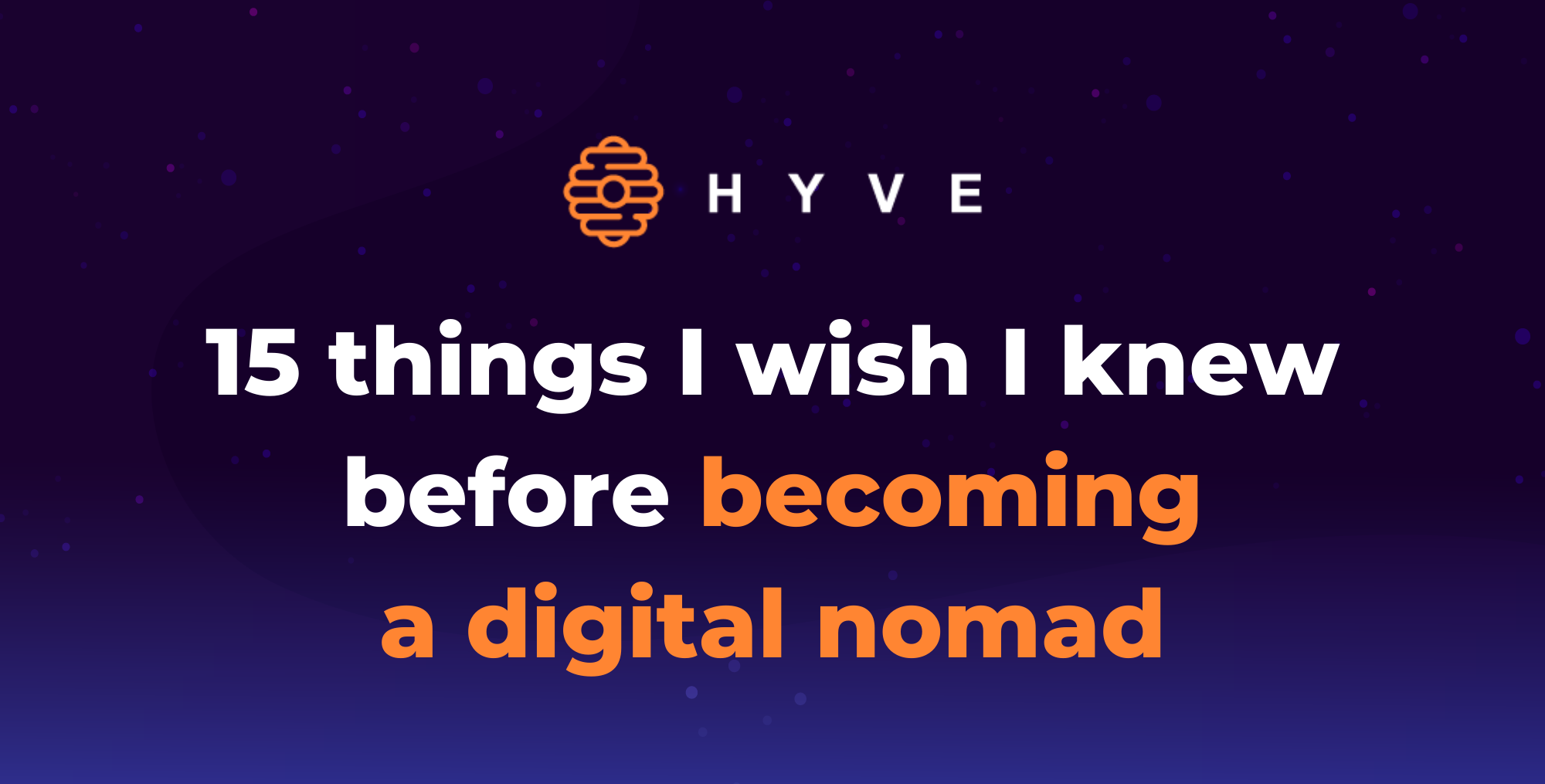 It sounds idyllic, but the life of a digital nomad is a balancing act between benefits and challenges. Digital nomads are a growing trend. New technologies and remote work have opened a world of possibilities for this type of profile. Some choose it because they want adventure and a break from the daily routine, others because they want a change of scenery, others just because they want to travel the world as they work.
People are leading more towards a life of freedom as opposed to the traditional 9-to-5 office job. We have the luxury of mobility available to us now more than ever.
---
What is a digital nomad?
Digital nomads are usually people who combine working remotely with traveling to different countries and locations.
Nomads are also different from expats and immigrants; usually, nomads stay in one place for such a short time that they don't have to become legal citizens in that country. One thing to keep in mind is that the terms "digital nomad" and "location independent" are sometimes used interchangeably, but there is a significant distinction. In reality, not every digital nomad earns enough to live and work anywhere.
Getting started as a digital nomad
The ability to travel and connect with people all over the world while still earning a living is my favorite thing about being a digital nomad. Here are the lessons learned from facing unique challenges as a digital nomad in the pursuit of freedom:
Have multiple sources of income
For digital nomads, estimating the real cost of living requires more than simply adding up the cost in a particular area and dividing it by the time spent there.
This is because digital nomadism entails additional expenses, such as:
Transportation within and between destinations.
Higher short-term lodging costs.
Becoming a digital nomad is not a straightforward path, therefore you should have an income plan regarding how you are going to achieve this lifestyle.
Find out what you are passionate about and enjoy doing
It seems like there is an endless list of digital nomad jobs that you can do to make money. There are plenty of jobs catering to a variety of skill sets, you just have to identify what you`re good at.
At the end of the day, you don't want to be doing a job just for the sake of having a job or starting a business just for the sake of owning one. It takes you nowhere in either success or passion. Being a digital nomad is not always a safe career so you better get involved with work that you are passionate about, and can leverage for the future.
Ensure internet connection and online security
While Wi-Fi is a must-have for digital nomads, cybersecurity should be equally prioritized, too. Connecting to an unsecured Wi-Fi network can expose you to cyber risks and privacy concerns, setting back your work.
Being constantly on the move means that you are vulnerable to hacks and attacks, just like everyone else. Therefore, you need to know the security basics to keep yourself safe.
Be organized and plan ahead
Goals without a plan are nothing but dreams. The most important thing you need to become a successful digital nomad is to prepare yourself before starting your new lifestyle. Having a routine and a good working connection with your clients before you hit this road will ensure you have a steady income and a good grasp of the work expected of you.
Get travel health insurance
Thanks to many who choose this lifestyle, international health insurance has become more affordable than ever. You can now easily get location-flexible health care whenever and wherever you need it. The most popular health insurance options for digital nomads are Safety Wing and World Nomads.
Do your research
A lot of people tend to underestimate the cultural differences between countries. You must do your research before visiting a new country, especially if it is very different from your own culture.
Spend the time looking into different places to make sure your choice is the best fit. Make a list of amenities you need to work and live. Then make sure anywhere you choose will provide them.
Join a digital nomad community
One of the major downsides of working remotely while living abroad is the sense of isolation.
If you're feeling lonely or lost in your business, you may need to lean on these fellow nomads during the bad times. From border-hopping to finding new clients to having someone to trade secrets for finding cheap flights, being part of a community makes it easier to be a successful digital nomad.
Learn how to master the work-life balance
Being a digital nomad can be tricky, you can explore beautiful places and enjoy them, but it might not last long if you enjoy it too much and forget your work, therefore, a digital nomad has to find the perfect balance between work and leisure. When managing work and social life as a digital nomad, keep trying to do what works best for you, and don't be too hard on yourself if things don't go as planned.
Be realistic about your priorities and values
Most freelancers are wondering if being a digital nomad is worth it. Nomad life vs. settled life can be a difficult trade-off. You're embracing uncertainty and adventure over stability and comfort. This lifestyle allows you to get to know yourself – your likes and dislikes, the means of travel you prefer, how you prefer to spend the day. Being a digital nomad does come with a fair amount of isolation as you might expect, but you should take advantage of this time to get to know yourself and define what you want.
Choose the right destination
Cities and regions throughout the world can be ranked and filtered using online tools such as Nomad List. There are various places where digital nomad culture is quite popular. These places have a relatively low cost of living, plenty of co-working spaces, and high-spirited culture: Mexico, Argentina, Bali, Buenos Aires, Taiwan, and Bangkok.
Set yourself up for financial success
Making positive financial change isn't a one-time event, it's a constant commitment. When it comes to your finances, get specific about what you want to accomplish. For instance, how much do you want to save each month? What are your investment options?
Take calculated risks, such as moving to a city with lower costs of living or taking on a new job that pays less but has more upside potential.
Make the most of your flexible schedule
One of the great aspects of being a digital nomad is being able to set your hours and get your work done when you're most productive. Some digital nomads work for three weeks and then take one week off. Other digital nomads work daily for a couple of hours each day. Some treat it like a 9 to 5 job in a foreign country enjoying mostly evenings and weekends abroad. You need to find the schedule that works best for you.
Choose the right time to travel
Before choosing when to travel, it`s best to analyze your work and find out when you have the least workload during the year. Traveling throughout these months will compensate for the time you'll need to adjust to your new surroundings and deal with all your responsibilities.
Think about coworking spaces
When you're nomadic and need to spend several hours a day in front of your laptop, you may soon find out that working from your rented apartment may be tedious and cafes may have too many unwanted distractions. Coworking spaces let you work and hang out with other entrepreneurs or freelancers and will also increase your productivity.
Some coworking spaces also have initiatives and incentives that further allow members to be part of the community
Self-management is essential
Self-management that supports your self-awareness and well-being leads to improved emotional intelligence. This means staying on top of social cues and respecting your own needs.
Establish start-up and shut-down rituals, schedule them on your calendar, and stick to them. And remember, balance is dynamic. Take some time to consider in what ways you excel at self-management, and where you might improve.
---
Digital nomads and the future of work
The future of work is already being shaped by digital nomads, with increased flexibility becoming the new norm and co-working spaces springing up in every city. As interest in digital nomadism has spiked during the pandemic, the term is increasingly becoming wider – a sort of new and upgraded digital nomad.
You can travel every week or you can choose a home base and stick around in one country for a longer period. It`s up to you. Once you figured out how to make money as a digital nomad, you can either enter the gig economy by marketing and selling your services on your own, or you can find work opportunities on decentralized blockchain-based freelance platforms like HYVE.
This is where we`re at. A year ago, the world couldn`t imagine the way we all live nowadays. The patterns around us are breaking and we have a historic opportunity in designing our lives. Are you building a life based on a design someone handed you or do you want to decide on your own?
You don`t have to sell your belongings or travel the world if you don`t want to. You do have to think for yourself. This digital nomad lifestyle is achievable if you want it and put your mind to it.
🐝 Want to learn more about HYVE?
🐦 Follow us on Twitter.
🗨️ Join our Telegram Group.
📢 Join our Announcement Channel.
💡 Join our Discord.
✅ Follow us on Instagram.
👍 Like us on Facebook.
🌍Visit our Website.