We're putting $ADS on HYVE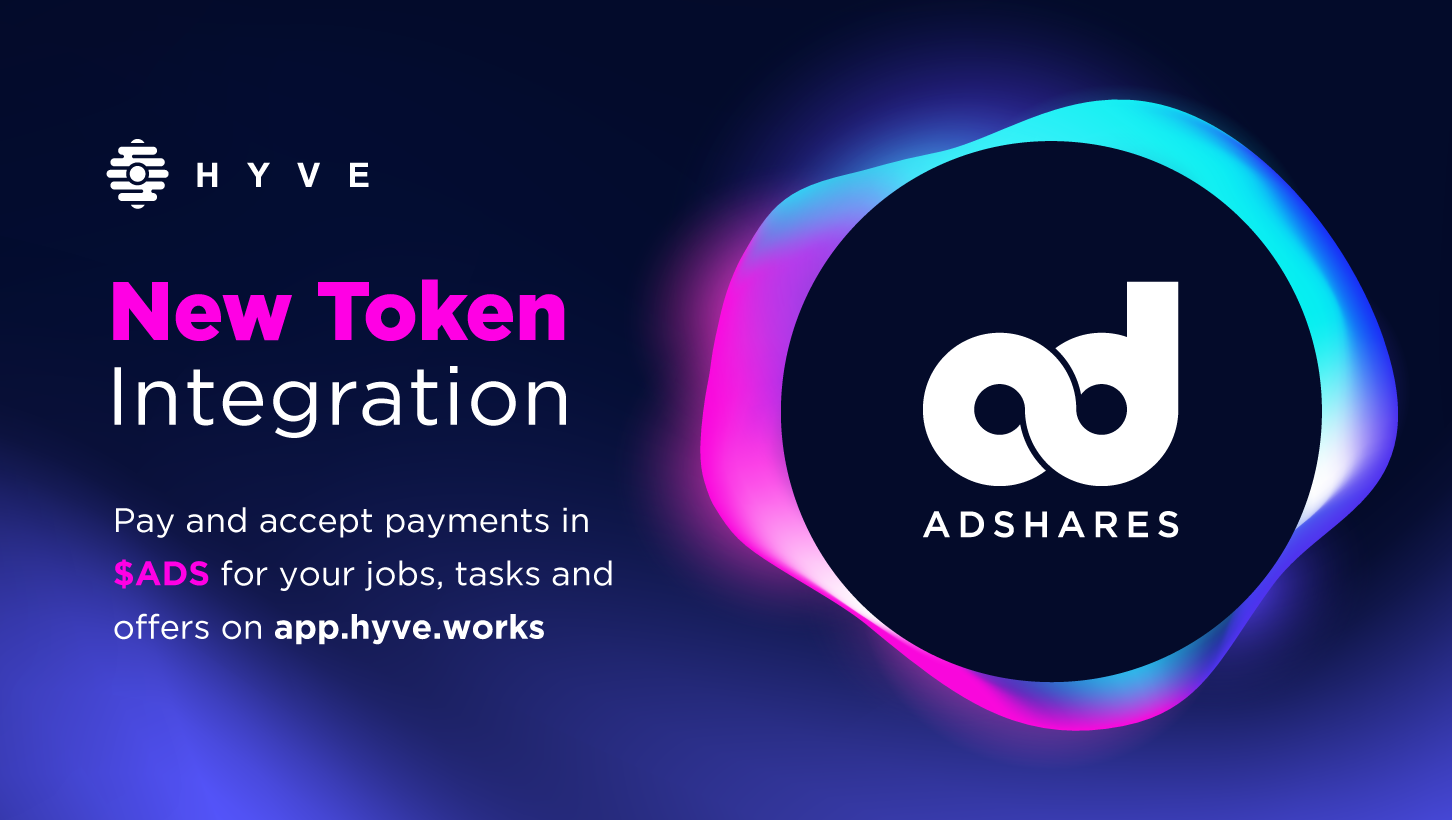 How was everybody's vacay, HYVERS? HYVE is back on track with yet integrating another project that will blow your mind just the way it did to us! Our latest integration is not only helping small business, but providing aid for web2 tech companies in adopting blockchain technology effortlessly - by sharing their own protocol, utility and expertise.
Now, let's give it all out for Adshares Network, a decentralized peer-to-peer market for programmatic advertising, that will provide you with better transparency, less fraud, and reduced costs all in one! Its 3 contract addresses run on different blockchains, giving you the diversity and options that you want for paying in your new desire token on the HYVE network!
ETH: 0xcfcecfe2bd2fed07a9145222e8a7ad9cf1ccd22a
BNB: 0xcfcecfe2bd2fed07a9145222e8a7ad9cf1ccd22a
POL: 0x598e49f01befeb1753737934a5b11fea9119c796
What are you waiting for? Enter the contract address in your e-wallet and start paying for jobs, tasks, or offers on HYVE!
---
Adshares – helping small businesses has never been so easy & effective
As we previously said in the intro, Adshares is revolutionizing the Web3 market at an antagonizing pace. All the facilities it provides for its own users, mainly businesses on the verge of coming up, point to one thing - publicity and delivering ads. Maybe you thought, how would promoting my brand will help? Adshares delivers your answer - increasing customer reach & building customer awareness for your brand.
Adshares – a three-layer complete sandbox for your web3 transition
Adservers and Apps - built on Adshares, it allows interaction between Publishers and Advertisers, creating a new web3 advertising economy.
Adshares Protocol - the backbone of a new web3 advertising world, it enables the ad tech industry to adopt blockchain with minimum effort.
Adshares Blockchain - is capable of handling all ads settlements in $ADS between Publishers and Advertisers in the digital world, by making it ultra light and fast.
📣
Adshares is a decentralized advertising Web3 protocol designed to provide blockchain-based ad software to the ad tech industry. Adshares is a self-contained ecosystem with interconnected components, the main ones being the blockchain and the protocol.
Here, the blockchain is responsible for the transmission of payment transactions, while the protocol stands for transmission of advertising information that operates based on the blockchain. The protocol enables advertisers to manage all their digital advertising from one place - and helps creators and publishers to monetize their space in Metaverse, blockchain games, NFT exhibitions, websites and any advertising space in the world (duh!).
What is an Adserver and why it would help?
AdServer is an open-source software that can be run by any participant in the Adshares ecosystem to handle their own publishing inventory, by being connected to other microservices handling various functions required for the protocol operations like ad classification provider, ad selection algorithms, and so on. Metaverse, web3 apps, and games can run their own instance of adserver or can use hosted one. It combines both DSP and SSP functionalities and may serve any ad type at any place, helping you manage the entire scope of your digital marketing efforts in one place.
Keep in mind that each AdServer is unique yet every one of them can communicate with each other to benefit from a decentralized environment - they can exchange traffic and data. In addition, companies can also build their own apps on the Adshares protocol, without the need for the AdServer.

Why should you choose Adservers?


Storing and publishing ads in the network
Free choice of analytical data vendor
User-friendly interface
Open-source software - run your own adserver
No entry barriers
Instant access to all network placements
Adshares Protocol
On the Adshares platform, the protocol stands for transmission of advertising information that operates based on the blockchain. Adshares Protocol enables advertisers to manage all their digital advertising from one place - and helps creators and publishers to monetize their space in Metaverse, blockchain games, NFT exhibitions, websites and any advertising space in the world.
The layer of protocol in its ecosystem is used to exchange information. Together with blockchain for exchanging the value, it places Adshares as a standard for sharing new web3 advertising economy. Simply put, Adshares allows to simplify the process of getting new audience. Every AdTech company by single integration is able to reach exposure to any market in the world. Sounds like a dream come true, right?
Adshares Blockchain
Adshares has developed a proprietary blockchain, designed just for the transmission of payment transactions and advertising them . Adshares blockchain operates using the native $ADS in which all transactions are settled. Therefore, think of the ADS blockchain as a working "railworks system" for all future digital ads Blockchain is ready to easily scale up and process all ad transactions in the world.
ℹ️
Adshares' PoS blockchain has proven capable of holding the entire programmatic industry's advertising settlements. It can do more than 1,400,000 transfers/sec!
---
A little background on their token, $ADS...
Running on an ESC Blockchain, this project uses its own token - $ADS, for ad payments, whereas, at the end, fees collected from processing payments are distributed among token holders. $ADS serves as fuel of the world's advertising economy, all settlements within the ecosystem are done in $ADS.
$ADS serves as the digital advertising settlement for high-volume ad transactions across Web2, Metaverse and DOOH. All ad settlements that run in Adshares' ecosystem are made by using the token, creating the direct payment deals between publisher and advertiser without intermediaries. The presented system increases the profit for publishers, and saves the funds of advertisers accordingly.
ℹ️
To date, the Adshares ad network has served more than 2 thousand advertisers and hundreds of publishers (the owners of websites), the protocol being implemented and therefore displaying ads in virtual worlds like Decentraland and CryptoVoxels. More metaverses are either signed or coming.
---
Now back to us
We scared you for a second out there, didn't we. HYVE will not run ads anytime soon, but we'll make sure our freelancers have utmost visibility. We are getting new jobs, and as we speak, more freelancers are finding out about the benefits of web3!
We always like when new partner projects have something good to say about HYVE, and we welcome all praise!
We're excited to join forces with HYVE, the leading marketplace for influencers, to bring our cryptocurrency to their platform. We believe that this collaboration will not only benefit our respective companies but also contribute to the growth and adoption of decentralized technologies in the industry. We look forward to a successful partnership with HYVE and exploring new opportunities together.
As part of the partnership between HYVE and Adshares, Adshares will soon offer a unique opportunity for freelancers to order a debit card charged with $ADS coins. This will allow freelancers to easily make online payments or shop in physical stores using their ADS tokens. By providing this option, Adshares and HYVE are enabling individuals to seamlessly integrate the use of cryptocurrency into their daily lives, further supporting the growing adoption of digital currencies as a legitimate means of payment.

This move marks a significant step forward in making cryptocurrency more accessible and user-friendly for everyone.  This is another important step in our quest for further adoption of cryptocurrencies!
Head over to our Twitter for more announcements!