New Token Integrations - $ALCX, $alUSD, $alETH & $gALCX all available on HYVE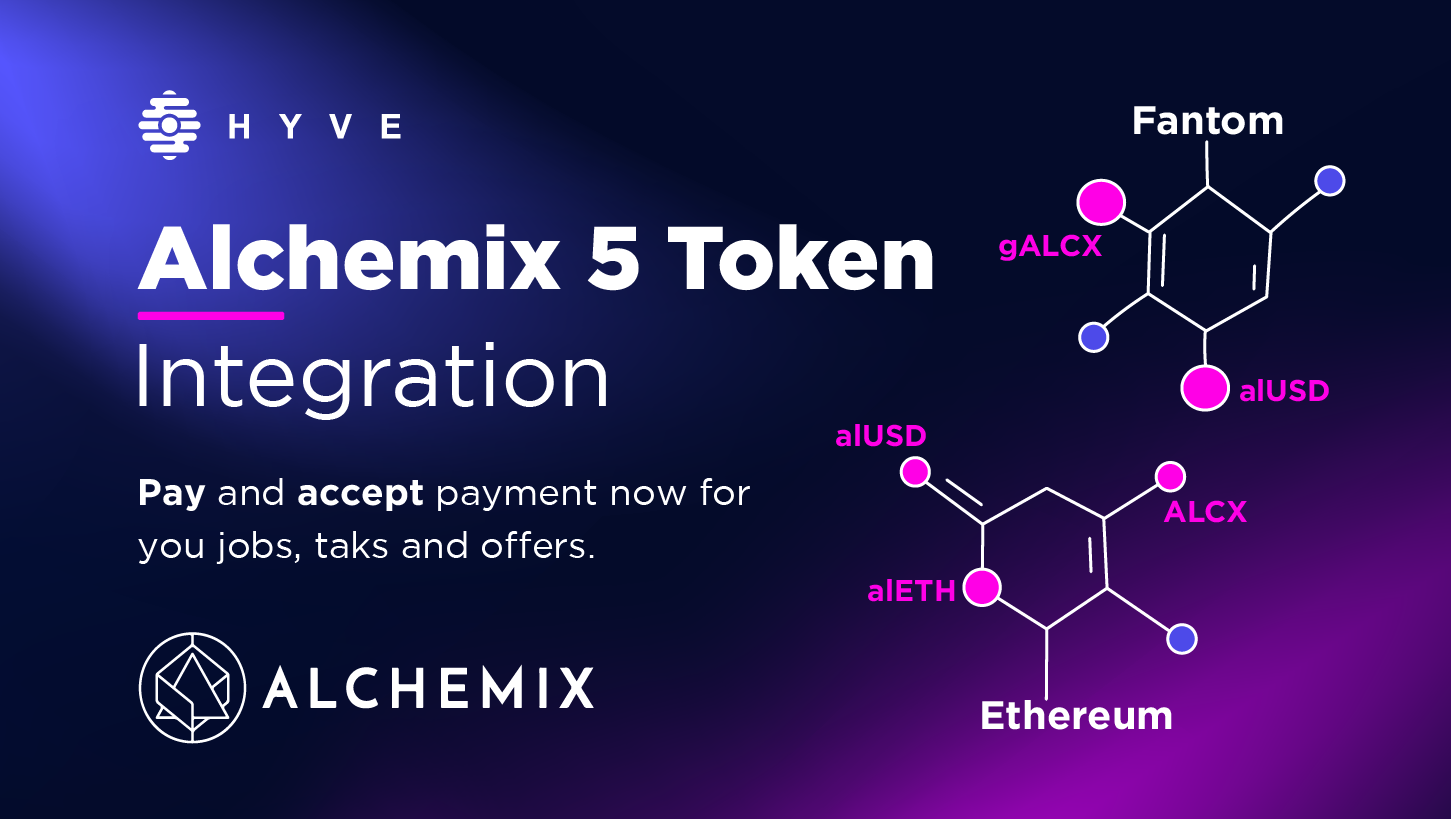 HYVE's newest achievement will be the successful integration of 5 tokens in one go. We are truly very excited to welcome Alchemix's tokens to the platform, which will set a new record for the highest number of tokens to be integrated simultaneously at HYVE.
This move marks an important step toward becoming a universal platform for freelancers, allowing payment in an increasing number of cryptocurrencies, and giving users the ultimate freedom.
HYVE's dedicated approach is yet again highlighted with this significant five token integration in one swift step; the result of which is hoped to further empower our freelancers and clients by bestowing them with full control over their payment methods.
Why have one when we can have five?
The 5 new tokens which will soon be found as payment options for tasks, jobs, and offers, along with their corresponding contract addresses which you can add to your wallets, are as follows:
The primary token, $ALCX is the governance token for the Alchemix Finance protocol, meaning that it can be used to propose and vote on changes made. The $alUSD token is a fully-collateralized synthetic stablecoin representing future yield powered by the Alchemix protocol, the stablecoin is minted by DAI, USDC, or USDT deposits in the Alchemix Vault and similarly to most ERC20 tokens, $alUSD can be traded and may experience price fluctuations. This increased variety of tokens provides earning potential for its users, with a good example being boosted yield. $gALCX offers staking and auto-compound features on multiple chains.
The benefits go on for the rest of the tokens which are to be integrated, more detailed information can be obtained regarding each token in the Alchemix docs at https://alchemix-finance.gitbook.io/user-docs/ or through the contract address links above.
About Alchemix
Ultimately, the project responsible for all the aforementioned tokens is Alchemix. Alchemix is a protocol that lets its users automatically pay off collateral-backed loans that they have opened, using the yield generated by the collateral. These are called self-repaying loans.
If the name doesn't already suggest the extent of its innovative nature, it should be noted that Alchemix surpasses expectations by tokenizing the current interest for what the collateral could yield in the future. This bases the crypto loan that users receive on the future yield value of the collateral. Moreover, these loans overcome the risk of liquidation by only allowing users to borrow the matching synthetic asset for the collateral they deposited.
Overall, the idea of Alchemix is that it is a DeFi protocol that promotes the creation of synthetic tokens in order to represent the future yield of a deposit, therefore encompassing the definition of a dynamic and ingenious new DeFi primitive that presents users with countless opportunities.

HYVE's foreshadowing…
The first thing to look forward to is the fact that HYVE will be restarting its informative blog series on the topic of freelancing, this comes after a brief break whilst we focused on resolving technicalities and consolidating the V2 among other novelties such as our referral program. If you have any specific content that you would like HYVE to write about we invite you to comment on our Twitter as all suggestions are welcome!
This quintuple token integration propels HYVE further along the line to a complete diversification of payment options and to further adoption, the supreme end goal that we all hope for. As repeatedly promised, HYVE will develop its ecosystem and work on bringing more utility and new users from a range of communities. We will be back with a new blockchain and further token integrations in the close future.
Last but not least, we've recently had our first user testimonial, which we are thrilled about and so are eager to hear more of your stories soon, don't hesitate to share or get in touch on any of our social media!
🐝 Want to learn more about HYVE?
🐦 Follow us on Twitter.
🗨️ Join our Telegram Group.
🏦Want to learn more about Alchemix?
🐦 Follow them on Twitter.
🗨️ Join their Discord.
Disclaimer
The information provided does not constitute investment advice, financial advice, trading advice, or any other sort of advice, HYVE does not recommend that any cryptocurrency should be bought, sold, or held by you. Please do your own risk assessment when deciding how to invest in cryptocurrency and blockchain technology. HYVE is not liable for investment gains or losses.