All your favorite tokens are now on AVAX!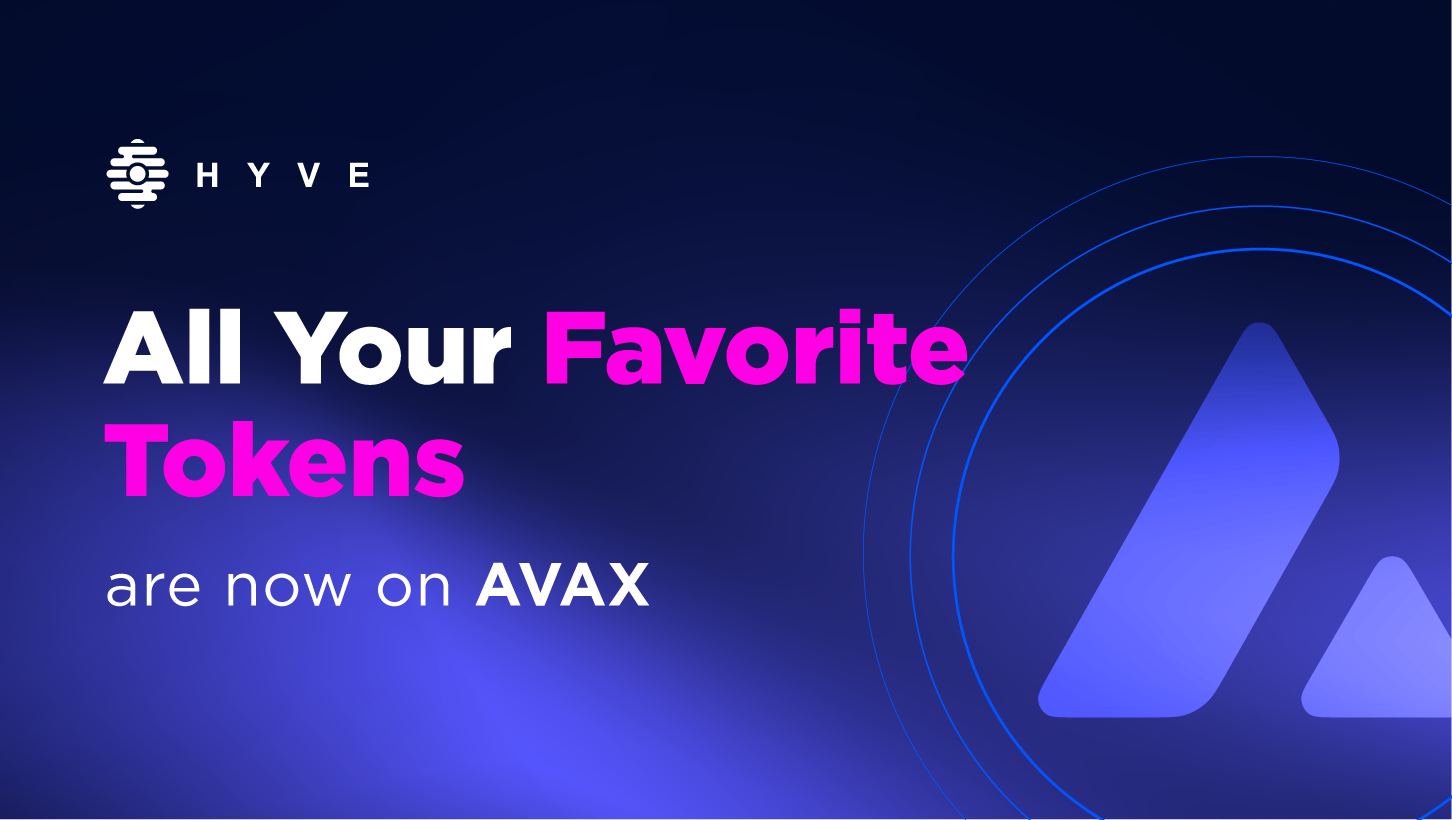 What's up dear HYVERs, are you not entertained? We are talking about the Avalanche integration, of course, opening up new possibilities and potential for partnerships. Not to mention the endless potential on the token integration front, and this is exactly what we are doing today.
We are happy to integrate not one, nor two, but 24 tokens on Avalanche (25 if you count $AVAX, but that is already different)! Some of them you may know as we have previously partnered with them, so this will feel a lot more like a recap of some of our best tokens.
Buckle up and let's head into the integration list!
❗
Before we start, make sure you have registered on HYVE, in order to get paid on the Avalanche network in all your favorite tokens, for almost to 0 fees, as well as instant and secure transactions.
---
NFTrade - dare to be unique
We all love a good NFT project, especially if they can provide us with the full instruction on how to discover the full potential of the NFT ecosystem!
NFTrade is a decentralized cross-chain NFT platform, marketplace, and aggregator, allowing anyone to seamlessly create, buy, sell, swap, farm, and leverage NFTs across different blockchains. Copy the contract address down below and use it to pay for jobs, tasks, or offers on HYVE:
Avalanche: 0x9e3ca00f2d4a9e5d4f0add0900de5f15050812cf
Degis ($DEG) - filling the gap in the DeFi insurance world
Being the first decentralized protection protocol built on Avalanche, ain't no easy task! Degis wants to completely disrupt the traditional insurance market and let those conservative guys out.
The project leverages blockchain technology to solve two key problems in the traditional protection market: excessive operation costs and non-transparent claims. Basically, it eliminates the traditional way insurance markets work. Copy the contract address and let Degis do its magic!
Avalanche: 0x9f285507Ea5B4F33822CA7aBb5EC8953ce37A645
Chainlink ($LINK) - the world's most appreciated
Available on a lot more blockchains, Chainlink is a decentralized oracle network, that was created in 2017 to address the issue of smart contracts having to rely on external data sources to execute their terms, for example, on APIs.
Chainlink's technology claims to solve one of the biggest challenges for the practical implementation of smart contracts, connecting blockchains to real-world data, such as price feeds or delivery confirmations, through so-called oracles blockchain connectivity.
Avalanche: 0x5947bb275c521040051d82396192181b413227a3
Radar - our longest partners
Radar has been one of our oldest friends, helping us from the early days of HYVE. You might remember the RADAR Bridge, as well as all the other benefits they provided, and again, they are in for a ride!
The Graph (GRT) - bringing reliable DeFi infrastructure to the mainstream market
Also, called the Google of blockchains, The Graph is an indexing protocol that works with several different blockchains. It uses something called "subgraphs" to create datasets that can be shared across applications.
If we continue the Google analogy, one is the search engine of the current iteration of the internet, but The Graph will be the search engine for Web 3 - the next generation of the internet. Come and join the Web3 revolution by adding this to your e-wallet!
Avalanche: 0x8a0cAc13c7da965a312f08ea4229c37869e85cB9
Frax ($FRAX x $FXS) - stablecoins arise!
Frax is a fractional-algorithmic stablecoin, it is the first cryptocurrency to be partially backed by asset collateral and partially stabilized by cryptographic algorithms. Algorithmic stablecoins reach a stable value and balance their circulating supply by being based on a different reserve asset.
The end goal of the Frax protocol is to provide a highly scalable, decentralized, algorithmic money in place of fixed-supply digital assets like BTC. As a result of this, Frax makes use of two different assets - $FRAX stablecoin, which is pegged 1:1 to the US dollar, and the $FXS token, which is used as a governance and utility token.
Avalanche: 0xD24C2Ad096400B6FBcd2ad8B24E7acBc21A1da64
Yearn.finance ($YFI) - your all-time aggregator
Yearn.finance is a DeFi protocol that offers some of the highest annual percentage yields compared to various DeFi protocols, as it allows the users to deposit money directly into the liquidity pools and earn interests.
It provides with impeccable security standards, and the governance lies with only YFI holders, making it a self-governed platform. This implies that the finance community that uses the protocol will monitor it (where one token has one vote). See how it works for yourself by copying the contract address down below!
Avalanche: 0x9eAaC1B23d935365bD7b542Fe22cEEe2922f52dc
BiLira ($TRYB) - on-ramp solutions for Web3 adoption
A new stablecoin lands on HYVE's payment system! Aiming to democratize finance,and make it accessible to everyone, BiLira is the stablecoin provider pegged to the Turkish Lira, preparing, therefore, the Turkish people and Turkey for the coming financial revolution and to create equal opportunity for everyone!
Avalanche: 0x564A341Df6C126f90cf3ECB92120FD7190ACb401
Magic Internet Money ($MIM) - the name says it all
Magic Internet Money is a decentralized, collateral-backed stablecoin connected with a DeFi platform, Abracadabra.money. MIM is always 1:1 to the USD and can be used as a bridge asset to multiple chains.
See the magic unveil before your eyes by copying the contract address down below and paying for jobs, tasks, or offers on our platform!
Avalanche: 0x130966628846BFd36ff31a822705796e8cb8C18D
USD Coin ($USDC) - digital money for the digital age
One of the leading stablecoins in terms of stability, USD Coin is a stablecoin that is pegged to the U.S. dollar on a 1:1 basis. Every unit of this cryptocurrency in circulation is backed up by $1 that is held in reserve, in a mix of cash and short-term U.S. Treasury bonds, therefore fullfilling its role to serve the public interest when it comes to updating the financial system.
Avalanche: 0xB97EF9Ef8734C71904D8002F8b6Bc66Dd9c48a6E
Tether USD ($USDt) - time 2 update the financial system
Voted as the world's most popular stablecoin, Tether aims to combine the benefits of blockchain technology with traditional currency by anchoring, pegging or tethering digital tokens to the US Dollars, Euros, and other fiat currencies. Tether exists on two protocols- the Omni Protocol and as an ERC20 token and it is essentially a hybrid crypto-fiat "stablecoin".
Avalanche: 0x9702230a8ea53601f5cd2dc00fdbc13d4df4a8c7
Wrapped Ether ($WETH) - wrapping it up
Wrapped Ether is an ERC20 token that encapsulates ETH to make ERC20 more consistent, so it can be exchanged through decentralized trading. The mechanism of such coins is similar to that of stablecoins.
Stablecoins are essentially "wrapped USD" in the sense that dollar-pegged stablecoins can be redeemed for FIAT dollars at any point. In a similar fashion $WETH, and all other wrapped coins can be redeemed for the original asset at any time.
Avalanche: 0x49D5c2BdFfac6CE2BFdB6640F4F80f226bc10bAB
Wrapped Bitcoin ($WBTC) - you thought BTC was not on the list?
Just like $WETH, Wrapped Bitcoin, is the tokenized version of cryptocurrency, in this case $BTC, that is pegged to the value of the original coin and can be unwrapped at any point.
Wrapped coins solve a particular problem: because of the low interoperability of blockchains, native coins of one chain cannot be used on another chain. For instance, you cannot use Bitcoin on the Ethereum blockchain and you cannot use Ether on Bitcoin or Avalanche. Wrapping coins solves this problem by tokenizing them and applying the blockchain's token standard to the tokenized version of the original cryptocurrency! Amazing, isn't it?
Avalanche: 0x50b7545627a5162f82a992c33b87adc75187b218
Wrapped BNB ($WBNB)
Just like the previous ones, Wrapped BNB is a blockchain token pegged to the value of Binance Coin (BNB), the native token of the Binance cryptocurrency exchange. $WBNB conforms to the BEP-20 standard on the BNB Smart Chain (BSC), a blockchain network that supports smart contracts and decentralized applications (DApps).
$WBNB allows users to use $BNB to participate in DeFi, such as providing liquidity in liquidity pools, yield farming, and trading on decentralized exchanges (DEXs).
Avalance: 0x264c1383ea520f73dd837f915ef3a732e204a493
DAI ($DAI) - day and night
Created by Maker DAO, DAI is a stablecoin that aims to keep its value close to that of the United States Dollar by making use of smart contracts on the Ethereum blockchain.
Did you know that the word DAI comes from the Mandarin word for "loan"?
Avalanche: 0xd586e7f844cea2f87f50152665bcbc2c279d8d70
Ferrum Network
Ferrum Network is an interconnectivity network designed for decentralized cross-chain financial applications, aiming to enable the management, transaction, and exchange of any digital asset, without taking custody of users' assets.
Built on a directed-acyclic graph (DAG) network, which is faster, less costly, and more scalable than building on traditional blockchains. Ferrum is blockchain agnostic, meaning it will support assets from any network, and is not limited to ERC-20 tokens.
Avalanche: 0xe5caef4af8780e59df925470b050fb23c43ca68c
RadioShack ($RADIO) - turning to crypto
RadioShack, which you might best remember for carrying all manner of trending electronics goods since its founding in 1921, is restructuring! After being a 100-year-old brand embedded into the global consciousness, this company is now on a mission to be the first protocol to bridge the gap to mainstream usage of blockchain and cryptocurrencies!
As a first step, RadioShack is fixing the chaotic and dispersed nature of liquidity addition on today's AMMs. To solve this problem, RadioShack aims to significantly reduce the diameter of the graph of swappable tokens, and increase liquidity per pair.
Avalanche: 0x02bfd11499847003de5f0f5aa081c43854d48815
SpiceUSD ($USDS) - spice & everything nice
The Spice Trade protocol is introducing a revolutionary new concept: a stable currency that automatically adjusts and protects against inflation. Monthly, as the US Bureau of Labor Statistics releases CPI data, the parity for iUSDS adjusts to take into account for inflation (or deflation). The objective here is to create a stable currency that maintains the relative purchasing power of the USD.
Avalanche: 0xab05b04743e0aeaf9d2ca81e5d3b8385e4bf961e
Spell ($SPELL) - we are under your $SPELL
Part of Abracadabra.money's ecosystem, Spell functions as a reward token for producing incentives. The platform allows users to deposit collateral and borrow Magic Internet Money (MIM), engage in yield farming, staking, and more, in order to farm SPELL. All of this facilitates better liquidity for certain crypto pairs, such as ETH/SPELL, as well as MIM/3CRV.
Avalanche: 0xce1bffbd5374dac86a2893119683f4911a2f7814
TrueUSD ($TUSD) - the most trusted stablecoin
Voted as top 100 cryptocurrencies in the market, TrustToken is a stablecoin that is pegged to the US dollar at a 1:1 ratio. $TUSD is one of a few cryptocurrencies that aims to facilitate increased liquidity and to provide traders and other users with an asset that is relative to other free-floating tokens such as Bitcoin!
Avalanche: 0x1c20e891bab6b1727d14da358fae2984ed9b59eb
---
Are you not entertained?
Even in a bear market, HYVE thoroughly delivers. We are more than happy to see your enthusiasm as we are further building our product. Make sure to follow our journey on social media, as we post regular updates and give you a glimpse into the future!