New token integration: $BOB is live on HYVE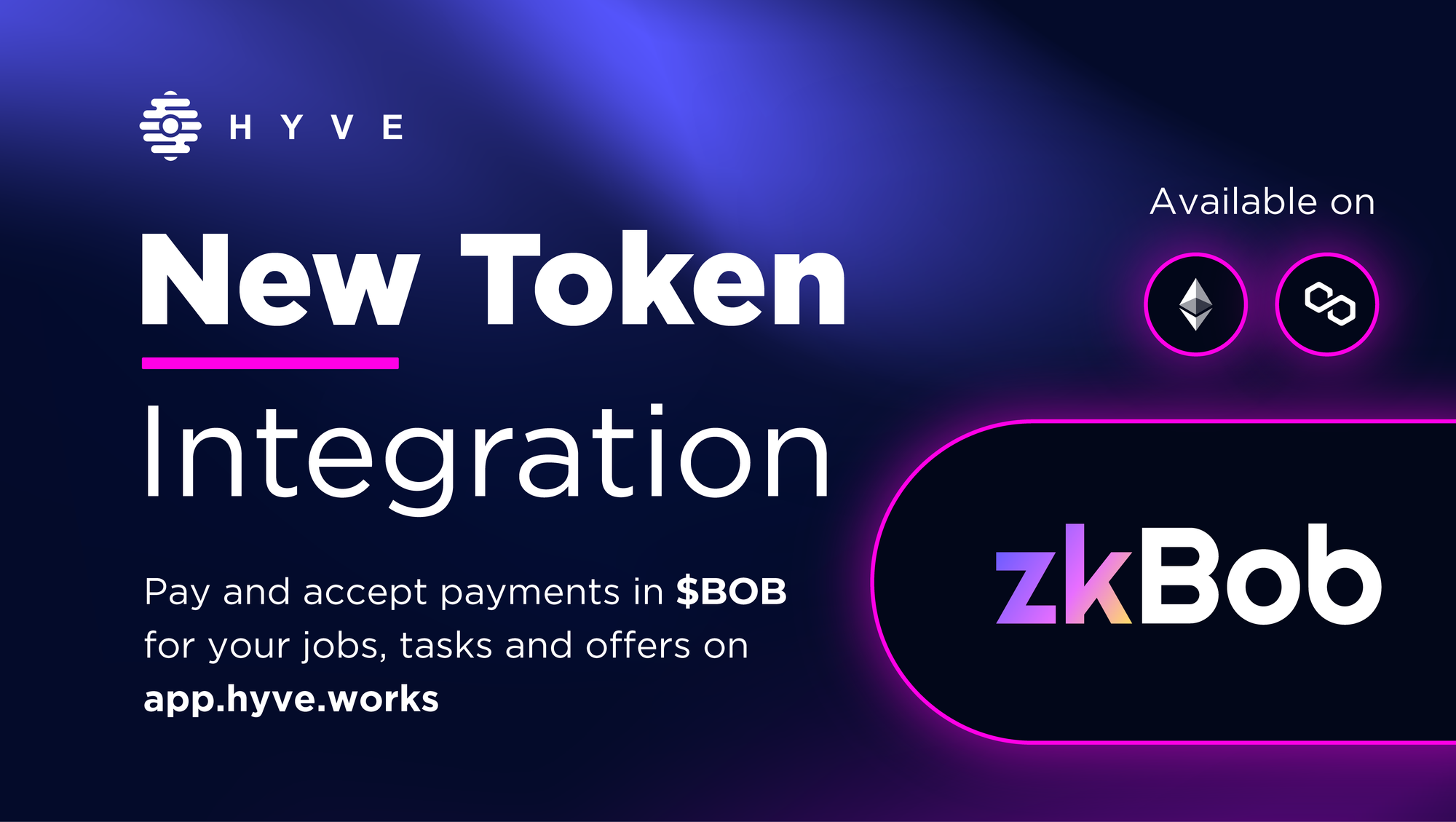 Can't stop won't stop - that's what we say when people ask us about token integrations! We are well on track with our goal of integrating over 100 payment options by the end of the year, with us expanding our partner base and delivering the best opportunity through jobs and tasks coming from leading startups in the blockchain space.
Today we are excited to partner up with zkBob an incredibly effective way to transfer funds between Bob, Alice and everyone else!
A friendly and secure app that gives you freedom!
Private transfers have always been one of the main concerns within the crypto space. The zkBob app simply allows you transfer, deposit and withdraw stable assets in a secure and anonymized manner. zkBob (with zk standing for Zero Knowledge) leverages technology and allows for symple and efficient, private transfers, where disclosure of recipient and total amounts is hidden.
Although blockchains had been built for transparency, zkBob ensures that all details of a transaction can remain private. One of the main advantages of zkBob is that they are easy to use, with their native app boasting a friendly UX/UI and providing intuitive functionalities. Thus, stablecoin transfers are just a couple of clicks away, with fees kept at a minimum.  
zkBob is also open source, meaning that the contracts, library and codes are available to the general public. It's design is also compatible in nature with other major decentralized apps such as Uniswap, Aave, Polygon and USDC, but is not limited to them. zkBob can be integrated with a multitude of dApps!
Get to know $BOB!
$BOB is a multi-chain & multi-collateral stablecoin that provides enhanced privacy features. $BOB tokens remain stable, since they are pre-minted and paired with an existing major stable token (multi-collateral, for example USDC and BUSD) on Uniswap V3. Uniswap v3 features the ability to set a range for the exchange rate and provide concentrated liquidity for the pair, resulting in very limited slippage to the stablecoin peg.
Transfers of $BOB are performed within the zkBob application, once you have deposited in one of their pools.  Once there are funds in the app, private transfers do not require any external wallet such as MetaMask and WalletConnect to be performed. You only need $BOB and there is no additional fee token!
$BOB will ultimately explore new privacy features (but not limited to), allowing for governance and value capture for users. This will result in redistribution of lost funds, compounding yield returns and many more!
ETH: 0xB0B195aEFA3650A6908f15CdaC7D92F8a5791B0B
Polygon: 0xB0B195aEFA3650A6908f15CdaC7D92F8a5791B0B
HYVE and zkBob
Our new partners at zkBob have been convinced by our Platform and are looking to hire. If you have technical skills, know some marketing or general admin, you should consider applying - the following positions are open: zkResearcher & Protocol Developer, Payroll Assistant and Community/Biz Dev Manager. Do keep an eye out for the job announcements within this week!
What is more, we recently had another AMA with some of our partners - later this week we will come out with a transcript. We absolutely love when our users discover more about the projects that we partner up with and find potential new investments.
Lastly, HYVE V2.3 has come out. Some of you have seen the incremental improvements brought to our platform, however, we are finally documenting it all. It is time to tune in on our latest development update later this week so make sure to keep posted!
Disclaimer
The information provided does not constitute investment advice, financial advice, trading advice, or any other sort of advice, HYVE does not recommend that any cryptocurrency should be bought, sold, or held by you. When deciding how to invest in cryptocurrency and blockchain technology, please do your own risk assessment. HYVE is not liable for investment gains or losses.
🐝 Want to learn more about HYVE?
🐦 Follow us on Twitter.
🗨️ Join our Telegram Group.
🚀Want to learn more about zkBob?
🐦 Follow them on Twitter.
🗨️ Join their Telegram Group.