New Token Integration: $BOO integrated on HYVE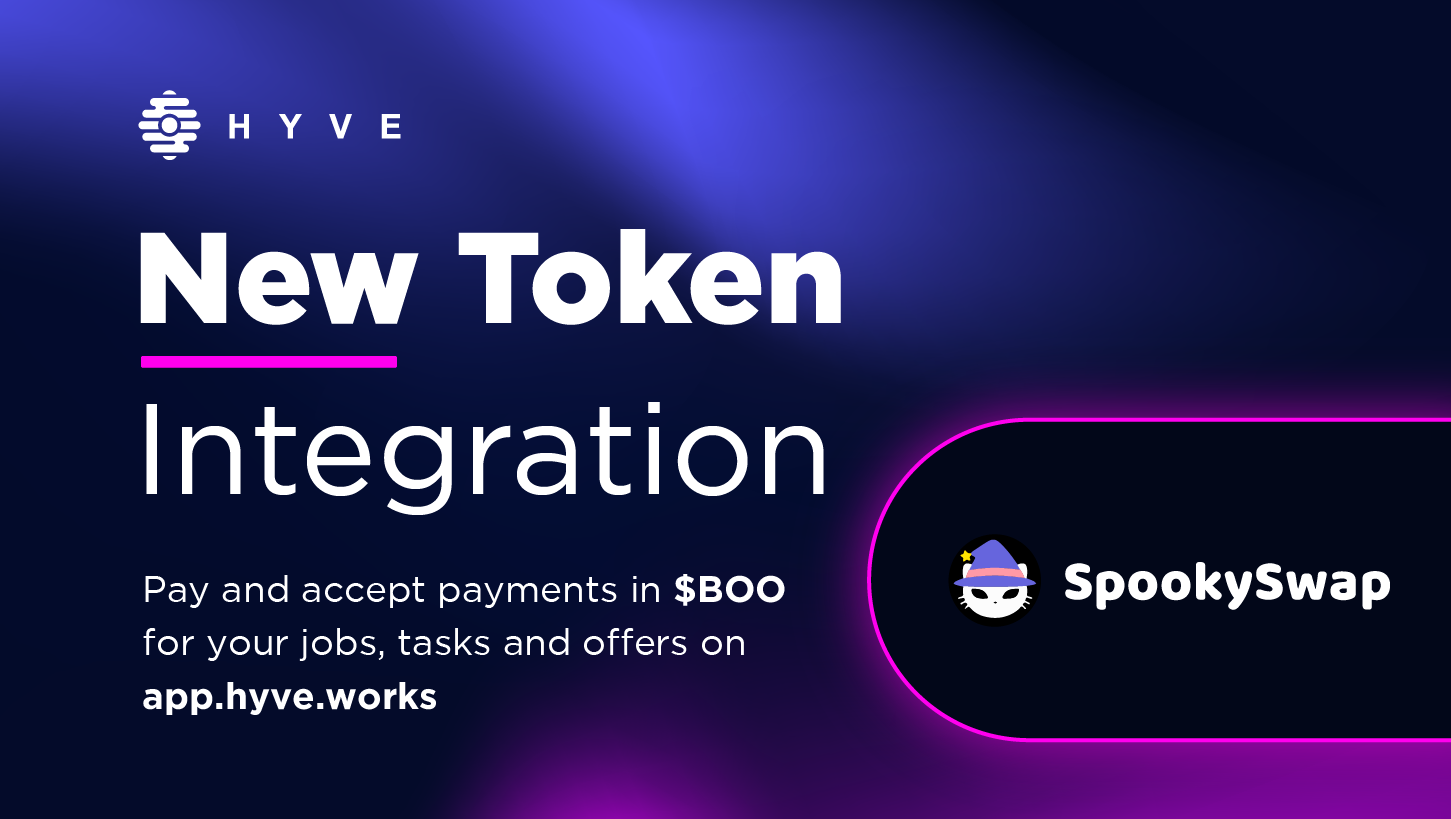 HYVE is pleased to announce that $BOO from SpookySwap is now integrated on Fantom, taking us another step closer to further adoption and creating a universal platform for freelancers!
We are relentlessly integrating new tokens to reach complete diversification, thus providing you with the most optimal methods for payment of tasks, jobs, and offers on the HYVE platform.
Here's everything you need to know about $BOO…
$BOO token is the governance token of SpookySwap. This means that it holds a lot of influence and empowers the community in the decision-making process by allowing them to vote on important matters.
The main uses of $BOO include:
Fees (future)
Governance
Yield farm
Moreover, $BOO can be staked for the buyback token, xBOO, and to automatically earn more BOOs in the staking pool and in partner pools to earn the respective partner tokens, on top of this, $BOO can also be used as collateral on other protocols.
About SpookySwap
SpookySwap is a DEX and yield farming protocol on Fantom blockchain, it uses $BOO as its governance token and has diverse farms, a built-in bridge, built-in limit orders, and is a user-centered service. Spooky Swap uses the top speed of Fantom opera to leverage diversified funds across ecosystems. Fantom also prides itself with its speed, security, and scalable transactions, bringing these benefits to SpookySwap. As usual, DEX users can use SpookySwap to provide liquidity to earn fees, swap tokens, and yield farm to earn emissions of BOO tokens.
SpookySwap allows users to trade tokens with limit orders at the lowest fees, manage liquidity, stake at farms and pools, bridge from Ethereum, Binance Smart Chain, and many others, and also benefit from their Genesis NFT series, which sold out in less than 5 minutes.
It has been rated as the number 1 native Fantom protocol and is in the top 5 decentralized protocols.
Fantom Address: 0x841FAD6EAe12c286d1Fd18d1d525DFfA75C7EFFE
Ethereum Address: 0x55aF5865807b196bD0197e0902746F31FBcCFa58
Coming up next…
As you may already know, HYVE has been very busy in the last few weeks with the new app.hyve.works platform going live, which brought a reshuffled ecosystem and a complete rebranding, including a website redesign, infrastructure improvements, a functional mobile platform, and our marketplace for creatives, HYVE Bazaar.  Even more recently, we've seen multiple job openings posted by PundiX, and we welcomed our first referral program this Tuesday. We're looking forward to integrating the Function X blockchain as soon as it is available and more to facilitate our mission of opening up to a broader community, HYVE also plans on delving into the digital art scene shortly.
Aside from that, HYVE will continue to create a perfectly decentralized environment for freelancers and enterprises alike to collaborate without any intermediation. Of course, it will remain relentless in integrating increasingly more tokens to attract holders from diverse communities.
Stay posted and be the first to find out about new additions!
🐝 Want to learn more about HYVE?
🐦 Follow us on Twitter.
🗨️ Join our Telegram Group.
📢 Join our Announcement Channel.
💡 Join our Discord.
✅ Follow us on Instagram.
👍 Like us on Facebook.
💡 Visit our Website.
Want to learn more about SpookySwap?
🐦 Follow them on Twitter.
🗨️ Join their Telegram Group.
💡 Join their Discord.
💡 Visit their Website.
✅ Follow them on Reddit.