Build with SAND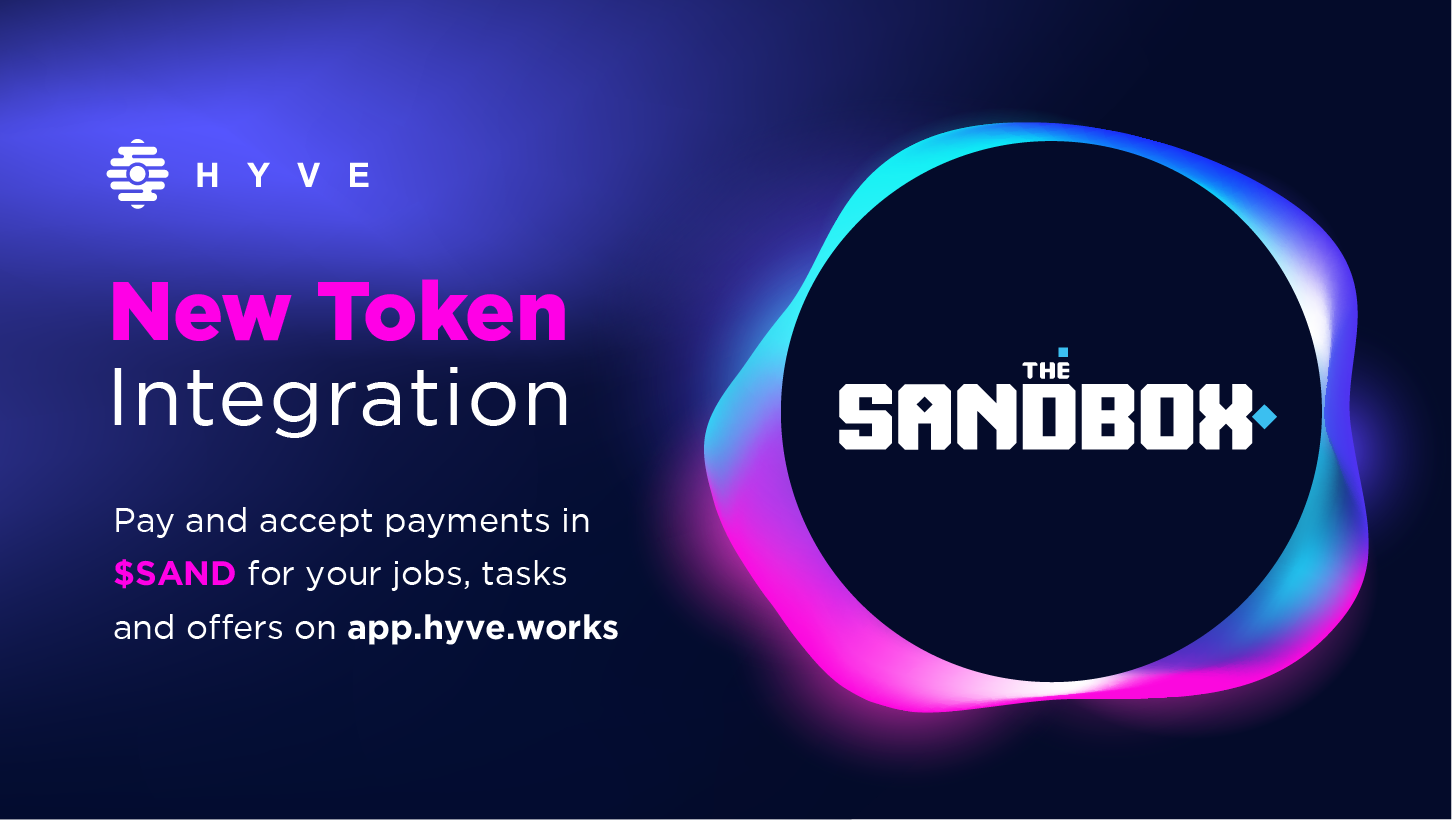 Well well well, if it isn't your favorite web3 freelancing platform, aka HYVE! It is time yet again for another token integration. This year we've had it all, from blockchains, protocols, exchanges to stablecoins and even memecoins! We are ecstatic to diversify our payment options further, becoming a universal platform for freelancers. Moreover, we want to become a gateway towards blockchain and crypto projects for our new freelancers, who have just discovered the web3 space.
The Sandbox will be joining us today, with their token SAND integrated as our latest payment method. Make sure to add the contract address in your digital wallets, so that you can start making payments in SAND on the HYVE Platform.
ETH: 0x3845badAde8e6dFF049820680d1F14bD3903a5d0
Polygon: 0xbbba073c31bf03b8acf7c28ef0738decf3695683
Great news for you!
HYVE has lowered fees to 0% for listings in $HYVE. For all other tokens, including SAND, the fee stands at 2.5%!
---
Let's start building together!
Tne Sandbox is a blockchain-based metaverse, built on Ethereum, providing users with the ability to create, build, buy and sell digital assets in any form of the game. By combining the powers of decentralized autonomous organizations (DAO) and NFTs, the Sandbox creates a decentralized platform for a thriving gaming community.
According to the whitepaper, Sandbox's main mission is to introduce blockchain technology in mainstream gaming successfully. Employing a play-to-earn model (P2E), Sandbox currently offers three different in-game products:
VoxEdit: a software enabling developers to create voxel assets, which can become NFTs and be traded in the Marketplace
Marketplace: the in-game monetization tool, allowing gamers to trade and collect the most valuable assets
Game Maker: a visual scripting tool, allowing anyone to create 3D games for free
What is more, the Sandbox has partnered up with the Digital Government Authority (DGA) in the KSA to support the development of Metaverse activities and advise on the way forward. This is a huge step forward, especially in the common web3 goal for future adoption.  
❗
We recently posted a blog about web3 gaming being the future. With recent market development, it becomes clearer by the minute that current gaming operating models have to change and empower players with more autonomy and monetization. Read it all
here
.
---
What does SAND do?
The Sandbox employs the powers of blockchain technology by introducing the SAND utility token, which facilitates transactions on the platform. The total supply is capped at 3 billion, with the circulating supply hovering around 1 billion currently.
The SAND token can be used to transfer value within the game and monetize actions, as well as engage in governance matters on the platform. Furthermore, it can be staked for additional rewards.
SAND is available on a wide number of DEXs and CEXs, including Binance, KuCoin, Coinbase, and many more.  
"HYVE is a platform that can help connect Individuals and Professionals to find assignments related to Metaverse experiences creations, and potentially other jobs and missions, broadening jobs opportunities for the digital economy. We're pleased to see SAND utility tokens being accepted by many actors of the broader Web3 Ecosystem, beyond The Sandbox open Metaverse platform." - Sebastien Borget, Co-founder and COO of The Sandbox
---
Getting back to freelancing...
We are almost through the first quarter, and we have already delivered on some of the promises made in 2022. The ecosystem is growing and we are looking for future opportunities to deliver value to our freelancers. Recently, we have been in discussions with our partners, and we can say that the number of jobs and tasks will increase, meaning it is finally time to make a transition to web3!
Web3 is growing, and recent market events, although not definitive, are pointing towards a positive outlook. Starting a side hustle in web3 can be an educational experience and will allow you to learn more about the ever-changing crypto space. We have explored this in our newsletter, and if you haven't read it already, make sure to subscribe.
And to conclude, as you remember, HYVE has expanded into the NFT space. Our team has been working tirelessly on our genesis NFT collection, Metalancer, with the utility expected to be revealed soon. If you want to get a glimpse into the future, follow us on Twitter!
Disclaimer
The information provided does not constitute investment advice, financial advice, trading advice, or any other sort of advice. Please do your own risk assessment when deciding how to invest in cryptocurrency and blockchain technology. HYVE is not liable for investment gains or losses.