Careful travels, y'all!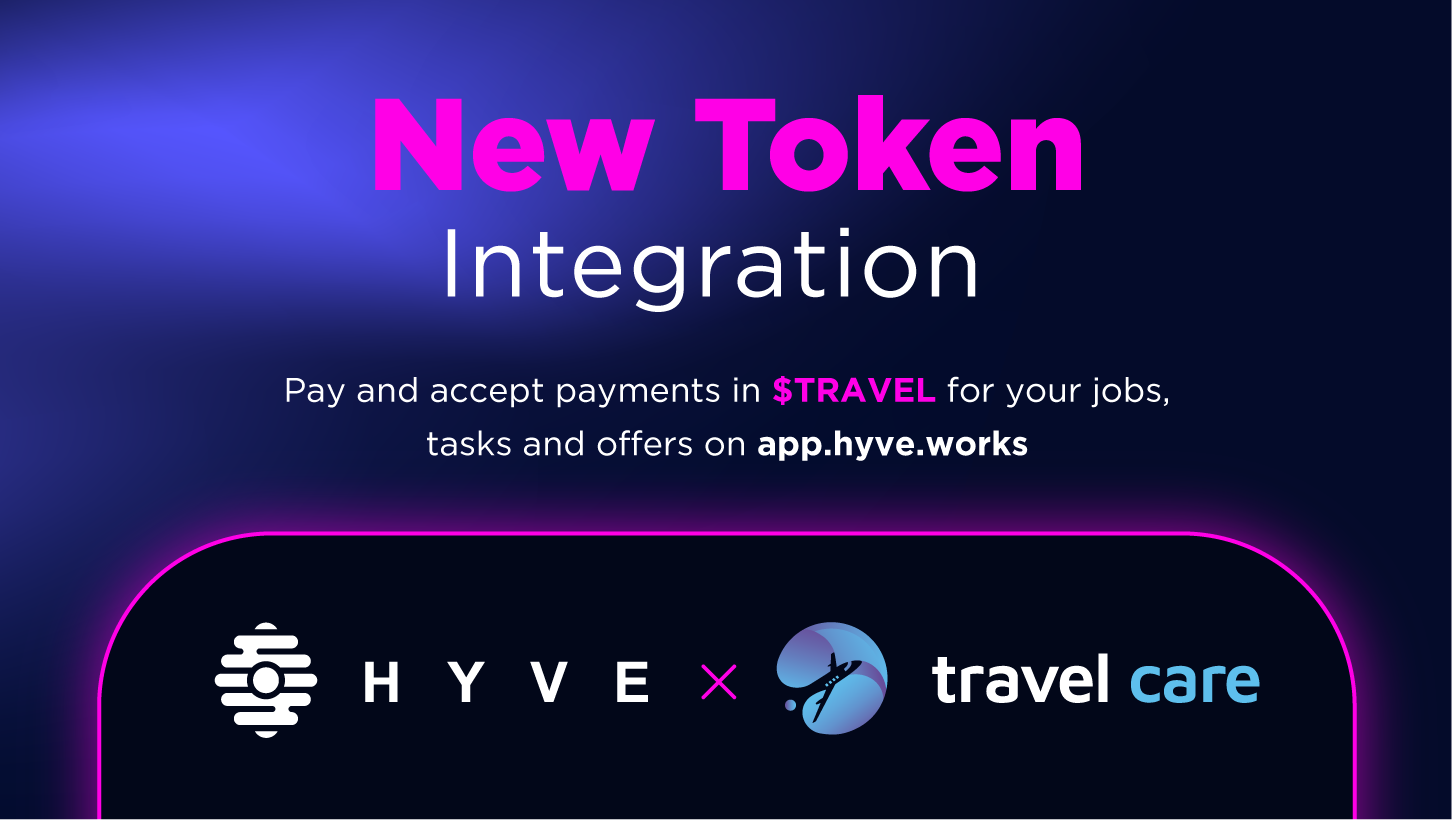 Here's to another token integration, HYVERS, you know that when a new partnership calls we can't stay still at all! These weeks have been busier than the average norm as we changed our office and we hope you'll be as excited as us to see our newest location! Now let's get back to business by presenting you our newest addition to the payment system:
But before that, don't you ever wish that you could travel and pay with your crypto without changing it over and over?
Now you can! Dive into this article to find out more about Travel Care, the project that promises just that, and while you are doing that, HYVE wishes that you'll experience a safe journey reading and then adding the contract address into your e-wallets!
BNB: 0x826e5Ec70DbC5607fF9218011FBb97F9a8D97953
💸
$TRAVEL is our latest payment option, so make sure to user it for payment on HYVE!
---
The unity of traveling and crypto
With the rise in digital technology and decentralized cryptocurrency along with the travel and tourism poised to re-emerge, a group of travel and tourism experts have positioned themselves at the intersection of these two industries, creating Travel Care!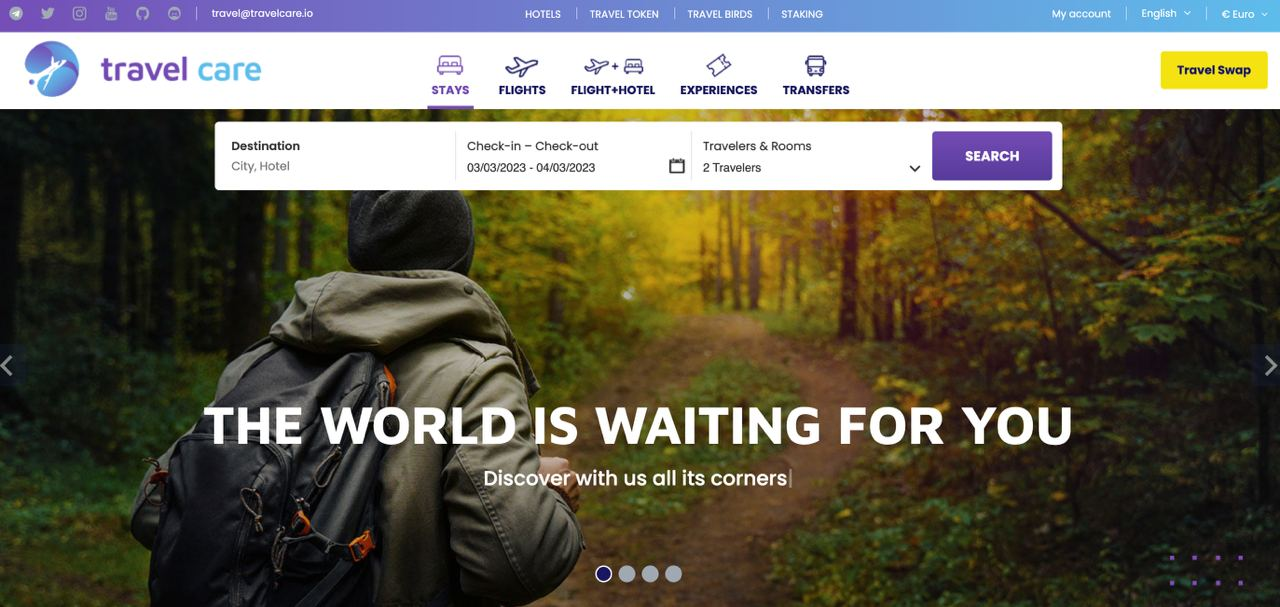 Taking flight in 2021, this project is effectively an online travel booking platform that provides clients with all their needs, from flights or cars to accommodation and activities, with more than 500k hotels, 600 airlines, and 100k experiences available. What is more, payment in cryptocurrencies is supported with over 25 tokens across 10 blockchains. Therefore, don't worry about choices, because at Travel Care there's plenty!
"Travel Care's online travel booking platform offers a large number of destinations with competitive pricing.  We have negotiated some of the best rates on the market with each and every service provider.  We have also reduced our management costs to the bare minimum to be able to offer you unbeatable seasonal offers."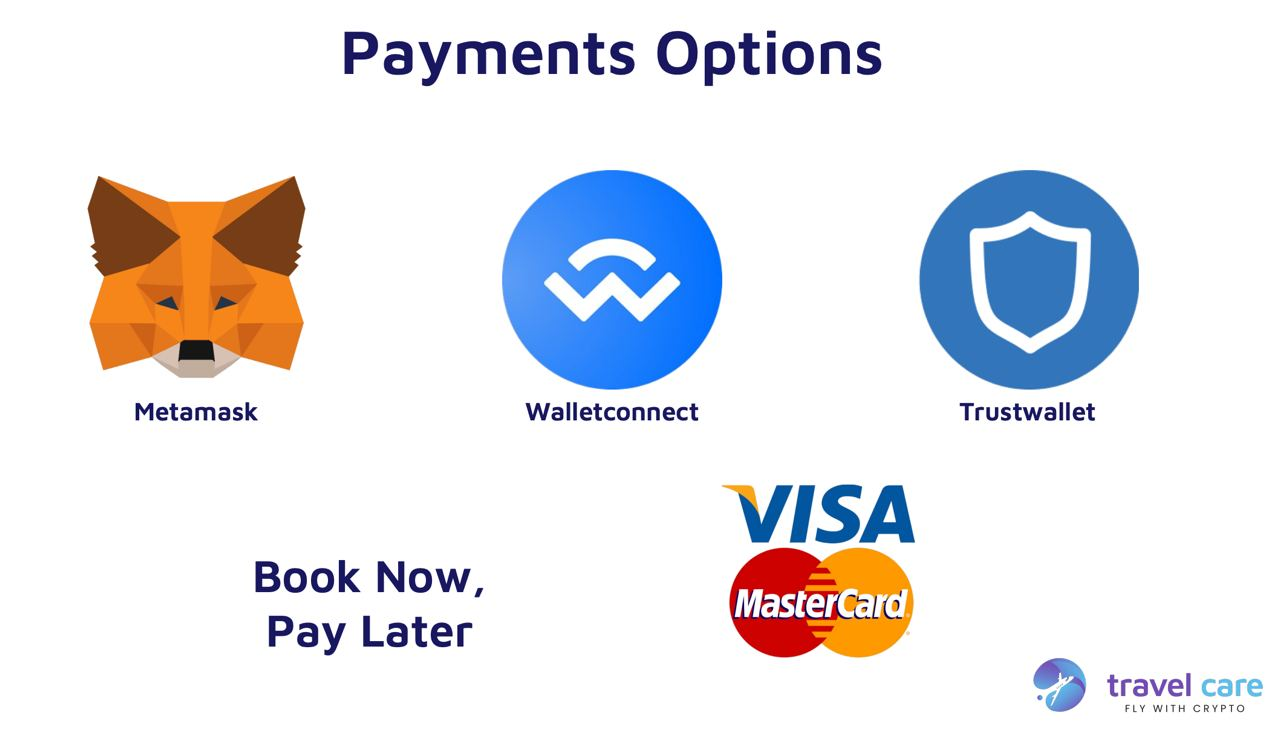 Travel Care's mission is to be the premiere online travel portal with the best overall offers for global travel. Therefore, unlike conventional platforms, Travel 3.0 will provide its holders with incredible advantages such as travel insurance included, rewards in $TRAVEL tokens up to 20% of the amount spent, upgrading services, exclusive welcome packs and much more.
---
Ready to $TRAVEL with us towards the future?
Whether it is exploring the breathtaking architecture of Barcelona or indulging in the vibrant nightlife of Las Vegas, all holders of $TRAVEL tokens are entitled to a plethora of rewards, in addition to receiving cashback for utilizing the travel services provided by Travel Care.
The company has a policy of accepting various cryptocurrencies, including $TRAVEL, and offers its project supporters a rewards program that features cryptocurrency tokens instead of traditional loyalty points. This program not only presents a diverse range of exciting incentives but also provides a more valuable experience for loyalty members.
Unlike other rewards programs, Travel Care allows its customers to use their $TRAVEL cryptocurrency to stake the rewards they receive when they book on the platform, in addition to holding and exchanging crypto on decentralized exchanges. By utilizing cryptocurrency as a payment mechanism, Travel Care enhances the user experience by lowering costs and intermediary fees, facilitating faster transactions, and eliminating the burden of international commissions and exchange fees.
In addition, Travel Care launched an incentive program called The Travel Birds Rewards Program is predicated on the accumulation or retention of $TRAVEL tokens by travelers. This multi-tier program will provide an assortment of benefits commensurate with the quantity of $TRAVEL held by the account holder. Distinct from conventional loyalty programs, the Travel Birds initiative operates via a tokenomics framework that motivates individuals to retain and stake $TRAVEL, thereby earning yields that correspond with their holdings.
✈️
Don't forget that, traveling means investing in yourself. It's time to treat yourself to a nice holiday, with your hard-earned crypto from HYVE.
---
HYVE X TRAVEL CARE
Ready to travel the world with us? Our native token, $HYVE, will be integrated as one of the payment options on the Travel Care platform so get ready and pack your bags!
There will be no fees for paying in $HYVE on the Travel Care platform, sounds familiar doesn't it? No more intermediaries, meaning that what you earn rightfully is what you can spend straight away!
Back 2 HYVE...
We have had some recent tokens with immense utilities integrated on the HYVE platform. Besides becoming the go-to freelancing platform for our users, we want to become an unofficial gateway for new users in the crypto space to discover new projects. What token do you wish to see on HYVE next? Drop us a mention on Twitter!