New chain integration: HYVE x Fantom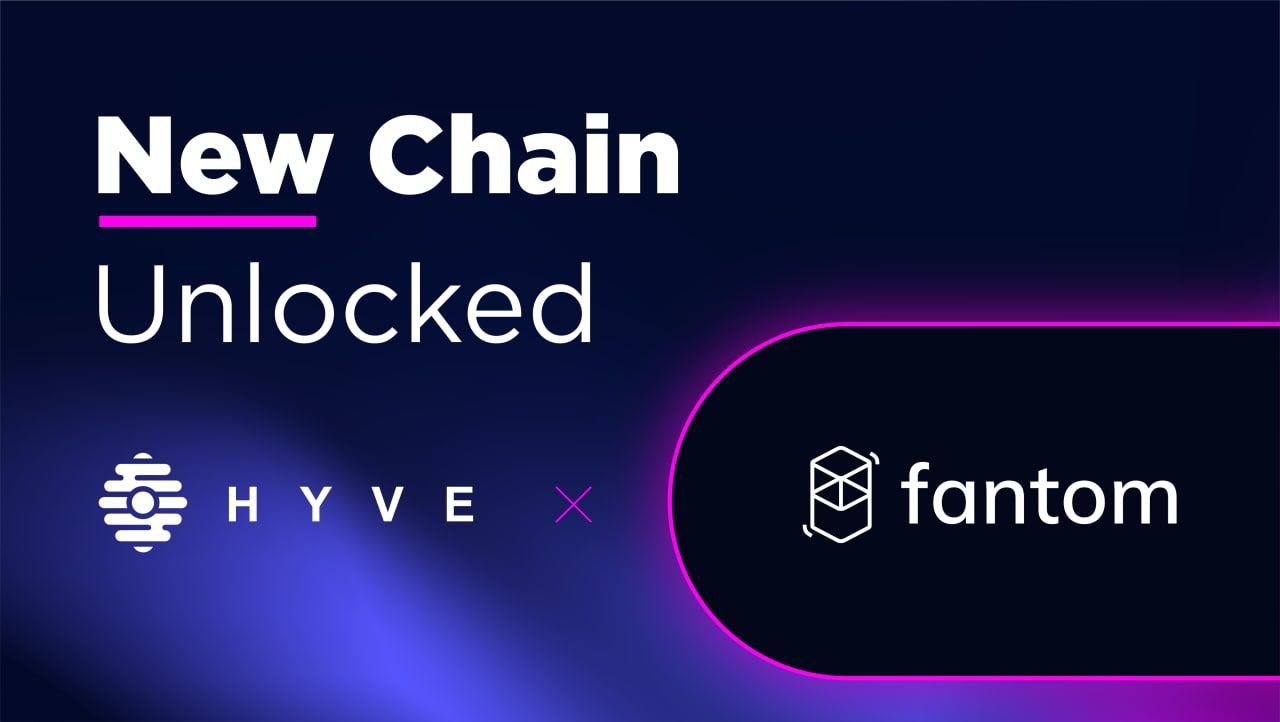 Our last chain integration, Polygon, has been long in the making, finally being revealed in the past week. We always reiterate our commitment to further expansion of the HYVE ecosystem, which can only be achieved through the further inclusion of blockchains. This boosts our user base, increases payment options, and creates a highly scalable and complex infrastructure that can serve as an incubator for more promising crypto projects.

We are proud to announce that HYVE now supports four different blockchains, welcoming our latest blockchain integration partner: Fantom! This is not only a unique competitive advantage for HYVE, touting a superior architecture, but it creates countless opportunities, which will be described in detail below.
HYVE x Fantom
How will Fantom benefit HYVE
Tasks, jobs, and offers can now be posted on the Fantom blockchain, with the upcoming addition of the $FTM token as a new payment option. Nevertheless, this will unlock the possibility for new payment options, namely tokens that are entirely built on the Fantom blockchain. An additional advantage is the reduction of gas fees when compared to the Ethereum blockchain while increasing speed and performance.

HYVE was initially developed as a platform on the Ethereum blockchain, but it has evolved into a cross-chain protocol. By onboarding companies and projects specific to the Fantom chain, HYVE can act as a gateway for further adoption of those projects. Since HYVE currently supports four different networks, we are getting closer to its target of further adoption and becoming a ubiquitous freelancing platform, providing a wide variety of payment options and pandering to a wide array of users, and not just blockchain enthusiasts.
$HYVE token
You can now hold $HYVE in your Metamask wallet on the Fantom network, as well as send or transfer to other addresses, thanks to our latest chain integration. Simply add the following contract address below in your Metamask, once you have switched to the Fantom network.

0x90b89e881961E1053AeaDdbA13217d56F747349a
To switch your tokens between our supported blockchains, you can use the Radar Bridge. Read more about how it works here. Staking is also now unlocked on the Fantom network, yielding the same APR as the ETH, BSC, and Polygon, thanks to earlier alignments between networks.
About Fantom
Fantom has created an incredibly flexible and highly scalable open-source network, facilitating developers in porting their Ethereum-based dApps to a less costly and more speedy solution. Acting as an EVM compatible ecosystem, there are currently over 80 DApps having deployed on Fantom, varying from DEXs and DeFi platforms to NFT marketplaces and various blockchain tools.

Fantom is powered by its $FTM token, which can be used to pay fees as well as staking. Fantom's modularity has attracted many projects
A promising outlook for HYVE
HYVE has created the safest marketplace, allowing clients to browse potential candidates and hire them, based on what they need for any potential assignment. HYVE enables instant and secure payments by allowing payment directly in cryptocurrencies, reducing thus any instant or hidden fees freelancers were subjected to when dealing with overseas clients or weak institutions.

With payments being escrowed, HYVE ensures that freelancers obtain their pay for the completion of any assignment. In addition, any disputes on HYVE are solved in a decentralized manner, ensuring no biased decision will be made. When compared to other traditional freelancing platforms, HYVE provides a unique competitive advantage, by charging the lowest fees for platform usage and giving users the possibility to lower them even more.

Through the integration of multiple blockchains, HYVE can increase its user base and ensure a variety of payment options, thus giving users complete control over the entire workflow. With decentralization bound to infiltrate all aspects of life, freelancing, and subsequently traditional work, HYVE has integrated the right technologies to achieve a leading position in this area.
HYVE: The only freelancing platform supporting four blockchains
Indeed, several platforms within the crypto-sphere can proudly say they support more than one blockchain, but HYVE is in a unique position to have currently implemented four networks. This gives us immense flexibility in developing the app, especially for projects willing to launch using HYVE's highly customizable infrastructure, as well as providing $HYVE tokenholders with a variety of options. As we have repeatedly mentioned, the road towards further adoption and user acquisition involve expanding to multiple networks, since this opens up multiple possibilities for developing further products.  
Looking forward
Following the Fantom integration, you will notice that we will continue to be diversifying our payment options through the introduction of various tokens. As you might have noticed, HYVE is undergoing loads of changes currently, as we are passing through a massive redesign phase. Shortly our newly improved platform will go live, now that our website redesign is finalized.

This is not all, there is an increased possibility for future partnerships with various projects built on the Fantom network, meaning that more announcements will follow in the upcoming weeks, so make sure you check our social media channels regularly.

To close it off on an incredibly exciting note, we want to let you know that HYVE will be branching out to an even more exciting sphere of blockchain and crypto. We can't give you any more details as of now, but we promise it is a massive hot topic!

🐝 Want to learn more about HYVE?
🐦 Follow us on Twitter.
🗨️ Join our Telegram Group.
📢 Join our Announcement Channel.
💡 Join our Discord.
✅ Follow us on Instagram.
👍 Like us on Facebook.
🌍Visit our Website.