Crypto-friendly destinations for digital nomads in 2022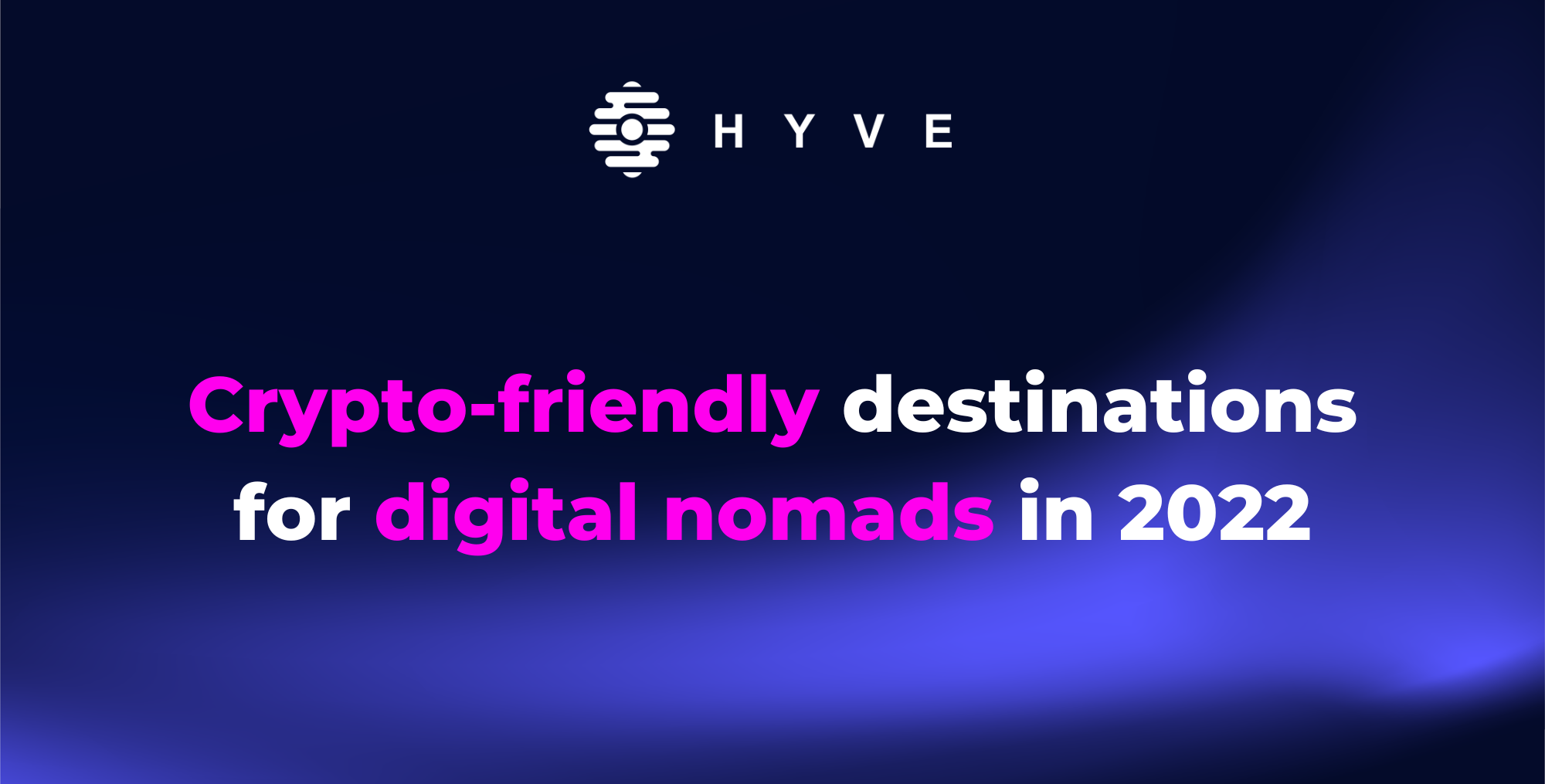 Let's say you just started your freelancing career on HYVE, you have earned in a month what you could have made in 3 months in a corporate environment away from control-freak bosses or boring offices.
The freelancing market offers a wide range of benefits and opportunities, including the comfort and flexibility of traveling and working. As long as you have the right work permits and stay on top of the tax ramifications of the digital nomad lifestyle, there's not much stopping you from seeing the world while you freelance. What more could you wish for?
Freelancing abroad is a lot different than traditional jobs, therefore aspiring digital nomads should invest time in researching what is required to manage this lifestyle effectively and productively while also looking for crypto-friendly environments (if they receive payment in cryptocurrencies). In this blog post, we will present you with some of the main considerations you should have when choosing a country and countries you should stir away from.
Many countries have softened their previously rigid stance against crypto to adapt to the shifting global dynamics and benefit from the trend, while others are doing everything in their power to be considered the world's most crypto-friendly environments. Therefore, don't be surprised when the country with the most attractive crypto tax incentives is probably one you never thought of.
Small countries are trying to attract more foreign investment opportunities and generate higher revenues through their minimal, and sometimes non-existent, crypto taxes. This is it, a win-win for both parties including: the country gets recognition and becomes a top choice for crypto freelancers or blockchain entrepreneurs, while newly attracted residents can maximize their earnings.
Here are some of the things you should look out for:
minimal (or zero) crypto capital gains taxes
minimal crypto income taxes
zero tax on crypto exchanges, including exchanging it for fiat currency or spending it
Where could you start your exciting crypto freelancing journey throughout the world?
Dubai has become the latest crypto hub in vogue, as Sheikh Mohammed Bin Rashid, the ruler of Dubai, announced on Twitter that the emirate has enacted its first law governing virtual assets and has also formed an independent regulator to regulate the cryptocurrency sector.  Dubai, which is already a renowned location for the crypto and web 3.0 communities, may have helped the business greatly by regulating the use of cryptocurrency in the MENA region.
El Salvador can be considered one of the most crypto-tax-free countries as it was the first country to accept Bitcoin as legal tender, as it passed back-to-back pro-crypto regulations to establish its position as the frontrunner among crypto-friendly countries. To further solidify its position, the country has announced the El Salvador Golden Visa program, according to which immediate permanent residency will be granted for the ones that meet the minimum investment requirement in crypto.
Portugal is still a tax haven for crypto users as it was finally decided by the government that they are against imposing any taxes on crypto users, while traditional businesses still pay income tax and VAT. All these policies, including its popular Portugal Golden Visa program and tax-free regulations, have done a wonderful job at attracting foreign crypto investments, foreigners, and digital nomads alike that are looking for a tax-free way of life.
Malta is also counted as a tax-free country, as it classifies the cryptocurrency as a unit of account, medium of exchange, or store of value, meaning that no tax will be subjected to long-term capital gains. Also, just as in El Salvador and Portugal, you can apply for citizenship or residency through investment, making it easier if you invest in crypto.
Germany might be one of the highest-taxed countries in the world, but you are exempted from paying taxes on your crypto gains if you held your assets for more than one year. In addition, the country discourages volatile crypto transactions and aims to create a more stable crypto environment for domestic and foreign crypto investors and users.
How HYVE can be your jumpstart
HYVE is the perfect tool for you to freelance from your most desired destinations and the ideal place for you to start your crypto-earning journey! Besides the low fees and various methods of payment that we provide you with, you can manage your own time whether you are sipping a drink on a beach or sightseeing in the city you always wanted to visit. Keep in mind that we are integrating tokens on an almost daily basis - meaning that there will be further freedom over payment options. As the industry is evolving, so are the opportunities!
🐝 Want to learn more about HYVE?
🐦 Follow us on Twitter.
🗨️ Join our Telegram Group.