Freelance freedom: $DODO joins HYVE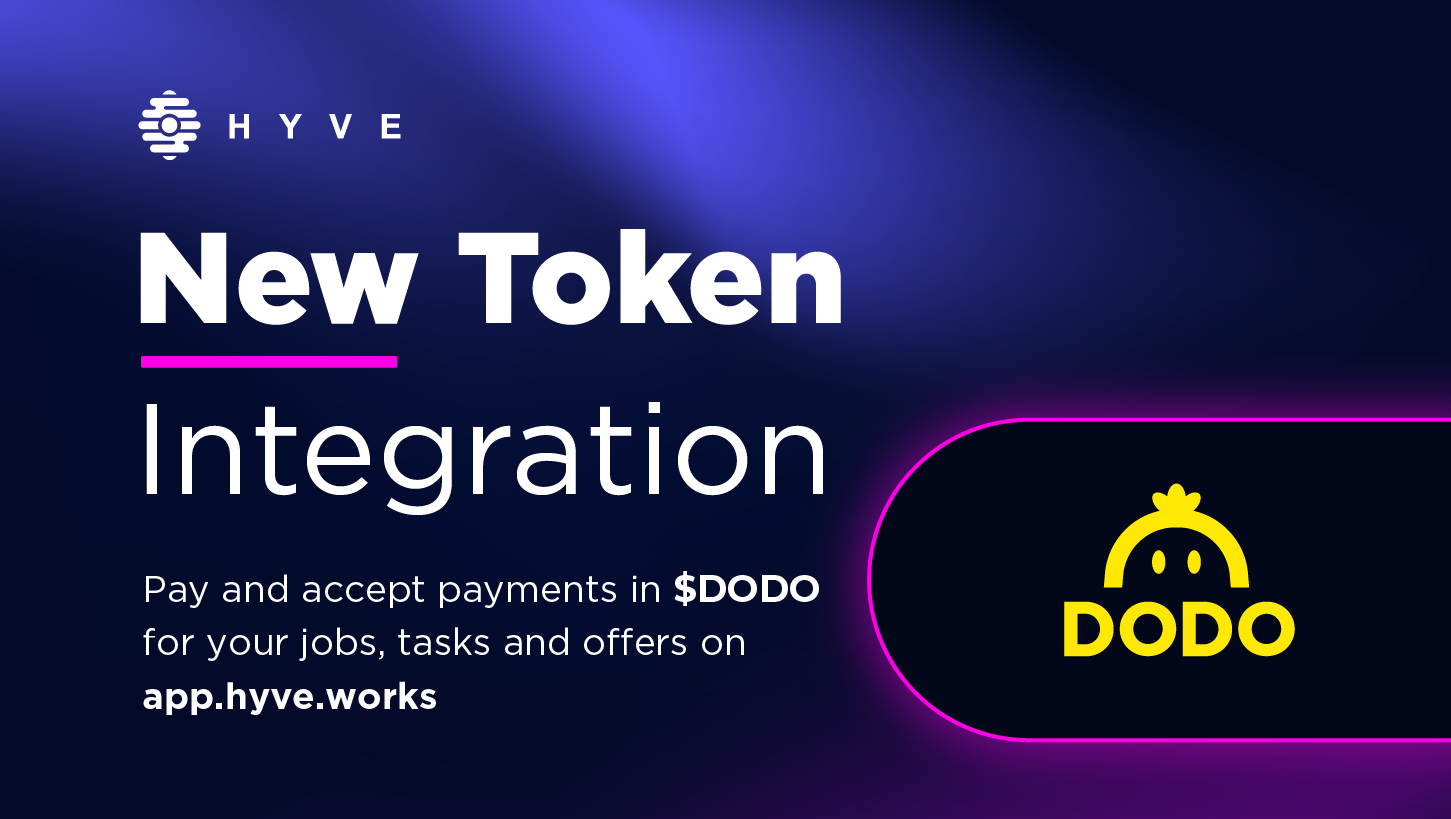 HYVE has made it clear that in 2023 we're not slowing down under any circumstance, and what better way to start the year than through the integration of a new payment option? Today, we are excited to have $DODO join the HYVE ecosystem, so make sure to add the contract addresses in your digital wallets and discover more about the project!
ETH: 0x43dfc4159d86f3a37a5a4b3d4580b888ad7d4ddd
BNB: 0x67ee3Cb086F8a16f34beE3ca72FAD36F7Db929e2
Polygon: 0xe4Bf2864ebeC7B7fDf6Eeca9BaCAe7cDfDAffe78
As we have repeatedly mentioned, we want to create a universal platform for freelancers, where ultimate freedom is provided, including choice over payment options. If you haven't started freelancing on HYVE, what are you waiting for?
Did you know?
Setting up a Metamask wallet is one of the first steps to start freelancing on HYVE. There are many resources you can access on hyve.works!
---
What is DODO?
DODO is a multichain decentralized exchange platform powered by the Proactive Market Maker (PMM) algorithm, featuring highly capital-efficient liquidity pools that support single-token provision, reduce impermanent loss, and minimize slippage for traders. Its trading platform is also offering SmartTrade, a decentralized liquidity aggregation service that routes to and compares various liquidity sources to quote the optimal swap rate between any two tokens.
Do not worry, the fun has just started! Recently, DODO removed all roadblocks hindering liquidity pool creation for the issuance of new assets - asset ratios, liquidity depths, fee rates, and other parameters can all be freely customized and configured in real-time. Based on this breakthrough, DODO has developed Crowdpooling, a permissionless, equal opportunity liquidity offering mechanic, and customizable technical solutions geared towards professional on-chain market makers.
Briefly said, DODO's decentralized exchange product suite consists of SmartTrade trading and aggregation, Crowdpooling/IDO, pools, and mining (which includes liquidity mining, trading mining, and combiner harvest mining), all integrated with various wallet applications through which users can interact with the platform.
DODO has many innovative features - simply click on any of them to find out more!
SmartTrade trading and aggregation
DODO enables trading between two arbitrary tokens on the same network. The SmartTrade feature intelligently finds the best order routing from aggregated liquidity sources to give traders the best prices. Users who execute trades on DODO also have the option to participate in trade mining, which rewards traders with $DODO.
Crowdpooling
Crowdpooling is an equal opportunity way to distribute tokens and kick-off liquidity markets, inspired by the call auction mechanism commonplace in securities markets. Therefore, Crowdpooling ensures no front-running or bot interference, enabling users to participate in liquidity offering campaigns and be involved in the projects they support with peace of mind.
Pools
DODO gives liquidity providers the flexibility to create and manage their own market-making strategies through the DODO Vending Machine and DODO Private Pool. This is a fully permissionless, non-custodial process that empowers users to configure pools with various parameters in order to establish liquidity markets with the ideal pricing curves that suit their needs.
Mining
In addition to the trade mining and traditional liquidity mining mentioned before, pool creators and liquidity providers can also get involved by participating in Combiner Harvest mining, which gives DODO platform users readily available exposure to trending, promising projects that are willing to collaborate with DODO.
PMM
Proactive Market Maker (PMM) is a new blockchain market-making model, different from the non-constant function market maker model, that separates the transaction-to-asset relationship. Parameters such as asset ratio and curve slope can be flexibly set. In addition, an oracle machine can be introduced to guide prices or price discovery by the market on the chain. This oracle also gathers more funds near the market price and provides sufficient liquidity.
In order to stay up to date with DODO's latest news, check out their social media channels!
---
What can $DODO do for me?
The native token, $DODO, is issued on Ethereum, BSC, Polygon and Arbitrum as well as other blockchains.
$DODO's economics model introduces a membership system and a fee-sharing mechanism. In addition to its governance functions, DODO gives holders trading fee discounts and IDO participation allocations. The system's vDODO proof-of-membership tokens entitle holders to trading fee dividends and membership rewards, as well as the $DODO holder benefits.
💡
Ever dreamed of having your own token? Worry no more! ​​You don't need to learn to code - just a few clicks of the mouse and DODO will do whatever you need, whether it's creating your token, liquidity mining or initial issuance.
Currently, the token creation supports the next configuration topics: token name, token symbol, total number of tokens, number of decimal places, and you can also add transaction destruction, transaction fee, and incremental issue functions.
---
What's cooking at HYVE!
You already know us - we are not showing signs of slowing down! 2023 will be much better, as we have already outlined in our 2022 Recap article. What is your new year's resolution? We have already listed ours - becoming the leading Web3 freelancing platform.
What do you think you can achieve this year? How will HYVE be part of your plan? Drop us a mention on our Twitter account, and we'll have a chat.
💸
HYVE will be diminishing fees in 2023. A 0% tax will be applied for listings paid in $HYVE, whereas for other tokens it will be capped at 2.5%.
Tudor has already outlined our plans for 2023, publishing a comprehensive roadmap. There are many exciting features, including the Fiat Onramp, SBTs as well as improvement of the overall contracts. If you want to discuss anything about the new features, do make sure to drop a message in our Telegram Group - we are more than happy to respond!
Disclaimer
The information provided does not constitute investment advice, financial advice, trading advice, or any other sort of advice. Please do your own risk assessment when deciding how to invest in cryptocurrency and blockchain technology. HYVE is not liable for investment gains or losses.