Go Cosmic - don't get FOMO!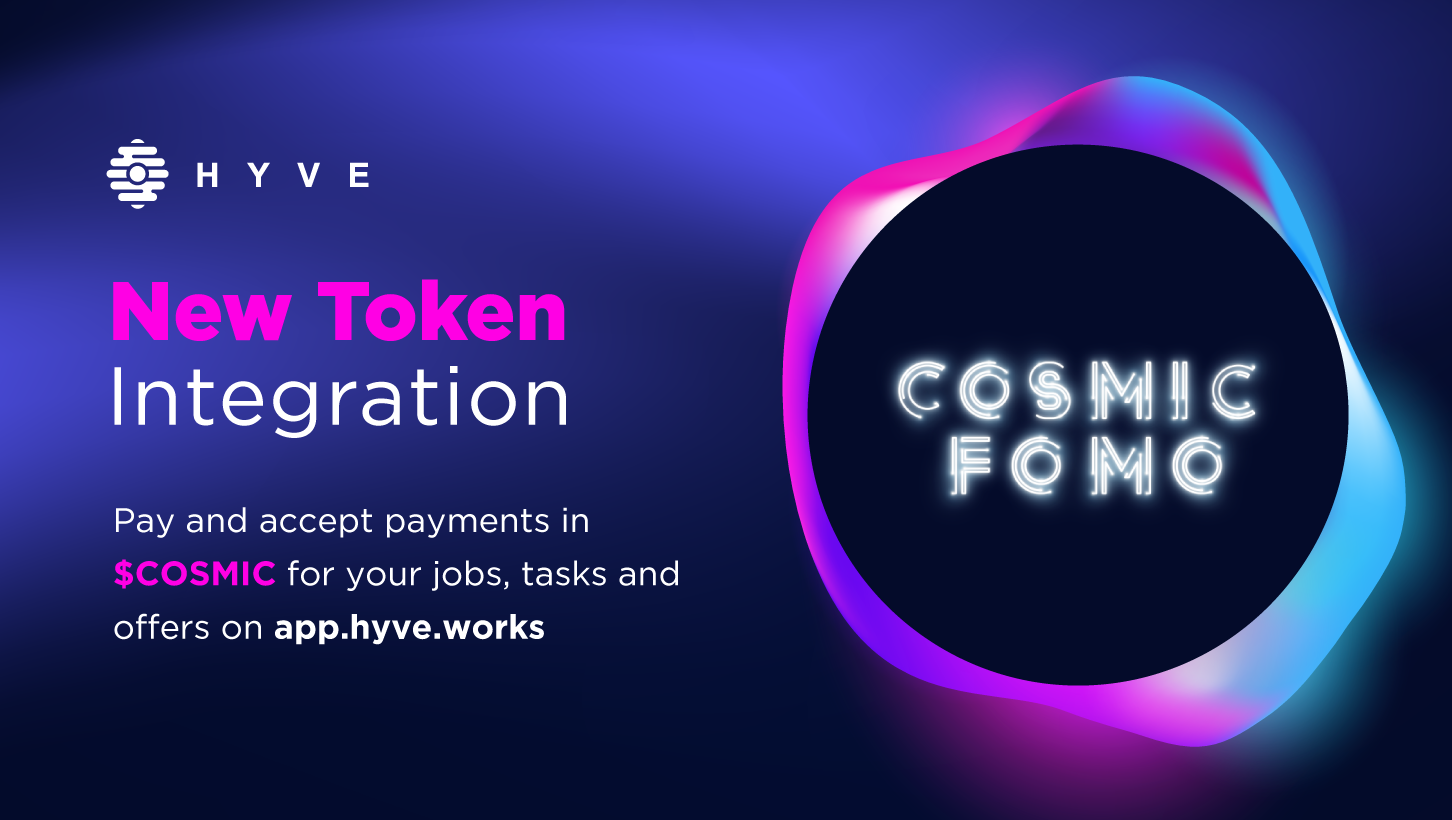 Remember our friends at MARS DAO, whose token we integrated earlier this year? Well, today we return with an adjacent project, namely Cosmic FOMO, an app that allows you to learn about crypto trading, in a gamified form. We are more than excited to be integrating a new token, further diversifying our payment options.
Recap on MARS DAO
Earlier this summer, we partnered with MARS DAO. Web3 community of more than 15ok users (more than 20k unique tokenholders) of educational, infrastructure, and decentralized products
Before we start, make sure to add the contract address of $COSMIC in your digital wallets and start using it to pay for tasks, jobs, offers and digital items on HYVE!
BNB: 0xBabACc135Bbf2ce30f9C0f12665B244D3689A29C
---
Let's go on a Cosmic adventure
Cosmic FOMO is a signature MarsDAO ecosystem creation — a group of projects that has already presented more than 20 successful Web3 products to the market. One of MarsDAO's main goals is to facilitate interaction with the fast-growing cryptocurrency market and understand Web3 technology and development.
You can dive into the vastness of space with Cosmic FOMO, an interstellar game built on the BNB Chain, where players take control of NFT pilots for thrilling space races. Here's what you need to know.
Your gateway into the game starts with an NFT pilot, or a GalaxyBox. Upon entering the app, your chosen pilot springs to life, ready for action.
Moreover, you can arm your pilot with assets you believe will fluctuate in value over the next hour. As you race, asset quotes (sourced directly from Binance) will change in real-time. Your earnings are tethered to these movements. Feeling confident about your profit? Exit the race early and secure your gains. Best part? It's all a simulation, meaning you can learn crypto trading without risking real assets.
Whether you're a crypto guru or a complete newbie, Cosmic FOMO is for you. Just starting? Simply pick a pilot, choose assets, and see if fortune favors you.
There are different Game Modes, either Solo or Hardcore Mode.
Solo Mode is pretty straightforward, consisting of the following steps:
Select your pilot
Predict asset growth
Launch into the race
Reap your rewards
Players can potentially earn up to a +20% portfolio return, or face a -10% setback based on their pilot's performance.
HARDCORE Mode allows to test your crypto prediction skills against others. The most accurate forecaster takes the grand prize.
💡
Far from mere gambling, Cosmic FOMO blends the thrill of gaming with an educational experience on digital assets. It's a unique way to understand the crypto landscape while having a blast.
Cosmic FOMO isn't just a game; it's the future of edutainment in the crypto world, as you can learn more about the space in a gamified way.
The $COSMIC Token
$COSMIC is a key asset within the game, rewarding users for winning races, also acting as a tool for upgrades for the NFT Pilot. $COSMIC can be also used for minting new pilots, recovering the pilot's health, as well as accessing the HARDCORE races, and maximizing your potential to earn.
You can trade the $COSMIC token directly on Pancake Swap.
---
Back to HYVE
We love it when partners come back for a second time and at this stage, with the success of $MDAO, we hope $COSMIC can have the same impact. We want to further diversify payment options on our existing chains, in order to give freelancers ultimate choice.
However, our cross-chain infrastructure is due for an upgrade, which means you'll hear more about this in the next couple of weeks. Can you guess - drop us a mention of X!