Dual Token Integration: $FRM & $FRMx are now available on HYVE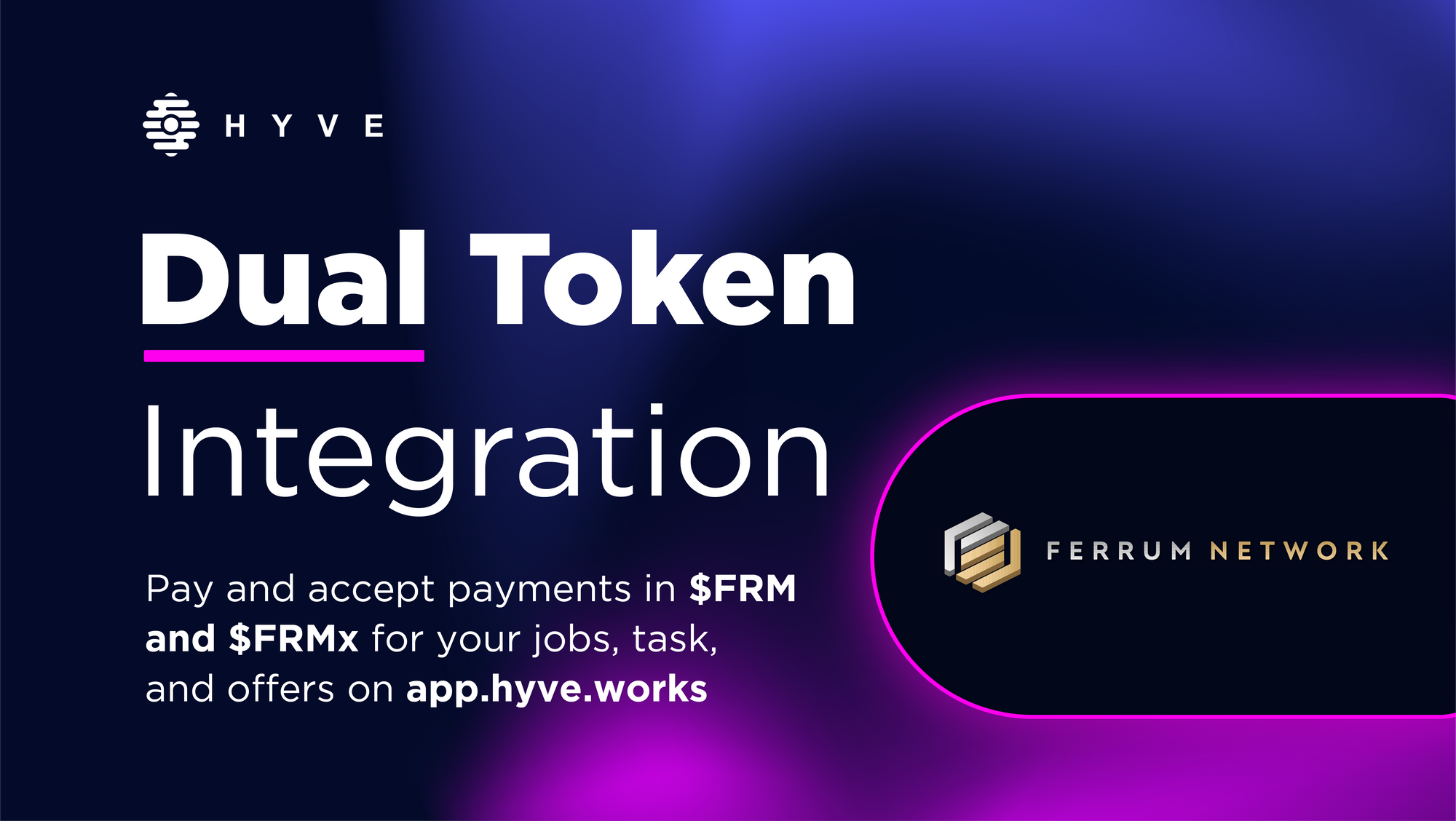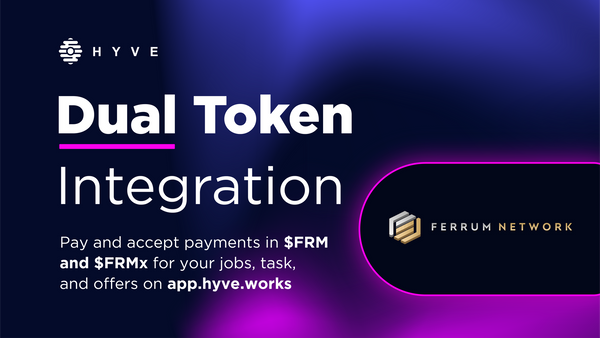 Lately, we have been diversifying our payment options with several tokens integrated in the past couple of months. Providing the most optimal choices for payment gets us closer to further adoption and becoming a universal platform for freelancers, enterprises, and clients alike.
Therefore, we are excited to announce our latest two integrations: $FRM and $FRMx, the native tokens of Ferrum, an incredibly innovative blockchain project.
$FRM and $FRMx
You will now be able to pay or get paid in $FRM and $FRMx (buy from Apeswap or PancakeSwap) for the completion of tasks, jobs and offers on the HYVE platform. $FRM is the utility token of the Ferrum Ecosystem and is required for users to interact with the network. $FRM acts as the routing token for the InfinitySwap, meaning that fees accrued through InfinitySwap are either burned or used to supplement the sustainable rewards model.
$FRMx is the governance token of the Ferrum network, required to be part of the Ferrum Governance Committee and help decide the direction of the project. Holding 20 FRMx/250,000 FRM provides access to our esteemed Governance Committee and gives you voting rights.
Both tokens are deflationary in nature. In addition, $FRM and $FRMx also provide access to pre sales of promising projects incubated through Ferrum Ventures and Ferrum Advisory Services.
$FRM will be integrated on the BSC network, with the contract address for each respective blockchain down below.
BSC: 0xa719b8ab7ea7af0ddb4358719a34631bb79d15dc
$FRMx will be integrated on ETH and BSC; find the contract address for the $FRMx token here.
ETH: 0xf6832EA221ebFDc2363729721A146E6745354b14
BSC: 0x8523518001ad5d24b2A04e8729743C0643A316c0
About Ferrum: Interoperability 2.0 and beyond
Powered by the Quantum Portal, the Ferrum Network is a pioneer in operating and building solutions on one chain and enabling multi chain functionality, thus reducing the burden of running a highly complex, multi-chain architecture for dApps and promising projects. Ferrum acts as a bridge between established networks and crypto startups, empowering the industry on a road to mass adoption, through its Infinity Layer mainnet.  
The Ferrum Ecosystem, also known as the Iron Alliance, comprises a multitude of projects, highlighting Ferrum's immense utility in the blockchain space.
What's next!?
Our newly improved platform will be live with some groundbreaking features that we have prepared for you. Ferrum will be a company onboarded to utilize our freelancing platform for their hiring process. Thus, they are actively looking for blockchain knowledgeable individuals for full-time positions so make sure you give it a try if you think you are the right fit!
HYVE provides the lowest fee structures out of all freelancing platforms, with the perceived commissions ranging from 1% for tasks, jobs, and offers completed in $HYVE, rising to 3.5% for payments performed in $ETH, $BTC, or $USDT and 9% for altcoins. The fee can be halved by paying it in $HYVE.
HYVE's cross-chain architecture enables a decentralized ecosystem, which redefines collaborative methods. HYVE removes intermediaries within the freelancing industry by reducing fees and connecting clients with matching professionals, allowing them to collaborate fairly.
This is only the beginning of a series of expanding our payment network, so make sure that you keep an eye out for more announcements!

🐝 Want to learn more about HYVE?
🐦 Follow us on Twitter.
🗨️ Join our Telegram Group.
📢 Join our Announcement Channel.
💡 Join our Discord.
✅ Follow us on Instagram.
👍 Like us on Facebook.
💡 Visit our Website.
🏦Want to learn more about Ferrum?
🐦 Follow them on Twitter.
🗨️ Join their Telegram Group.
💡 Join their Discord.
💡 Visit Ferrum Website.