New Token Integration: $EQX integrated on HYVE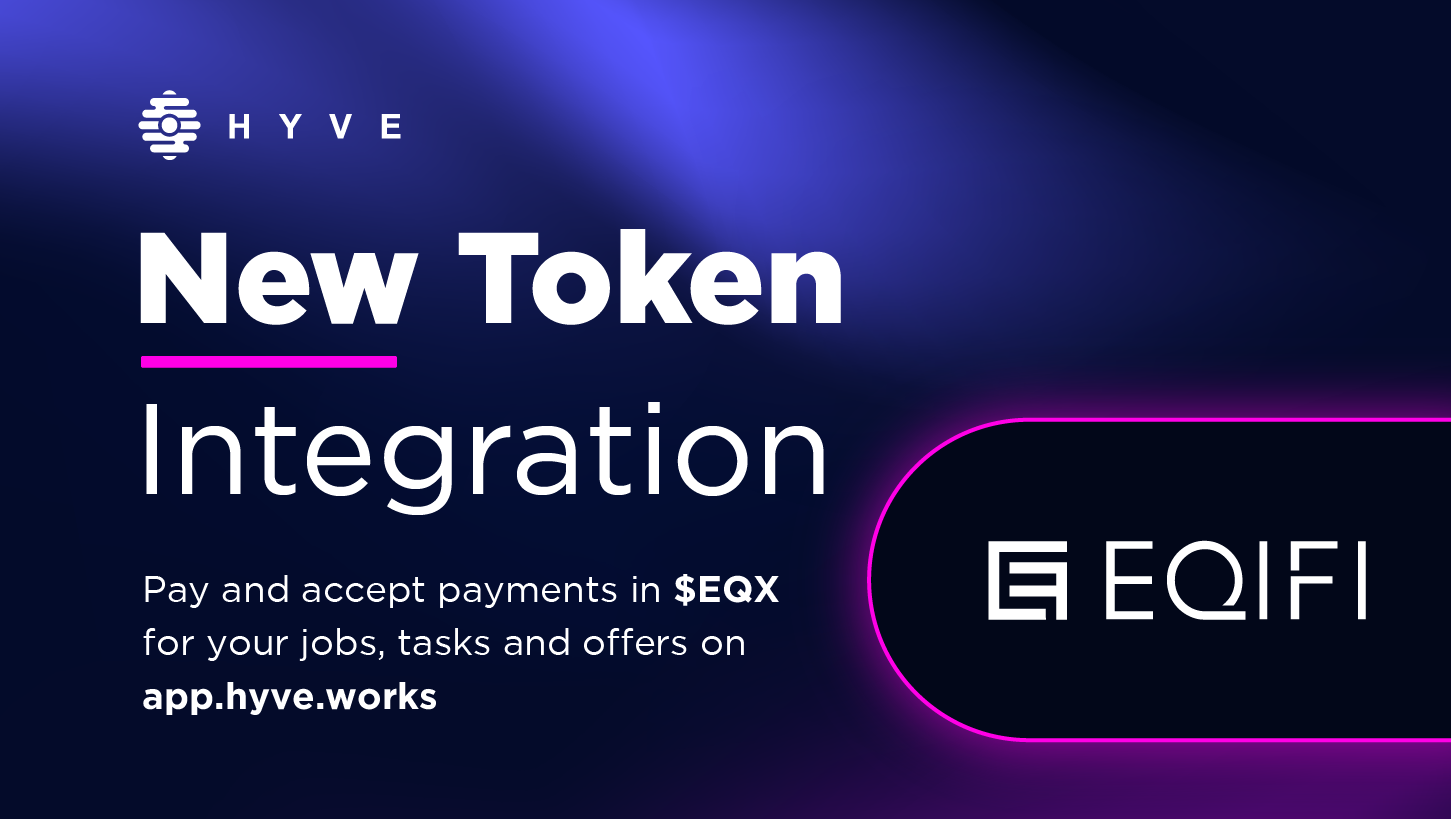 This week, HYVE is happy to announce the integration of our long-term partner EQIFi's token $EQX on BNB Chain and ETH. As you already know, our persistent token integrations aim to give freelancers further freedom over instant payment options while enabling the discovery of different communities and projects.
This doubles by having the desired effect of attracting and blending members of our community with, in this case, EQIFi's dedicated supporter base, which successfully ensures visibility and interaction between projects.
HYVE & EQIFi
We are partnering up to offer benefits to users of both our platforms. Through this partnership, EQIFi will integrate $HYVE as part of their P2P transfers on their mobile app. As we continue to build, we will see $HYVE integrated into the Yield Aggregator and their Fixed Rate Lending product later this year. This way, HYVE freelancers can use their $HYVE on EQIFi with zero friction.
HYVE will integrate the $EQX token as a payment option on our newly improved freelancing platform, enabling freelancers to pay in the cryptocurrency of their choice on their preferred chain, while benefiting from some groundbreaking features. Payment in $EQX will now be possible for completing tasks and jobs, as well as offers.
About EQIFi & $EQX
EQIFi has built a global DeFi gateway, delivering more products and services than any other platform and simplifying the complex world of DeFi.
Through blockchain technology, EQIFi has the opportunity to democratize financial products previously available to only the privileged few. Their vision is to expand the options of digital asset owners, who today have limited options for secure custody and banking level access to their digital assets.
EQIFi has created a next-generation high-level user experience, a secure yet convenient, user-friendly DeFi platform. EQIFi strives to make your financial life easier.
More details about $EQX
EQIFi's native token, $EQX, offers higher earnings, ultra-low-cost loans, staking rewards, and more. $EQX is available on multiple chains, namely ETH, BNB, and BTC. Some good examples of $EQX's are the high LTV that it provides for holding, with increases up to 25%. In addition, you could stake $EQX and earn close up to 20% in rewards. $EQX provides almost 10% in Yield Aggregator returns through Bonus APY.
$EQX is also the key to EQIFi's ecosystem, with tokenholders receiving priority access to the EQIBank accounts. Moreover, $EQX holders can enjoy higher limits on DeFi products, thus having exclusive benefits.
$EQX can be purchased directly from the EQIFi platform both with crypto as well as credit card or on over 17 other exchanges listed on their website. Anyway, don't forget to add these to your Metamask wallet, with the contact information down below:
The road to further adoption

HYVE's cross-chain, decentralized ecosystem, redefines collaborative methods through three main products, HYVE App, HYVE Launch, and HYVE Bazaar. HYVE is working on bringing a global DeFi solution for freelancers and businesses looking to hire through the HYVE platform.
Our blockchain-based freelancing platform eliminates intermediaries and optimally connects clients with matching professionals, all with the lowest fee out of all freelancing platforms. Ranging from 0.9% for tasks, jobs, and offers completed in $HYVE, rising to 2.9% for payments in $ETH, $BTC, or $USDT or 7.9% for alt-coins, and the fee can be reduced by a further 50% by paying it in $HYVE.
You will be seeing further additions of tokens on the HYVE platform for the foreseeable future. We'll also be releasing a development update article in the near future, so make sure you stay tuned for that!

🐝 Want to learn more about HYVE?
🐦 Follow us on Twitter.
🗨️ Join our Telegram Group.
✅ Follow us on Instagram.
🏦Want to learn more about EQIFi?
🐦 Follow them on Twitter.
🗨️ Join their Telegram Group.
✅ Follow them on Instagram.