New token integration: $ERG is live on HYVE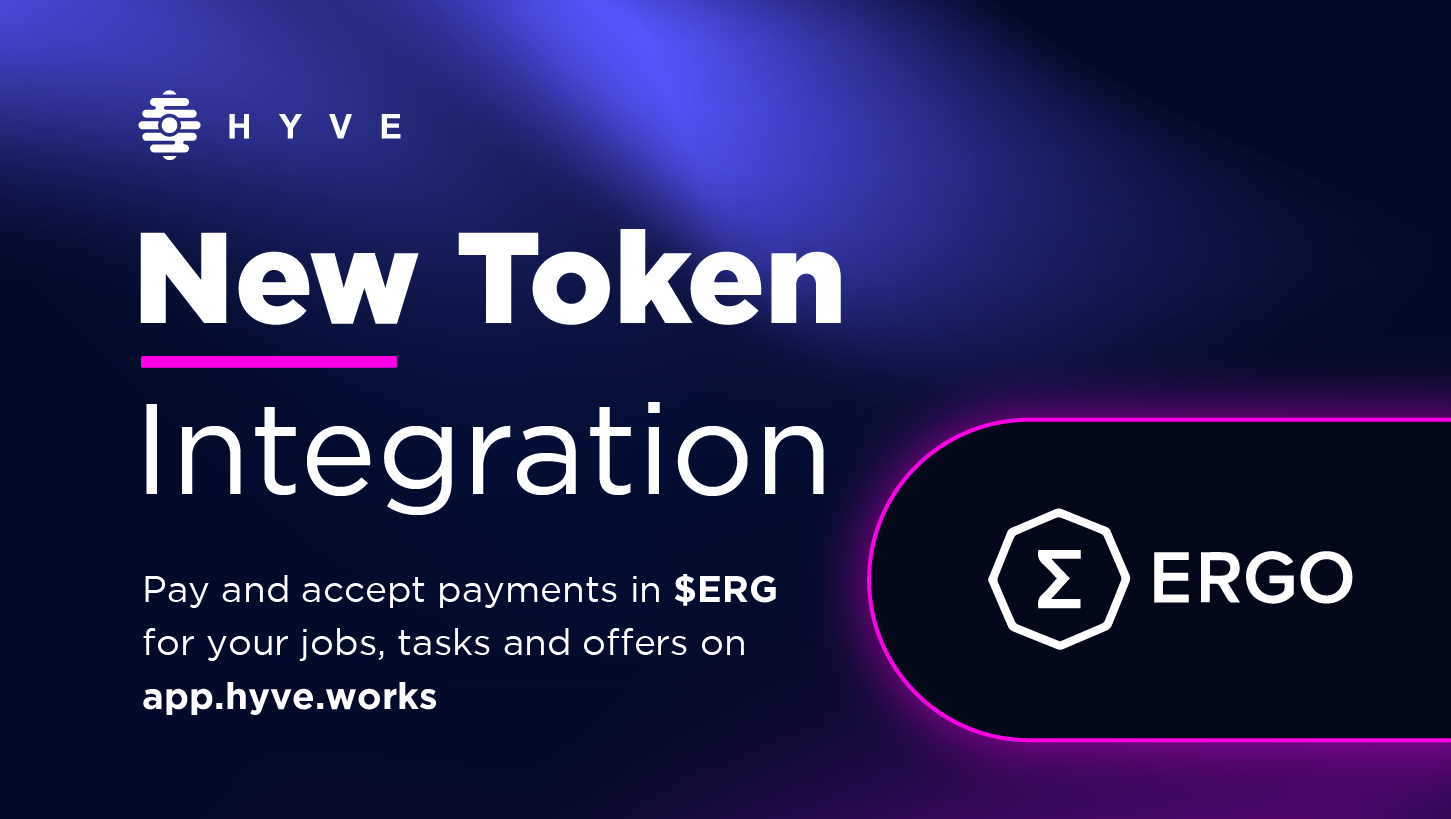 Following the addition of $JELLY, $MIM, and $SPELL, HYVE is excited to announce further diversification of our payment options with our latest token integration: $ERG. As we have already repeatedly mentioned, HYVE provides diverse methods of payment, in order to give freelancers limitless opportunities across the platform and allow them ultimate freedom of overpayment. Moreover, Ergo's community will be exposed to HYVE's functionalities and benefits, meaning that more potential freelancers will access the platform, enhancing the adoption of our project.

Diving in on Ergo…
Ergo is an innovative smart-contract platform that enables new models of financial interaction, underpinned by a safe and rich scripting language built with flexible and powerful Zero-Knowledge proofs, hoping to build society through horizontal cooperation through production under trade and exchange, solidarity and mutual aid. Ergo focuses on providing a decentralized, open and secure platform for contractual money that is usable by regular people to secure their economic freedom through secure, accessible, and decentralized financial tools. Following its resilient design in the face of different economic environments and competing interests, Ergo grants individuals to select the optimal level for their own privacy, while it also offers economic opportunity to the people using the next-generation smart-contact platform.

Why Ergo?
Even if the ecosystem of Ergo is still incipient, it does not mean it did not have time to facilitate substantial features such as:
decentralized exchange of cryptocurrencies
mining pools or liquidity pools offer you the chance of earning money through transfers
privacy
support raffles for charity causes
payment links for the services freelancers are providing
secure profits

In addition, Ergo also supports a series of dApps in its ecosystem, namely:
ErgoMixer provides serverless token-mixing with $ERG or any native/wrapped asset
ergo.watch monitors utility delivering on-chain statistics and insights on emission, oracle pools etc.
Ergo Auctions is a simple and secure way to sell or buy $ERG, artworks, NFTs, or even music
Ergo Raffle brings out crowdfunding with a twist: you can raise money for any project of your desire - with a percentage going to one lucky contributor as a prize.
If you are interested in more dApps, you can check out more here.

What is $ERG and what benefits can it provide?
$ERG is the primary token of Ergo's DeFiplatform, which can be mined, bought, or stored. Whether you are a miner (ASIC resistants such as Autolykos & fairly mined Proof-of-Work algorithms), investor, or developer, Ergo's got you covered!
There are currently over 32 million $ERG in motion.

Where can I buy it?
HYVE's aim to expand its community and separate itself from just other decentralized platforms are proven by the incorporation of more tokens. If Ergo and its token, $ERG, caught your eye, you can find its contract address down below to add into your digital wallets and use it to pay for tasks, jobs, and offers:

ETH: 0xcd4e9c458dfecdfa5ea3d4fd22c08af24d124cd6

You can buy $ERG from a variety of centralized and decentralized exchanges, which are detailed more here.

What comes next for HYVE?
If you were following closely from the beginning, you already know that we ensure that HYVE is in a process of continuous improvement, therefore we are currently working on our fifth blockchain integration. We will keep the name secret for now, because we don't want to spoil anything, but we can assure you it is massive and we hope you are as excited as we are!

Furthermore, we will continue with our targeted series about how to get a career in the blockchain space, so make sure you keep an eye out on our blog.

Lastly, HYVE has been getting mainstream recognition. The prominent YouTuber in the crypto world, Mystery of Crypto has been promoting HYVE through his channel. We are grateful for the recognition he has provided us with and we have more exciting things in store to surpass your expectations!

Disclaimer
The information provided does not constitute investment advice, financial advice, trading advice, or any other sort of advice, HYVE does not recommend that any cryptocurrency should be bought, sold, or held by you. Please do your own risk assessment when deciding how to invest in cryptocurrency and blockchain technology. HYVE is not liable for investment gains or losses.
🐝 Want to learn more about HYVE?
🐦 Follow us on Twitter.
🗨️ Join our Telegram Group.
🏦Want to learn more about ERGO?
🐦 Follow them on Twitter.
🗨️ Join their Telegram Group.