HYVE X STASIS
We hope that everyone entered this new week with a smile on their face because we all know how tiring Mondays can get. And it wouldn't be a fresh week without a new integration to our payment system, therefore let's give a round of applause for our newest partnership with STASIS, a project that revolutionizes the crypto market through stablecoins! It's time for a new Euro-linked stable, meaning that you can say goodbye to volatility, and embrace a safer way of sending and receiving cross-border payments.
Yes, you heard it here first, so get your e-wallets ready and add the contract address to use it on our platform (of course!) either for tasks, jobs, or offers:
ETH: 0xdb25f211ab05b1c97d595516f45794528a807ad8
ICYMI
HYVE has lowered fees to 2.5% for listings in any cryptocurrency other than $HYVE. Considering that all other platforms stand between 5-25%, you'd be crazy not to start freelancing on HYVE right now!
Cryptocurrencies have become an integral part of our daily lives. Revealing more use cases where crypto can be exchanged for real-life services and goods is another step towards progress. We believe that the opening of a new payment channel with the largest euro stablecoin is another step towards the adoption of cryptocurrency in Europe and beyond.
---
Bringing the reliability of fiat to the volatile world of crypto
STASIS is a European financial technology firm that develops customer-friendly instruments to enable institutional and retail customers to manage digital currencies and public blockchains for payments and settlements, e-commerce, DeFi and financial applications and to stay compliant with traditional banking systems. The company is the issuer of the largest euro-backed stablecoin. STASIS provides cost-efficient on/off ramp services in Europe via its Swiss FINMA-registered brokerage entity.
ℹ️
stasis - balancing of various forces in order to reach equilibrium or keep something in one place (physics)
The company has rightfully gained the trust of traditional and conservative regulated institutions that highly regard our solutions. Since its inception in 2017, the company has functioned as the most transparent and institutional-friendly part of the European blockchain ecosystem through the strategic intersection of licensed financial intermediaries and distributed ledger technology.
The STASIS platform developed EURS to represent a real-life asset, the Euro (a fiat currency circulating in the European community), on the blockchain, and HYVE is making a partnership with the next backbone of the crypto-economy!
Produced by STASIS, $EURS was created to tokenizethe traditional fiat asset known around the world as the Euro, ''mirror''-ing the value of the Euro on the blockchain and is said to be supported by liquidity assurance mechanisms combining the benefits of a global fiat with the transparency, immutability, and efficiency of the blockchain.
According to their website, all tokens are fully backed by 1:1 collateral reserves. The company aims to promote transparency by providing daily statements from account providers, weekly verifications, and quarterly audits by a top 5 global accounting firm.
ℹ️
From our point of view, this benefits countries with very high inflationary rates, as $EURS represents a good alternative for safeguarding finances either in the form of savings or smart contract investments, becoming a secure gateway to a stable store of value.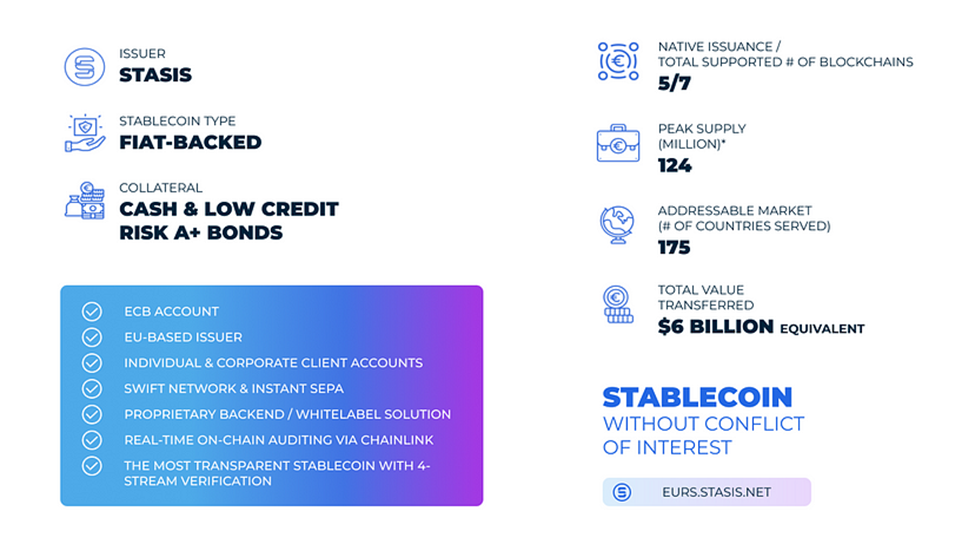 ---
Euro comes to crypto!
The stablecoin realm continues to grow. However, most players are subject to failure from the start. Stasis Euro (EURS) sports various defining features, that allow it to stand out among the competition.
1)Transparency: EURS is fully transparent, with regular audits and detailed reporting available to the general public. This allows users to have complete confidence in the stability and reliability of the stablecoin.
2) Backing: EURS is fully backed by cash and reserves, and Tier-1 auditors have full direct and permanent access to accounts for review — not the case with other assets. Thus, providing users with the assurance that their funds are safe and secure.
3) Coverage & accessibility: EURS has no cap on the number and volume of transactions, due to the EU's MiCA regulation. STASIS serves 175 countries vs 86 of its closest competitor, making it ultimately attractive for European and foreign investors.
4) Multi-chain: STASIS aims to ensure EURS flexibility to avoid inefficiencies of the single-layer solutions. With 5 most popular blockchains supported, EURS is confidently leading the adoption in its segment.
5) Swiss-grade services: The most rigorous corporate governance aswell as independent Swiss-based AML while top 5 audit comes as the icing on the cake.
EURS regulatory compliance, transparency, backed reserves, and strong community support make it a better choice for users looking for a stable and secure digital asset.
STASIS provides a legal two-way currency flow channel between fiat currencies and digital assets, providing access to private and institutional capital.
And worry no more! Using the STASIS-native wallet, users no longer have to pay gas fees to make transactions. Instead, users can pay transaction fees in $EURS. Gas is the unit of measure for the amount of computational effort required for operation execution on the Ethereum network.
Last, but not least, EURS is supported by an ecosystem of custodians, exchanges, liquidity providers, payment platforms, and others.
---
HYVE is going stable
Last summer, we had an abundance of stablecoins joining the HYVE ecosystem. From the Turkish Lira to Singapore and Indonesia, and a variety of alternatives to the US Dollar linked stablecoins, we gave freelancers from all over the world a safe way to receive payment in their national currencies, without the hassle of dealing with banks. However, European freelancers were quite neglected, due to a lack of stables in cryptocurrencies. Not anymore!
With EURS, things are just starting, as we have more projects on the way. We want to empower every freelancer, regardless of nationality and background factors! As we have mentioned in our roadmap article, in 2023 we plan to add the FIAT On-Ramp, but more details will be revealed later. Check out our Social Media Channels for more!
Disclaimer
The information provided does not constitute investment advice, financial advice, trading advice, or any other sort of advice. Please do your own risk assessment when deciding how to invest in cryptocurrency and blockchain technology. HYVE is not liable for investment gains or losses.