HYVE's half a year recap & much more
It's hard to believe how swiftly time has flown by since 2023 started, it was a long ride, as the crypto space has been going through thick and thin these past few months.
As we find ourselves at the halfway mark of this year's resolutions, we wanted to take you on this new journey of reflection where we are sharing our triumphs, challenges, and invaluable experiences gained throughout this year.
📅
HYVE V2.5 is 9 days away from launch! Mark your calendars now.
---
Adventures @ HYVE
As you might have read in our May recap, HYVE made an appearance at AWSummit Bucharest, one of Europe's leading events for affiliate marketers, digital companies, monetization platforms, entrepreneurs, content creators and social media specialists. Our team at HYVE was very happy to exchange ideas, meet business partners and build future relations with them! HYVE is going to be present at more & more events in the near future so do not miss out - if we are in your city, come say hi - we would really appreciate it!
You might have seen already - HYVE has attended Web3 Berlin! Held in the vibrant city known for its tech scene, it was a genuinely inspiring experience, that brought together leaders, innovators, and builders from around the world, all driven by a shared passion for the decentralized future, and the desire to reshape the Web3 space. And we were there, how amazing!
We took part, setting up our stand, and waiting patiently for all of you and for our new HYVERS. Tudor answered all the questions you had, providing extra info about our latest developments on the platform, and as you may know, we are launching our latest update - HYVE V2.5.
📣
But that's not all - Tudor held a speech presenting our story and the future of Web3 Collaboration. Interested? We might post the whole video for you, stay tuned & follow our Twitter!
---
Meet HYVE's partners!
Collaboration lies at the heart of our mission. And what is our mission - ..., that's right. A lot of projects have shaped HYVE over the course of this year, as we all strive for the adoption and development of blockchain technology faster! Let's give a shoutout to the companies that joined us and helped us open up new avenues for growth, enhance our capabilities, and amplify the reach of our platform.
DODO - Well, if it isn't one of our most appreciated partnerships - DODO is a multichain decentralized exchange platform powered by a PMM algorithm, featuring highly capital-efficient liquidity pools; its trading platform is also offering SmartTrade, a decentralized liquidity aggregation service that routes to and compares various liquidity sources to quote the optimal swap rate between any two tokens.  
KANON - Feeling artsy? A team of crypto art originators and curators with over 50 years of experience leading contemporary art and digital programs, created Kanon - a project wants to test the NFT limits and the impact art creates within the crypto market.
DinoLFG - A project that has been getting a lot of hype, and this time it is for real - DinoLFG is a project that is breaking the myths around memecoins, creating a dedicated and engaged community while educating crypto newbies through games and discussions.
RAILGUN - Hands where we can see it! RAILGUN is a a robust, zero-knowledge substrate built on Ethereum, providing its users with privacy and anonymity, and allowing them to make, send or receive transactions without revealing any assets, amounts, or identities.
Media Licensing - Always dreamt about being a content creator? This project is the one for you: Media Licensing provides a connection between the audience and the content creators, solving four essential challenges of the global media industry: global availability of all Video Content, the discovery process for Buyers, complex licensing for the entire industry, and early feedback from its audience. Moreover, in the upcoming Media Licensing will
Catheon Gaming - Calling all gamers! Ranked as the #1 blockchain emerging giant in the Asia-Pacific Region, Catheon Gaming is the leading gaming and entertaining integrated blockchain platform, providing world-class technical, publishing, and advisory capabilities underpinned by its own Game Center and Metaverse. Start playing now!
Telos - Go green - but this time make it crypto-related! Telos provides a faster and greener solution, that stands closer to true decentralization, being a next-gen L1 and the home of the fastest EVM available. Bonus point - it lacks the big whales, as they call them, that cause market upheaval.
Ocean Protocol - Built on the Ethereum blockchain, Ocean Protocol is an open-source protocol that aims to allow businesses and individuals to exchange and monetize data and data-based services. This project works as an on-ramp for data services into crypto ecosystems, using data NFTs and data tokens.
STASIS - One of the few European projects we have a partnership with, STASIS promises to transform the fiat world of retail into a decentralized one, enabling institutions to manage digital currencies and public blockchains for payments and settlements, e-commerce, DeFi, and financial applications. Bonus point - it is also the issuer of the largest euro-backed stablecoin and the only legal stableoin in the EU! They recently celebrated 5 years in the market and launched a new website as well!
ONTology - Lost your trust because of the scammers that exist in the crypto space? No worries - this project offers you the protection and safety that you need through integrated support for ledger accounts and smart contracts. It is that it is a high-performance and fully scalable underlying public chain, essential to building long-term growth of the on-chain trust ecosystem.
Perpetual Protocol - As the name calls it out - this project's here for the long run - it is an on-chain perpetual futures DEX with deep liquidity and builder-ready composability, wanting to create the world's best, most accessible, and most secure decentralized derivatives trading platform.
Travel Care - Who does not love a good vacation? This project is your dream if you are a crypto enthusiast and a travel lover because it is basically an online travel booking platform that provides clients with all their needs, from flights or cars to accommodation and activities, with more than 500k hotels, 600 airlines, and 100k experiences available. What is more, payment in cryptocurrencies is supported with over 25 tokens across 10 blockchains.
Sandbox - Reading about travel caught you dreaming at feeling the sand & looking at the beach? No worries, you can have it with SandBox! This project is a blockchain-based metaverse, built on Ethereum, providing users with the ability to create, build, buy and sell digital assets in any form of the game.
MDEX - HYVE is honoured to partner up with one of the leading DEX platforms, as you can see called MDEX - a decentralized platform that enables cross-chain transactions and is currently operational on BSC, HECO, and Ethereum.
Tether - One of our old partners, we integrated $USDt and also $EURt, this project is the largest project producing stablecoins in the crypto market. In addition to this, Tether is involved in half of all trades of bitcoin and ether, which is a higher proportion than the trades of Bitcoin and Ether against official currencies, and accounted for around 65% of all trading on crypto-asset trading platforms. What is more to say than congrats?
Mask Protocol - Your digital privacy begins right here! The Mask Network is a cutting-edge protocol with the goal of bridging the gap between Web 2.0 and 3.0, empowering individuals to regain ownership and control over their personal data.
Pundi - One of our oldest partners, we are more than grateful for this one! PUNDI X is one of the leading developers in Asia of blockchain-powered devices that strive to revolutionize retail operations through its blockchain-enabled point-of-sale system. We have integrated not 1, not 2, but 3 tokens from this project, hurry and check them out!
Adshares - Advertising is one of the essential things when creating a project as it raises awareness and engagement, big names know that. Adshares strives to make a change by helping small businesses grow. What is Adshares you may ask? It is described as a decentralized advertising Web3 protocol designed to provide blockchain-based ad software to the ad tech industry.
Offshift - You know what they say - private life, happy life. Offshift provides anonymity on Ethereum Layer 1, through their debut PriFi application.
Frax Protocol - We all need stability sometimes! Frax is clearly the first stablecoin protocol to implement design principles of both to create a highly scalable, trustless pure on-chain future for your money, aiming to serve as a decentralized finance (DeFi) money market that makes use of several distinct mechanisms.
Marlin Protocol - Did you know that Marlin Protocol got its name from the Marlin Fish - one of the largest & fastest species of fish in the world, reaching up to 68 mph? Just to sum it up to you, Marlin is an open protocol that provides a high-performance programmable network infrastructure for DeFi and Web 3.0.
ThunderCore - Alexa, play Thunder by Coldplay - that's how we feel about this partnership. Why you might ask? Well, Thundercore is a fully EVM Compatible high-performance, eco-friendly, and fully-interoperable blockchain that helps Web2 apps onboard on Web3. Amazing if you ask us!
Darwinia Protocol - Our last integration for this semester is a cross-chain messaging infrastructure that provides a reliable and programmable cross-chain platform for decentralized applications, working as a bridge between different cryptocurrencies in addition to DEFI services, providing its users with an SDK and the ability to easily integrate in their DApps.
As you might have seen, with most of these partnerships, HYVE has made numerous AMAs in order to foster transparency, engage our communities to adoption, and last but not least, get feedback from our users as well as suggestions, or highlight areas for improvement.
We and all our partners are very open to any concerns that you might have as we need to understand your needs and expectations. If you thought of something, leave us a comment down below, and we will read it for sure!
---
HYVE V2.5 - a platform to rule them all
Over the past six months, HYVE has witnessed significant development, fueled by our team members' dedication, expertise, and passion and the desire to be better for our dear HYVERS!
We have repeatedly mentioned that we are working towards creating a new product, that will provide users with the best UI/UX, improve the collaborative process and enable payment in close than 150 tokens!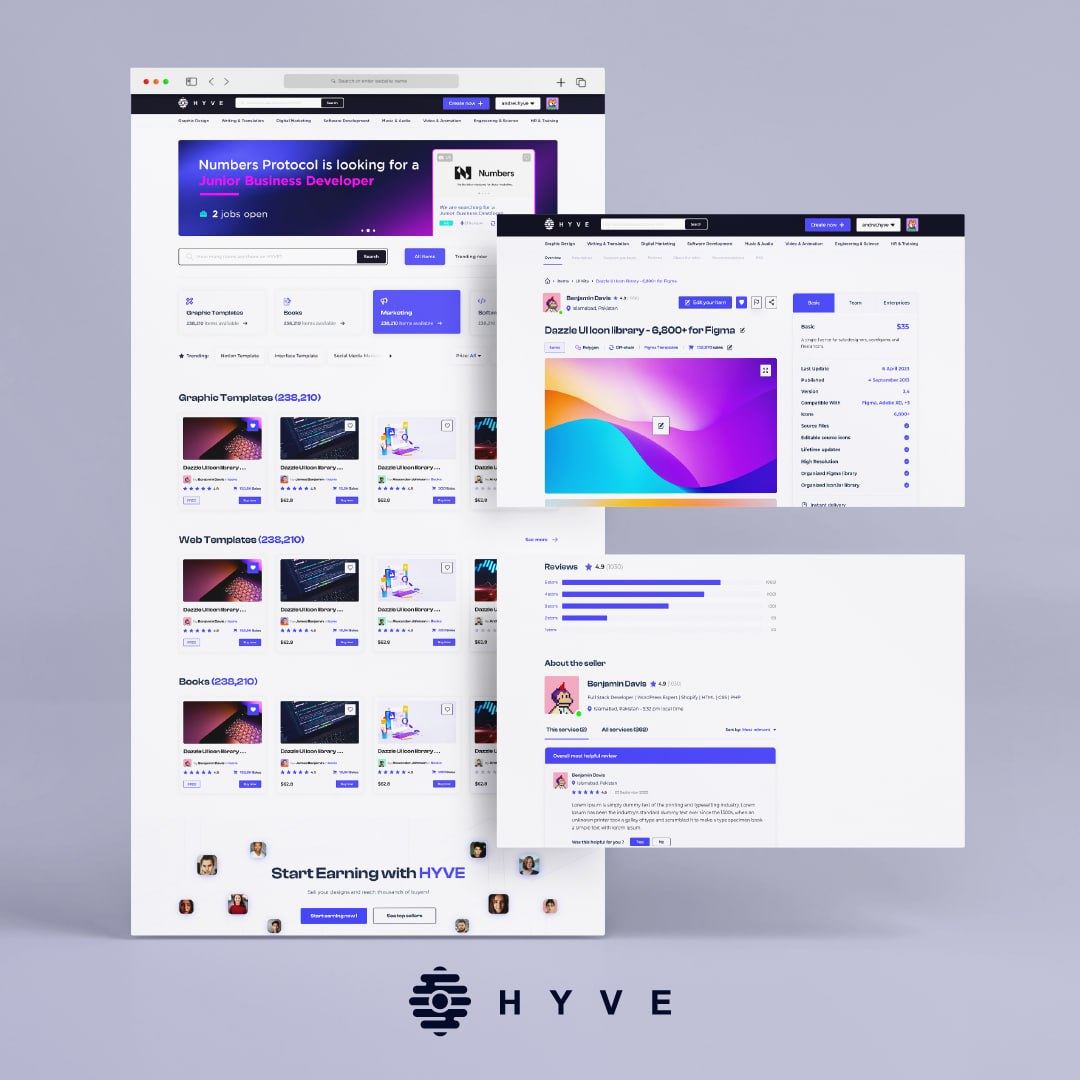 HYVE has provided sneak peek of our upcoming release for the past months, but we are closer than ever to our release! If you haven't registered just yet on the platform, now it's time to start freelancing!