The roadmap to becoming a freelance copywriter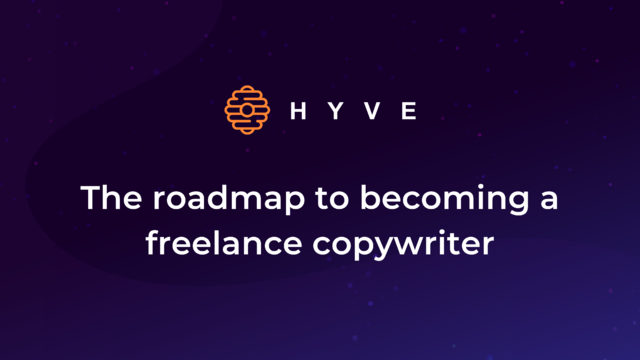 Copywriting is commonly used in marketing and sales to help potential clients to learn more about a product or service to increase conversions.
If you want to become a copywriter, there are plenty of ways to get started. Despite what you might have heard, you don`t need years of experience or specific training to get into copywriting.
As a freelancer, you get to choose clients you want to work with and set your rates and schedule, more simplistically, you get the chance to be your boss. The key to success is having a good roadmap, that has specific targets and deadlines, that will not only help you grow but can help you become more successful and achieve your goals faster.
Copywriting is a skill that can take a wide variety of forms. This way you will be able to work on different domains, depending on what you like most:
Advertising copy
Magazine content
Emails
Blog posts
Press releases
Landing pages or sales pages
Brochures
E-books
Case studies
PPC campaigns
Product descriptions
Presentations
Video scripts
Headlines
White papers
---
If you want to kick-start your new career as a freelance copywriter, then you will read the next few actionable steps to get you on your way.
Find a niche
A niche allows you to polish your skills in a certain area, by allowing you to expand your knowledge and increase your value to potential clients. When you concentrate on copywriting for a single niche, you'll gain a deeper understanding of your target market and improve your copywriting skills.
If you have experience with a specific type of writing, you may want to choose to focus on that niche while getting your freelance copywriting business off the ground.  
Whether it's science, the latest cutting-edge tech innovations, or psychological facts, figuring out what types of things interest you can be a good place to start choosing your niche as a freelance copywriter. Or perhaps you want to focus on scriptwriting, or you prefer to write about fashion-related topics. Take some time to think about it.
---
Build a portfolio
Portfolios are a compilation of your work assembled to show off your experience and expertise in an area.
So if you have ever written a report or contributed to an online publication or newspaper, or maybe if you used to write memos or briefs, then you would be happy to know that these are all related skills that can be added to your portfolio.
If you've worked for prestigious companies/clients, names your prospect will recognize, then those samples should be included in your portfolio because they`ll give you instant credibility. It's up to you to decide what type of writing samples you want to include in your writing portfolio. Your portfolio may include:
Table of contents
Useful links
Contact information
The act of putting together a portfolio will help you to assess your abilities and accomplishments while also reflecting on the type of copywriting-related work you wish to pursue in the future.
---
Brand yourself as a copywriter
Branding represents a simple way to distinguish yourself in an overcrowded field of copywriters. It can also persuade potential clients that you're a good investment. Having a logo and a website that looks professional counts for a lot. Let`s imagine you're a marketing manager for a multinational corporation that is looking for a copywriter: you'll feel more comfortable hiring a copywriter who looks professional, organized, and experienced.
There are many amazing copywriters with fulfilling careers, all without anything more than a mobile number and an e-mail address. And that's fantastic. There's nothing wrong with that.
However, if you want to work with more important clients, enjoy more flexibility in choosing your clients, and charge fees that reflect the value you provide, you may discover that the right branding strategy will help you to achieve your goals.
---
Build a network
Your next step is to build a network of both potential clients and people who will help you to get your brand out there. These networking resources will help you expand your horizons and get your foot in the door with some fantastic opportunities.
LinkedIn is meant to be a networking platform so it`s a great way to connect with people in your line of work or discover a career path. Make connections with other freelancers as well. Not only is it beneficial to network with those who are familiar with the freelance industry, but it can also generate leads.
HYVE is a global task directory that provides work opportunities for freelancers. It's easy to create an account and apply for all kinds of jobs and gigs. You can connect with potential clients, marketing agencies and companies, other freelancers, and so on. Also, you have the opportunity to access a task marketplace with lower fees and you can also stake your earnings through HYVE to generate a passive income.
Set up a Google My Business account. One of the best parts about setting up a Google My Business account is that it's a free way to promote you as a freelance copywriter and helps you get easily found on Google. You can customize your profile around your branding and you can add updates and photos and reviews.
Social media is also a good way to connect with other copywriters and discuss relatable experiences as well as open doors for you to discover potential employment opportunities, whether it`s Twitter, TikTok, Facebook groups, or Instagram. Just try to join groups for freelance writers or local business groups in your area, the results may surprise you.
---
Copywriters are storytellers
Copywriting does not have to be mysterious or difficult. Copywriting demands creativity, inspiration, and hard work. Though copywriting can be of various types, one thing remains constant and that is endless creativity.
If you want to become a great copywriter, you must be creative and know how to catch your reader's attention. You need to tell them a story they can relate to.
🐝 Want to learn more about HYVE?
🐦 Follow us on Twitter.
🗨️ Join our Telegram Group.
📢 Join our Announcement Channel.
💡 Join our Discord.
✅ Follow us on Instagram.
👍 Like us on Facebook.
🌍Visit our Website.