It's finally time for HYVE App 2.0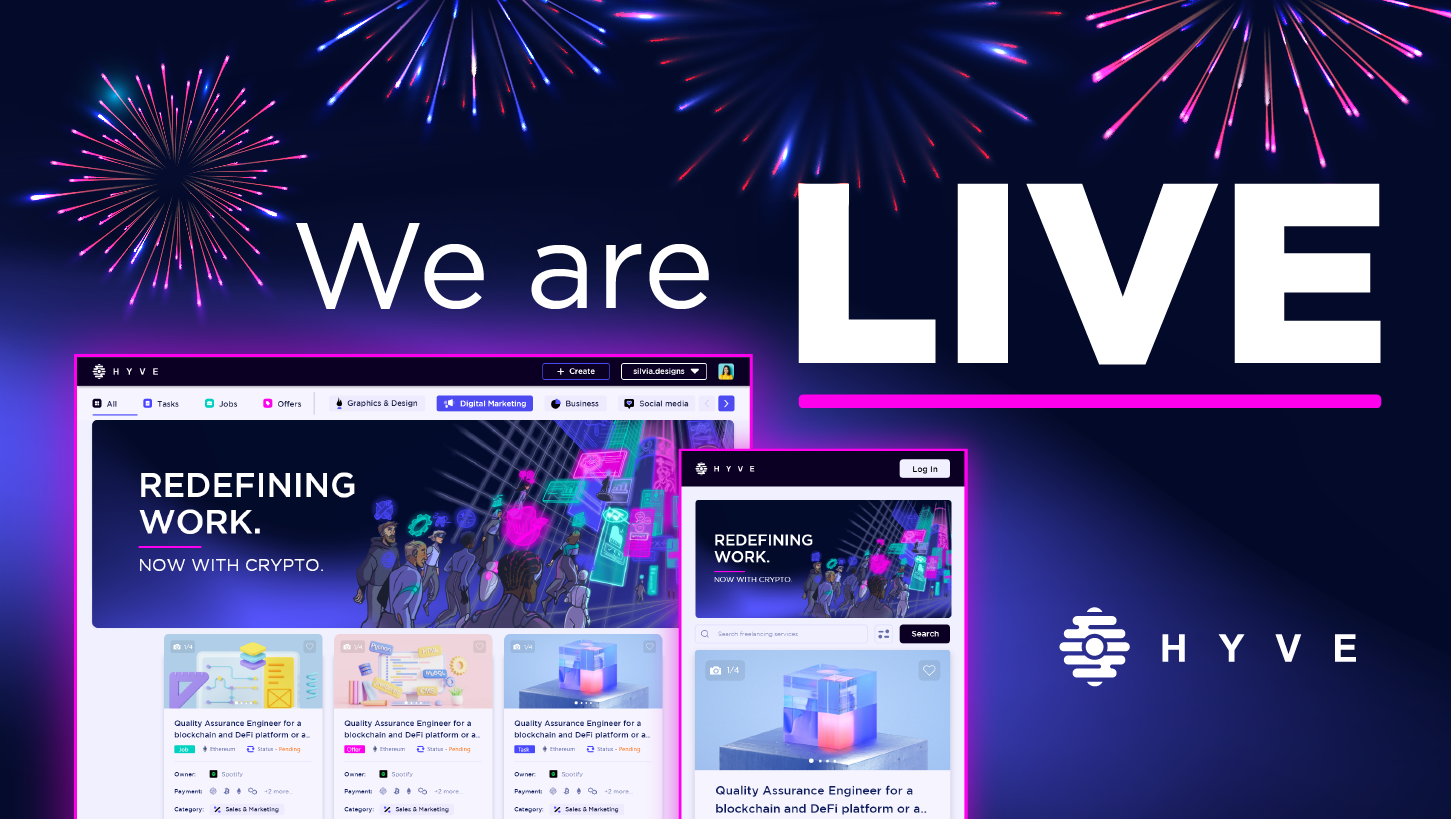 The long wait is finally over - we are excited to announce that the new HYVE platform is live! Following continuous improvement and rebranding, HYVE has reshuffled its ecosystem to create a better and more intuitive experience for freelancers and companies alike, willing to earn crypto for their services. Our website redesign started in late January, lasting for almost two months. Moreover, during this time, we revealed our most recent product, the HYVE Bazaar, which will act as a marketplace for creatives, empowering them to earn crypto.

Now, after 6 months of hard work, we are ready to reveal our improved platform, which brings some groundbreaking features for freelancers and a smooth UX/UI, welcoming even crypto-inexperienced freelancers. You might have noticed that partnerships this year have all been geared towards developing the necessary infrastructure for the platform rollout, such as blockchain integrations and token additions. Further below, we will be giving you a detailed platform overview.
Development updates
It's been a while since our fourth development update. Still, it was all for good reason since our dev team has been tirelessly working on delivering a complex and complete platform that ensures a seamless user transition. Not only does the new design provide a more intuitive experience, but now we have a functional mobile and tablet platform, which allows for constant collaboration, regardless of device, providing display resolution up to 4k. As mentioned in earlier articles, we are working towards implementing a new login option through social media accounts, bypassing the metamask wallet registration. This permits freelancers without prior crypto experience to quickly sign-up on HYVE and start working directly. In addition, we have now added job categories, making it easier for clients and freelancers to browse through listings. This drastically reduces browsing times and creates efficiencies in the entire process.

Moreover, regardless of the token the listing was posted in, we have added the total sum in USD converted underneath, so there is easy traceability for freelancers who are unfamiliar with changing token prices. We have also enhanced the profile subsection, with users now able to browse personalized Dashboards, previous work (My Work), and a My Profile page. In addition, we have expanded task cards on viewports and created new zoom options. To facilitate companies hiring on HYVE, we have created an onboarding component to aid in the process. Lastly, we have fixed several bugs and tried improving the website's overall performance. Consequently, we will update the tutorials on our website to reflect the platform's new design.

Diversifying payment options and other integrations
To reach the complete diversification of our payment options and with the pure aim of providing you with only the most optimal methods for payment of tasks, jobs, and offers on the HYVE platform, we have been relentlessly integrating new tokens on the ETH and BSC networks mostly, the first of which was $RADAR, back in March. You might remember that earlier this year, we implemented the RadarBridge, allowing users to interchange their $HYVE tokens between the ETH and BSC blockchains, with Polygon and Fantom to be implemented soon.

Since then, we have integrated a total of 11 tokens, as well as 2 blockchains: Fantom ($FTM) and Polygon ($MATIC), with their respective tokens, with users able to maximize earnings for completing tasks, jobs, and offers on our freelancing platform, as well as by staking $HYVE for reduced gas fees.

$RADAR integration was shortly followed by $UNIQ, which aims to bridge the digital world of NFTs and the mainstream physical market by creating a complex ecosystem. Afterward, we integrated $ALPACA, which empowers its tokenholders through direct and indirect rewards.

Following that, we had the $NFTD token, the centerpiece of the NFTrade ecosystem. Subsequently, HYVE had its first dual token integration: $FRM and $FRMx, both providing access to pre-sales of promising projects incubated through Ferrum Ventures and Ferrum Advisory Service. More recently, we have integrated $SOURCE, which has three primary purposes: Fuel, Underwriting, and Governance, for theReSource protocol, and most notably, another dual integration:  $PUNDIX & $FX, which have the shared goal of enabling "crypto for the masses," making it as simple as buying a bottle of water, a goal that HYVE has also set.

The complete list of our integrated tokens can be found below in chronological order :
$RADAR
$MATIC
$UNIQ
$ALPACA
$FTM
$NFTD
$FRM & $FRM
$SOURCE
$PUNDIX & $FX
The list above is merely a glimpse at what is to come - the foundation brings us one step closer to further adoption and to HYVE being the universal platform for freelancers.  Each token has brought new valuable benefits, additional exposure, and the prospect of multi-platform functionalities. By focusing on integrating multiple payment options, we provide freelancers with further freedom over instant payment options and facilitate the discovery of different communities and projects while creating partnership potential.
Onboarding companies
While integrating different tokens, numerous projects have realized the utility of the HYVE platform, with their hiring process being performed extensively on HYVE. The earliest were our friends from RADAR, who have posted a listing for a Content Writer. In addition, Ferrum and ReSource are also looking for more technical positions to be fulfilled full-time. Even Mistery of Crypto, the world-renown blockchain influencer and trendsetter, has used the HYVE freelancing platform to expand its team and hire a Marketing Manager/Relationship Manager to build and maintain partnerships.

With our platform launch, we have a surprise in stock from our long-time partner PundiX, who will be integrating $HYVE on their native XPOS system. Thus, we advise all freelancers interested in developing a career in blockchain or want to try something different to stay alert during the next few days by checking out for any announcements - we promise it will be quite exciting!
Already posted jobs
With the new platform launch, we will have jobs listed from the following partners, so make sure that you apply if you are interested in working in a highly competitive environment:

PundiX and Function X - currently, 10 jobs and 3 tasks open on HYVE at one of the most exciting payment companies Web3
ReSource - 3 jobs are available on HYVE, at one of the most exciting blockchain protocols backed by trade and real-life assets
Ferrum - one software engineer job on HYVE for the project aiming to bring Interoperability 2.0
NFTrade - one job live on HYVE at one of the projects finding new applicability for NFTs
YourJustice - 2 positions are open on HYVE at a Web3 project ready to bring the legal field to Web3
Many more will follow in the coming days, with HYVE quickly becoming the go-to web3 freelancing platform and the most diverse blockchain jobs directory. Make sure you always keep an eye out for some more updates!
Referral system
As part of the extended-release, we will be bringing out additional features on the HYVE 2.o platform within the next couple of months. One of these features, which will be live from day 1 of the launch, is a referral system, which will be a major growth catalyst for our userbase. Referrals can be performed either through mail or link, as well as Twitter and LinkedIn. There is an unlimited number of invites users can send, which can also be monitored through an invites list. Users will be rewarded with $HYVE and can withdraw the rewards in any wallet of choice, but only once they have reached 500 $HYVE.
So how can you benefit from the rewards of the referral system? You will be paid in $HYVE for the following actions one of your invited users performs:
Creation of a new account: 1 $HYVE
Completion of profile details: 1 $HYVE
First listing of a user: 1 $HYVE
First application for a task or job: 1 $HYVE
First order on HYVE: 1 $HYVE
First accepted application on HYVE: 2 $HYVE
Future plans
HYVE is always working towards developing its ecosystem and bringing more utility to its users. As we have already accustomed you, we will be working on further token integrations, which cannot be possible without adding new blockchains. Subsequently, we are also working on matching companies looking to hire talented and skillful individuals with the right freelancers, enabling users to find the perfect opportunities on HYVE. Most notably, by the end of June, we want to launch something more compelling within our ecosystem, yet we can't give out more details for now. What we can hint is that this is a widely-spoken subject within the crypto world, which HYVE is ready to tackle!  

🐝 Want to learn more about HYVE?
🐦 Follow us on Twitter.
🗨️ Join our Telegram Group.
📢 Join our Announcement Channel.
💡 Join our Discord.
✅ Follow us on Instagram.
👍 Like us on Facebook.
💡 Visit our Website.