HYVE development update #2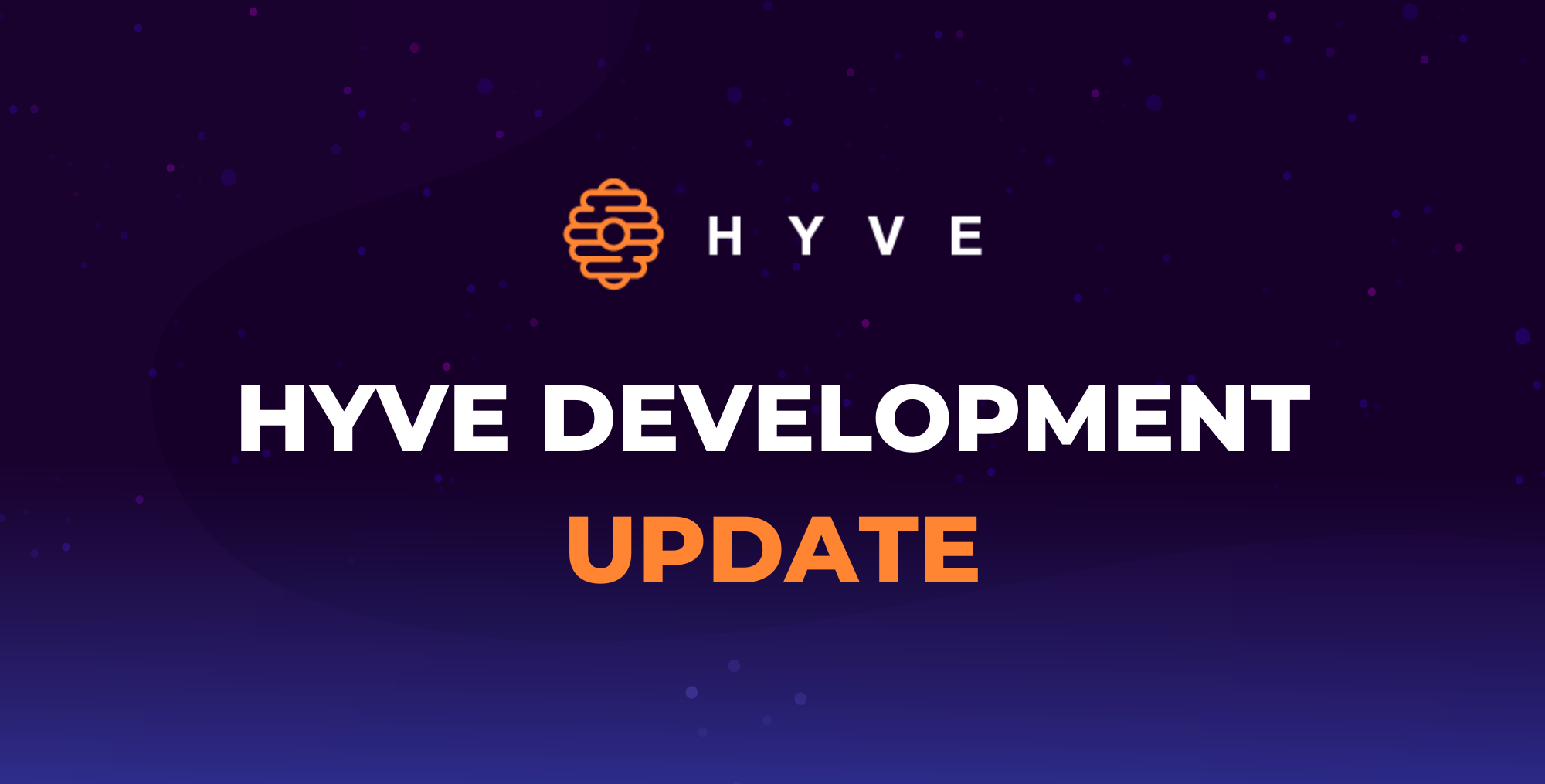 It's been a hot second since the last development update, so let's get everyone up to date and show what we have changed over the last three months. This update is all about incremental improvements, providing both accessibility and transparency, as a result of our tireless work towards enhancing the platform.
Nevertheless, the development update comes at an eventful time for HYVE, since in the last period we have been heavily focused on growth, by expanding our ecosystem through partnerships.
Cross-chain deployment
Following the launch of our platform, we immediately implemented the Ethereum blockchain. We know that HYVE's quest for further adoption can happen through cross-chain integration, therefore we deployed on the Binance Smart Chain network shortly thereafter, aiming to lower fees and increase exposure. Users were then allowed to create tasks, jobs or post offers on the platform from their preferred blockchain.
In early November, staking went live for both Ethereum and Binance Smart Chain, providing users with at least 3 months of rewards. Staking can be currently performed for periods varying from 1 month up to 3 years. By the end of November, we had already started working on staking V3, while in December we initiated staking V3, eventually launched in January. V3 aligns the ETH and BSC chains, while removing restrictions for users.  
What is even more exciting is that we are close to integrate our third chain, deploying on the Polygon network. We are planning to include several features, such as migrating the token, bridging, and then finally deploying and opening up staking on Polygon. With all these said, we expect to have three different chains integrated into the platform by end of February this year, with one more coming up in March so that the HYVE platform is more accessible.
Homepage
Once you find yourself on our landing page you'll be greeted by new useful buttons. Above all, we've added direct access to our app in the header. Further right, you will now find links to the exchanges where you can purchase and trade the $HYVE token.

We've made some improvements at the bottom of our page too. All of our socials have been updated and all links were reordered for legibility and updated with relevant resources.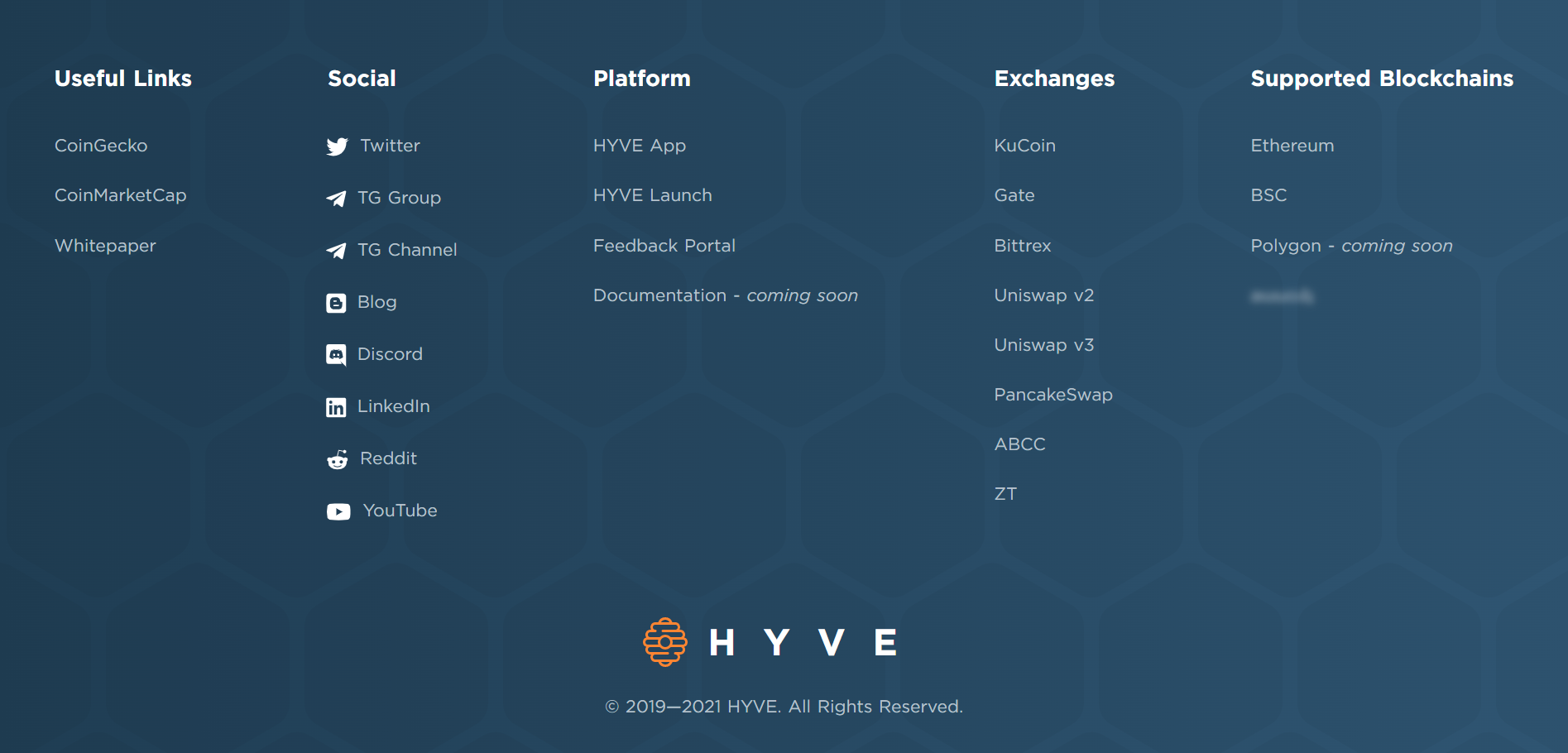 Overall, we have added many minor interface enhancements, which should also make our homepage more responsive on mobile devices
Dashboard improvements
This time around we've completely overhauled the create card screen for both jobs and tasks. In order to further improve both function and form, icons for stat cards, as well as new dashboard icons were added.  We've also implemented reactive validation for both your username and your email, and, if you ever decide to edit your profile, you will now notice a new 'clear country' button.
Fixes
We're continuing to implement bug fixes in order to bring the platform to the highest standard. Recently, we successfully managed to gather feedback from many people within the HYVE community - we do want to thank you for your opinion, as we are grateful that you are actively willing to take part throughout the entire stages of the platform development. Below you can find a concrete list of bug fixes, affecting both functionality and user profile.
Functionality
Fixed the issue that would not allow users to close cards by clicking outside
Fixed the issue where users could not submit solutions
Fixed the issue where users were not able to stake
Fixed the issue with inputs found in the create card screen and added related tooltips
Updated currency select
User profile
Fixed the education tab for user profile - users are now able to add education entries
Fixed the issue where the user could not remove the country/city option from the form
Fixed the issue with the username field being read-only even if the username was not set
Fixed the issue where Privacy Policy and Terms & Conditions would not be accessible if the user was not authorized
Fixed the issue where Create and Authorize would not function if the user was on the Privacy Policy or Terms & Conditions page
Fixed the issue where Create and Authorize would not function if the user was not authorized and on the Privacy Policy or Terms & Conditions pages - the authenticate modal is now displayed upon clicking
Fixed the issue where the Apply button would display on task/job cards if the user is not authorized - the authenticate modal is displayed on the click
Fixed backend issues that occurred when users saved and updated their profiles, but the information did not automatically update in the create task or job section
Platform improvements
The HYVE platform launch was the most anticipated achievement of 2021. Nevertheless, since its launch, we have added numerous improvements and features, with the final quarter of 2021 proving to be one of the busiest.
We have optimized the process of starting and finishing a task or job, creating a functional and complex workflow. Freelancers can provide a solution, which can be rejected or accepted by the client, with the feedback directly recorded within the blockchain. We have also introduced the "renew job" option, which becomes available once the solution is accepted by the client.
Offers went live in December, offering the same complex workflow as a task or job. Once a client wants to purchase the services provided in an offer, the funds are deposited in an escrow following approval from the freelancer and the work can start. The process has been, thus, streamlined, following the same approach as a task of job.
We started working on the "Favourites" feature at the end of December, introducing it January. Freelancers can now save tasks and jobs they would like to apply for. In addition, we have enhanced web 3.0 wallet management, specifically improving MetaMask wallet management.
Automatic testing has been improved within two different flows, with over 100 unit test on backend and 70 end to end flow tests.
Lastly, we have improved the scalability of our infrastructure. Now, our infrastructure is container-based and no longer server-based, meaning that it can easily scale itself when there is a drastic increase in traffic. Thus, we have shown that we are prepared for the rapid growth of the platform, one of our main objectives in 2022.
Upcoming features
Despite its many moments of uncertainty, this past year brought loads of change for HYVE. By analyzing everything that happened in 2021, we looked back at what we achieved, the lessons we have learned, and what other points we have to improve upon.  
We truly believe that this was the perfect timing for drafting the strategies for the upcoming years. For 2022, we are going to rebuild the structure of the entire platform and website, as well as partner up with companies that would delegate their entire hiring process to HYVE.
Since HYVE is an incredibly complex application, facilitating interaction at different levels, we are planning additional deployments on multiple blockchains. Our vision is that users should be allowed to collaborate, and by providing users with more than three chains to choose from, we believe we can facilitate that. There is also a surprise in the works, and we can only say that it involves jumpstarting new projects using our cross-chain infrastructure, implementing bridges and DEX Pools.
Moving forward
At the end of this first quarter, we plan on launching the mobile version of the platform, in order to improve accessibility and simplify hiring and working. We are confident that our users will enjoy this feature as much as we do since it enhances the utility and adds an extra layer of collaboration.
Furthermore, we will be completely changing the presentation website of HYVE along with the entire UI/UX of the platform. Finally, we will be adding some much-needed features, including but not limited to, new login methods, the ability to counter-offer, accepting multiple currencies as payment for the same task as well as the ability to message people through the HYVE platform for easier collaboration.
Lastly, it is worth saying that in the near future, we are planning on publishing the newly updated roadmap for HYVE. Thus, we will be able to offer you a better idea of what is going on, and what future objectives and milestones we have!
🐝 Want to learn more about HYVE?
🐦 Follow us on Twitter.
🗨️ Join our Telegram Group.
📢 Join our Announcement Channel.
💡 Join our Discord.
💡 Visit our Website.
✅ Follow us on Instagram.
👍 Like us on Facebook.