New Integration Partnership: $HYVE integrated on Crypto.com price page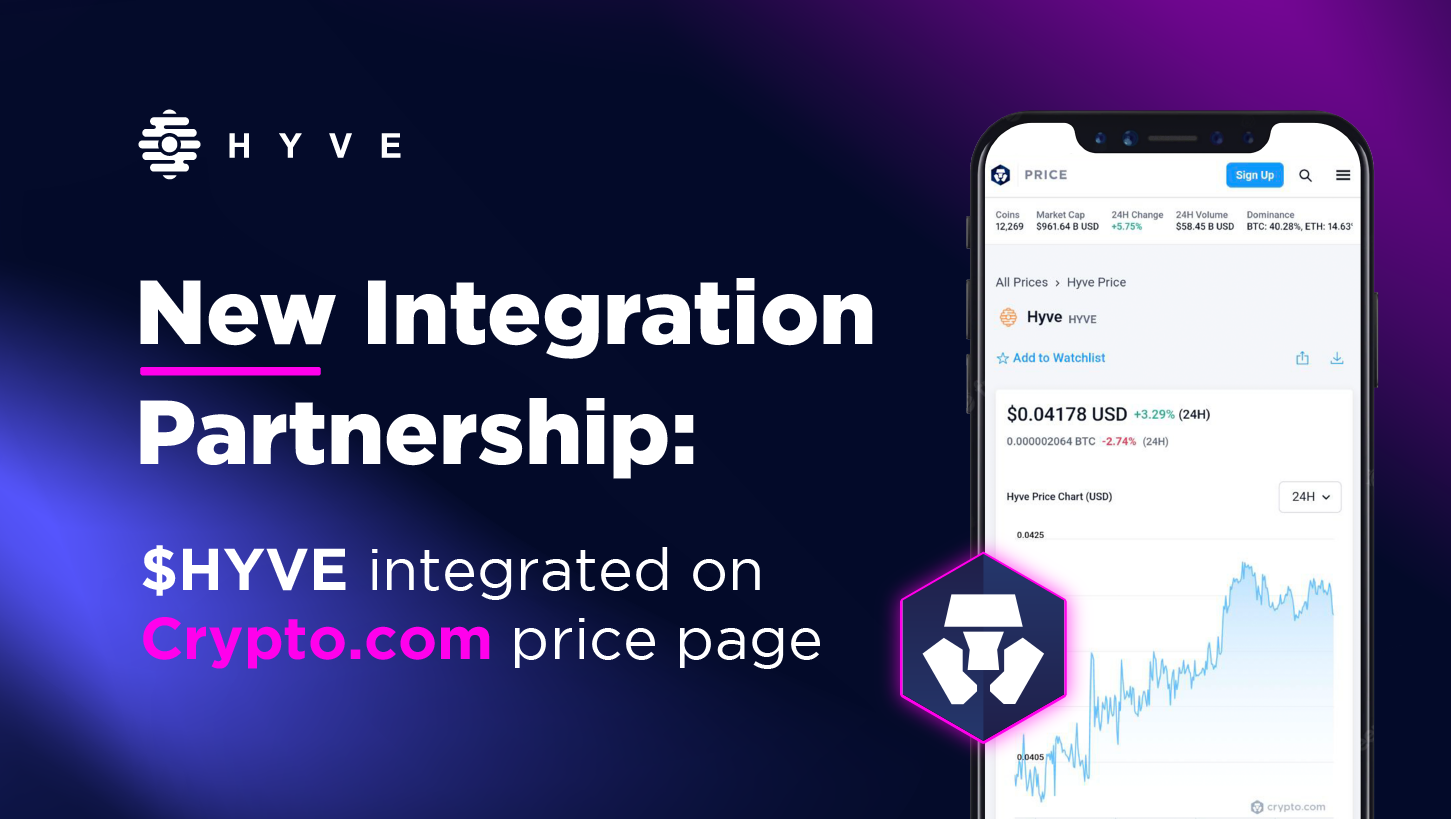 HYVE has been relentlessly integrating new tokens in order to reach the complete diversification of our payment options, all with the aim of providing you with only the most optimal methods for payment of tasks, jobs, and offers on the HYVE platform. Nevertheless, since our expansion is a continuous process, we want to access new communities that can propel us to the next level. For this reason, we are excited to announce that $HYVE RSS feed will be integrated on the Crypto.com HYVE price page.
Everything you need to know about the Crypto.com price page
$HYVE will now gain exposure to a community of dedicated crypto traders as well as newbies, where users can be constantly updated regarding HYVE's latest developments, in addition to live data regarding $HYVE's price, market cap, trading volume and live charts. These allow for better-educated trading strategies and decisions, based on historic prices and price alerts.
Being integrated on Crypto.com HYVE price page serves as a seal of approval for $HYVE, highlighting the project's immense potential and recognition. Increasing trading volume will have a direct correlation with the platform traffic, with the price page serving this purpose.
About Crypto.com
Founded in 2016, Crypto.com has grown into a fully-fledged and well-known international cryptocurrency hub in just a few short years. Its crypto ecosystem consists of the Crypto.com App, Crypto.com Exchange, Crypto.com DeFi Wallet, DeFi Swap, Crypto.com Visa Cards, Crypto Earn, Crypto Credit, Price Page, NFT marketplace, Ethereum Gas Fees Tracker, and many other services. Crypto.com works with regulatory institutions all over the globe, and aims to bring you the most convenient way to buy, sell, trade, and spend cryptocurrencies. The Crypto.com App allows users to buy over 100 top cryptocurrencies at true cost, to earn high interest on their crypto, to manage their Crypto.com Visa Card, and to easily make crypto payments, along with many other rewarding features. The company's Crypto.com DeFi Wallet is non-custodial, so users can have full control of their private keys.
About HYVE
Some of the main drawbacks of traditional centralized freelancing platforms are the high fees they perceive from freelancers, their bias towards larger clients when solving disputes, and their focus mainly on developed countries. In addition, establishing a reputation on such a platform requires many reviews, which means that one might need to provide their services for lower to be more enticing to initial customers.

HYVE is community-governed, aiming to drastically reduce fees, depending on the coin the task or job was posted in, with the choice to halve the fee by paying it in $HYVE. The fees collected are distributed back to the community, rewarding $HYVE token holders. Moreover, through its decentralized dispute resolution system, any issue between parties is solved in an objective manner, with the decision falling in the hands of the community.
HYVE does not discriminate based on geographic location or any other factors, with merit and skills being the best differentiators. Since it allows payment to be performed in a variety of cryptocurrencies (stablecoins and altcoins alike), HYVE empowers freelancers from less developed countries, who might be unbanked or might not have access to the necessary institutions, to provide their services for a fair price. Plus, since the platform is cross-chain, currently supporting ETH, BSC, Polygon and Fantom, with upcoming support for additional blockchains, HYVE highlights its commitment to further adoption and drastically lowering fees, allowing everyone to participate.
Coming up next
With our second version of the platform, we are aiming at creating a perfectly decentralized environment for freelancers and enterprises alike to collaborate without any intermediation, all topped off with groundbreaking new features to make the HYVE platform experience unrivaled. We are looking at integrating further blockchains, in order to facilitate our mission of opening up to a wider community.
HYVE stands out due to its incredibly low fees for freelancers which have yet to be beaten by any other freelancing platform. Our fees vary between 1% for tasks, jobs, and offers completed in $HYVE,  and up to 3.5% for payments performed in $ETH, $BTC, or $USDT and 9% for altcoins. However, even these small fees can be halved by simply paying in $HYVE.
HYVE will continue to integrate increasingly more tokens in order to attract token holders from diverse communities, stay posted and be the first to find out about new additions!
Currently we are working on integrating something new, and expanding the HYVE ecosystem. It is a topic of great relevance within the crypto space, but we cannot give out more information for now. It will be something that we haven't done so far, thus make sure to keep an eye out!
🐝 Want to learn more about HYVE?
🐦 Follow us on Twitter.
🗨️ Join our Telegram Group.
📢 Join our Announcement Channel.
💡 Join our Discord.
✅ Follow us on Instagram.
👍 Like us on Facebook.
💡 Visit our Website.
🏦Want to learn more about Crypto.com?
🐦 Follow them on Twitter.
🗨️ Join their Telegram Group.