HYVE is getting listed on MEXC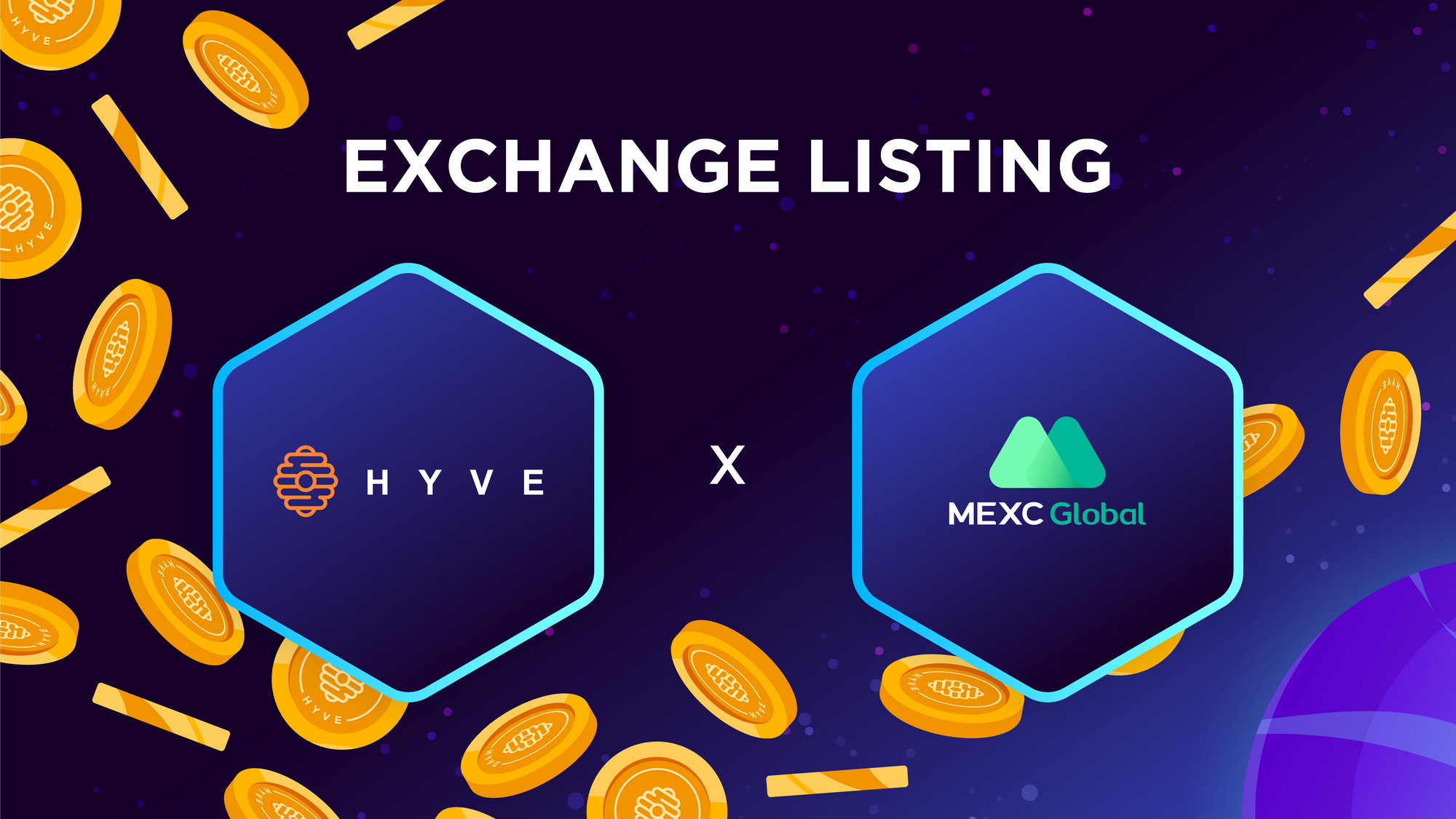 Today we are excited to announce our latest listing partner, MEXC Global. This concludes an eventful year for HYVE, following earlier listings this year on Uniswap, in January, PancakeSwap, in March, KuCoin, in May, and Bittrex, at the end of September. HYVE is committed to enabling mass adoption, and we believe that by extending the $HYVE token on the MEXC platform, we are concluding a reliable partnership.
Furthermore, it will enable exposure by accessing new pools of liquidity in a diverse market. Although the future of cryptocurrencies is decentralized, approximately 99% of trades occur on CEXs, representing a gateway for novice traders and early crypto enthusiasts to learn more about the projects behind the tokens.
Listing Information
The listing on MEXC Global signals the last milestone for HVYE in 2021, with current trading availability on 5 major CEXs and 3 DEXs and with many upcoming partnerships planned for next year. The benefits of this listing will not only include increased liquidity and a wider trading audience but will also mark an increased exposure of the project, making us a step closer to our desired goal.
In light of our listing, we are delighted to let you know that we have planned both an AMA and a trading competition!
Listing Time
Listing trading pair:  HYVE/USDT
Trading pair listing time: 12:00 UTC
Users are only allowed to place SELL orders during 11:30-12:00 (All orders can be placed after 12:00UTC)
More details on the competitions can be found here!
About MEXC Global
Having been awarded the "Best Crypto Exchange Asia" at the 2021 Crypto Expo Dubai, MEXC Global is a centralized exchange, founded in 2018, currently providing high-quality, user-friendly cryptocurrency services to over 6 million users in more than 70 countries around the world.
MEXC Global is aiming to attract both new traders and experienced players alike, through its increased safety and stability, with its servers located across multiple continents. The exchange was developed based on a high-performance trade engine, able to complete 1.4 million transactions per second.
MEXC offers localized language support, with key licenses obtained in jurisdictions such as Canada, Australia, Estonia, and the US. MEXC Global's mission is to create the go-to platform for anyone interested in crypto trading and other derivative products alike.
About HYVE
HYVE is a blockchain-based freelancing platform that allows both employers and freelancers to collaborate safely. Employers can post tasks and look for the right freelancer candidates for the job on the most secure marketplace.
HYVE's offer section can also be used by service providers looking for a marketplace, allowing for an easy and safe way to reach new clients. Furthermore, it must be noted that HYVE has the lowest fees out of all freelancing platforms, additional unique collaboration methods, a built-in dispute system, and even management tools that facilitate the handling of employees and contractors.
🐝 Want to learn more about HYVE?
🐦 Follow us on Twitter.
🗨️ Join our Telegram Group.
📢 Join our Announcement Channel.
💡 Join our Discord.
✅ Follow us on Instagram.
👍 Like us on Facebook.
💡 Visit our Website.