HYVE is partnering up with PolkaCity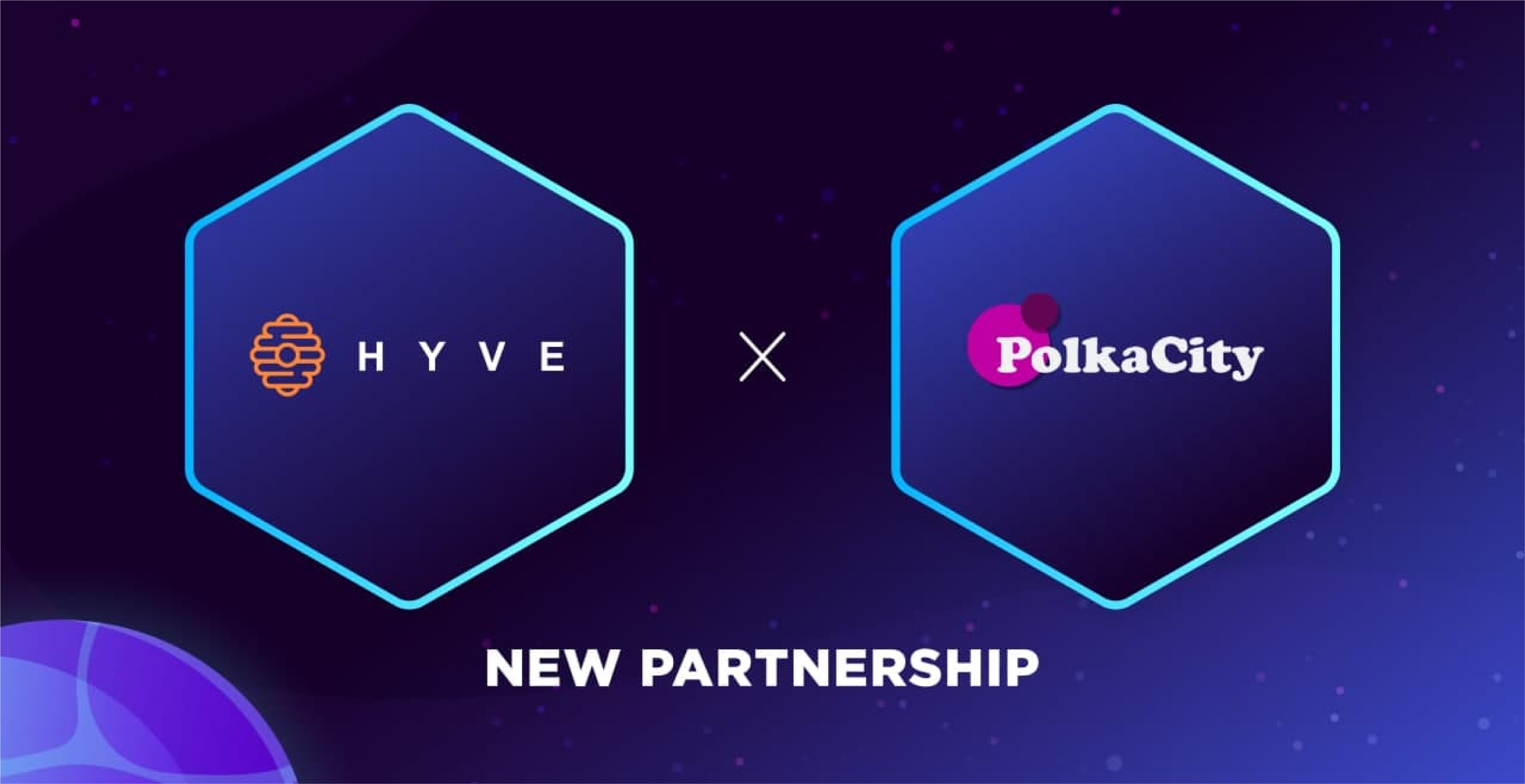 We are thrilled to announce our new partner: PolkaCity 🎮 - a decentralized metaverse built on ownership of digital assets. This partnership shows our commitment to expanding the HYVE ecosystem beyond our platform, providing users with further benefits of the HYVE functionalities.
Over the past two years, COVID-related quarantines and lockdowns have made people look for alternatives to regular activities, driving them towards virtual worlds, where they could freely spend their time exploring, playing, socializing, and shopping.
Therefore, it can be said that the metaverse is a collective and ever-evolving, 3D virtual space, where you get to be the main character. Even better, crypto-backed metaverses are not only massive virtual worlds with immense social impact, but also provide users with huge earning opportunities, based on their virtual savings and investments.
---
What is PolkaCity?
Combining the attributes of metaverses, DeFi, and Non-Fungible Tokens, PolkaCity creates a virtual metropolis where users are incentivized to invest their capital to earn passive income. One of the main subgames offered by PolkaCity is an NFT treasure hunt, based in a virtual open world environment. In terms of graphics and gaming mechanics, PolkaCity is an open-world, sandbox type of game, akin to Grand Theft Auto.

While POLC assets are ERC-721 based, the token is BEP-20 and ERC-20 compatible. Investors can use this token to pay their transaction fees, as well as for purchasing items and services within the PolkaCity ecosystem.
After choosing your preferred asset, you will be prompted to make a deposit, you can connect your Metamask wallet and make a deposit. Upon confirmation of payment, you are good to go! PolkaCity gives you the chance of earning passive income weekly based on the way you interact with your purchased NFTs.
Your assets can either be used in-game, exploited for their functionalities, or rented out to other users who cannot yet afford them but want to generate revenue off of them. Thus, any potential risk is minimized, since users are certain the NFTs they are purchasing are legitimate, while also providing weekly $POLC rewards. It comes as no surprise that PolkaCity has overwhelming support from the virtual and augmented reality community, showcasing growth potential, with increasing interest coming from VR and AR gamers.

The PolkaCity marketplace is multichain, available on both ETH and BSC, offering the possibility to sell or loan your assets, as well as researching your next purchase or rental, comparing prices. A good example of an asset you can buy on these marketplaces is the PolkaCity Bugatti NFT, which you can take for a spin around the virtual city. However, as mentioned earlier, many assets pay out dividends in $POLC, such assets being gas stations, hotels, taxis, buildings, shopping centers, and many more.
---
HYVE & PolkaCity
The partnership between HYVE and PolkaCity will combine the best features of both decentralized platforms, thus highlighting how blockchain-based ecosystems can seamlessly integrate to offer their users unique functionalities.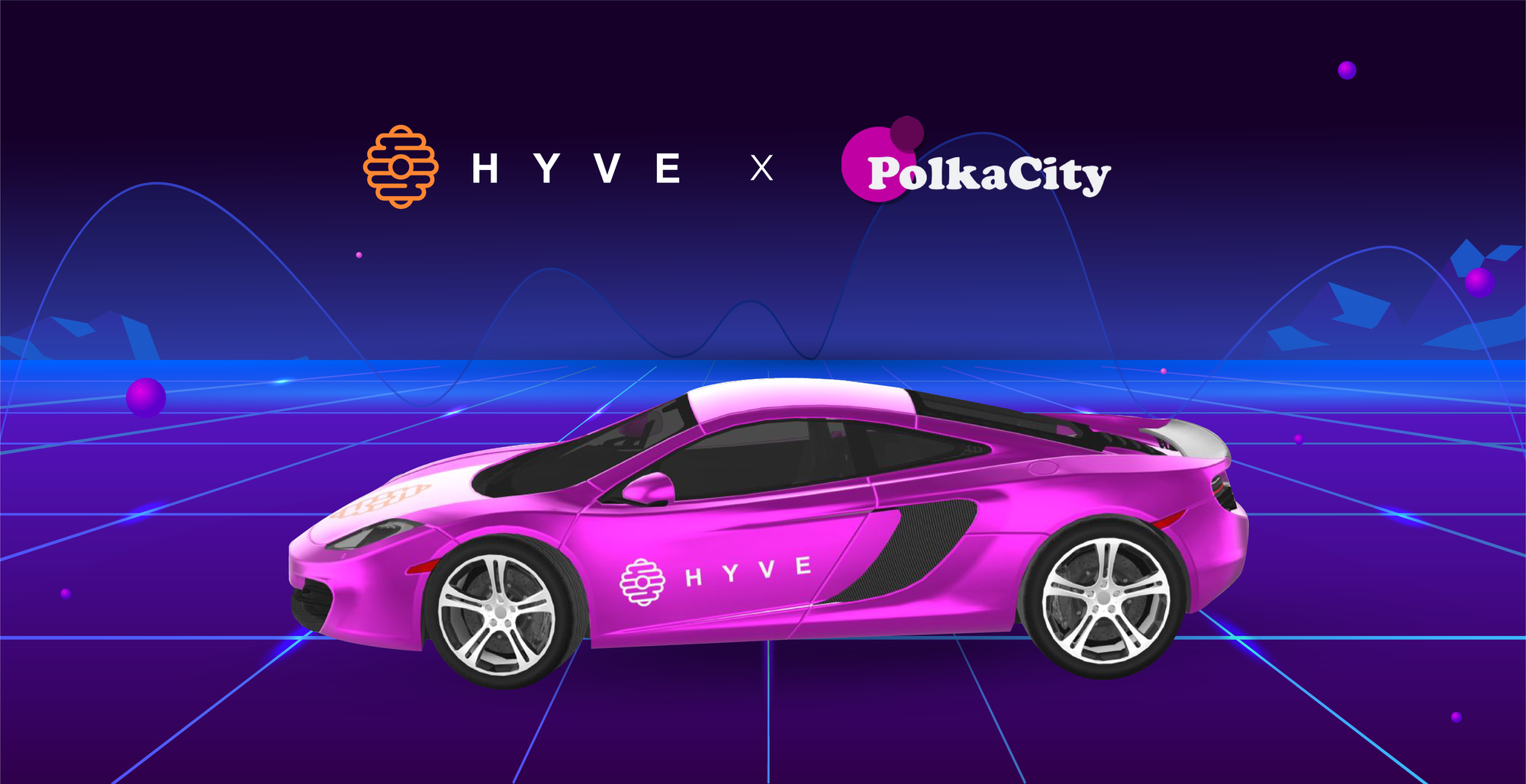 HYVE will have its unique class of branded assets within PolkaCity, through billboards, a building, as well as a HYVE branded supercar, increasing our exposure and reiterating our mission to develop a fully integrated ecosystem and not just a decentralized platform.
Metaverses are here to stay, whether some like it or not, changing the way we interact forever. Although some have limited the metaverse's applicability to the gaming sphere, it will soon transcend into other areas, as can be seen through our most recent partnership. Even prominent figures like Bill Gates estimated that office conferences will take place in the metaverse within the next couple of years.
However, this is not only exclusive to office jobs, but also to professions that require physical interaction. Imagine that you work as a tour guide, showing people around cities and ensuring they have the best time while absorbing as much information as possible. Or that you organize fan meet-ups for celebrities, thus having to always be around people and creating a safe environment. Both these jobs could soon be just as validly performed in the metaverse as well, without requiring your physical presence!
The demand is growing for such tasks or jobs and soon you might even be able to perform them in PolkaCity, thanks to HYVE. The main implication is that the metaverse will revolutionize our traditional way of working, allowing for remote delivery, transparency, and eliminating intermediaries, therefore overlapping with HYVE's mission.

Stay tuned for even more exciting news!
---
🐝 Want to learn more about HYVE?
🐦 Follow us on Twitter.
🗨️ Join our Telegram Group.
📢 Join our Announcement Channel.
💡 Join our Discord.
✅ Follow us on Instagram.
👍 Like us on Facebook.
🌍Visit our Website.
🏦Want to learn more about PolkaCity?
🐦 Follow them on Twitter.
🗨️ Join their Telegram Group.
💡 Visit PolkaCity Website.