HYVE is partnering up with Uniqly!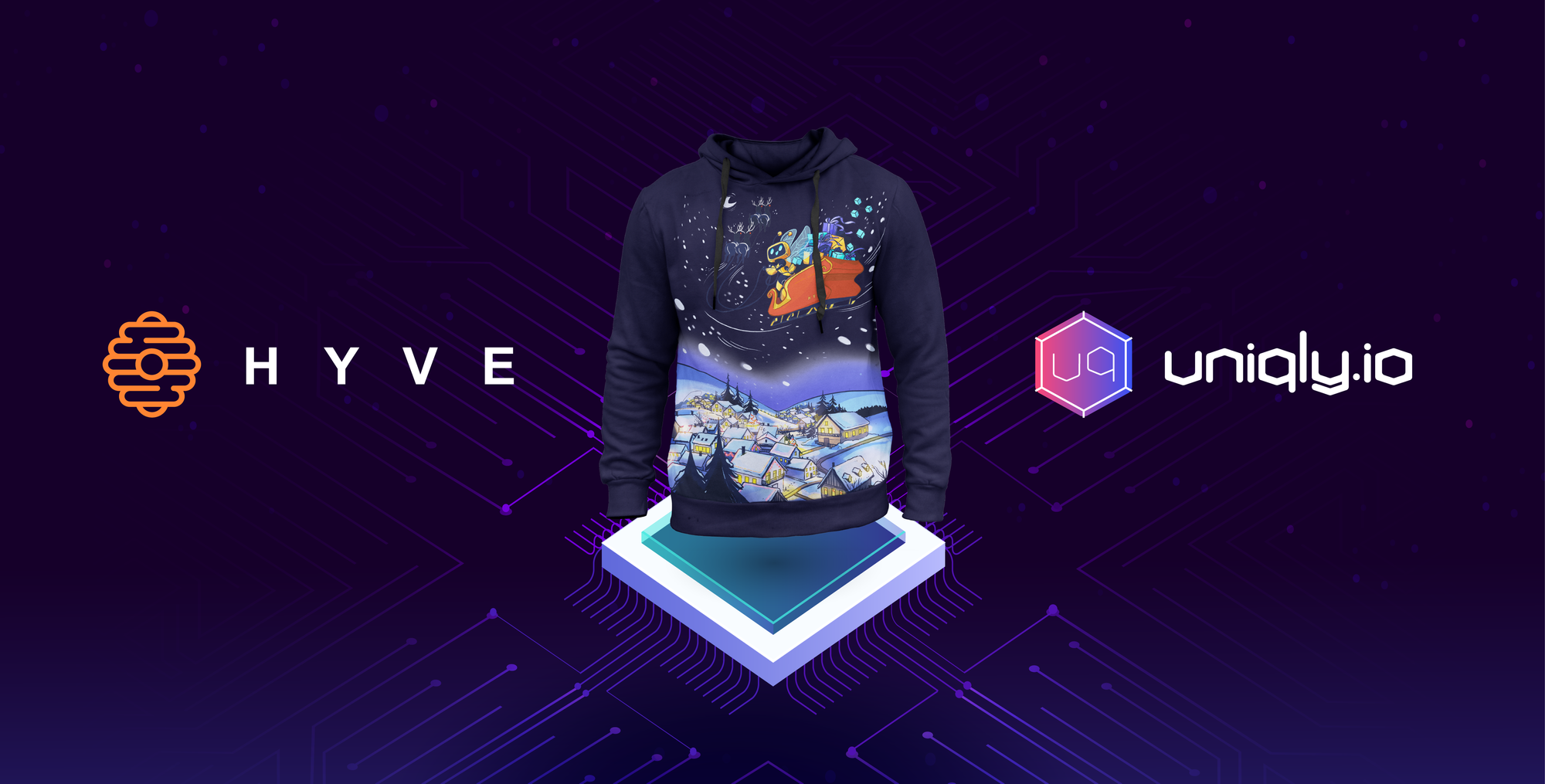 Although written off by many as just a "fad", NFTs have become a hot topic and have revolutionized the art industry, the same way DeFi did with finance. NFTs do not only make art accessible but have also created opportunities for people from non-artistic backgrounds. Due to their sometimes astonishing increase in value, NFTs have attracted unprecedented interest, and with their recent applicability ranging from mainstream areas such as fashion up to abstract concepts such as metaverses, it seems that NFTs are here to stay.

Consequently, we are happy to have partnered up with Uniqly - a blockchain-based, decentralized platform, with the mission to turn NFTs into physical assets, through a complex set of tools. Through this collaboration, we are aiming to create a more open market, while contributing to the expansion and wider adoption of the NFT phenomenon.
What is Uniqly?
Uniqly's whole ecosystem aims to bridge the digital world of NFTs and the mainstream, physical market. Even if NFTs will have a higher level of applicability shortly, Uniqly wants to address a current market need, by linking NFTs to physical assets and helping brands, projects, influencers, and artists by creating proof of authenticity, thanks to blockchain.

How does Uniqly work? The ecosystem is based on a variety of tools. Stores support users in launching their NFT collection, backed by real-world assets. Escrow allows brands and mainstream projects to tokenize their products or services in the form of NFTs. The Marketplace allows users to freely trade NFTs within the Uniqly platform. Lastly, the Generator allows users to turn any copyrighted assets they own (be it a meme, artwork, slogan, logo, etc.) into NFTs, which they can later sell in their stores.

Uniqly has made NFTs more accessible to a wider public, and if you wanted to create your own NFTs and sell them, but had no idea where to start, this might just be the place for you.
HYVE & Uniqly
To mark the partnership between HYVE & Uniqly, we will be releasing a total of 510 limited edition NFT Christmas t-shirts and hoodies (split evenly). A total of 50 hoodies and t-shirts will be kept for the HYVE team and giveaways with partners, whereas the rest (460 items) will be available for purchase through Uniqly's store feature at a price of ETH 0.08 per piece, so get yours while it's still hot!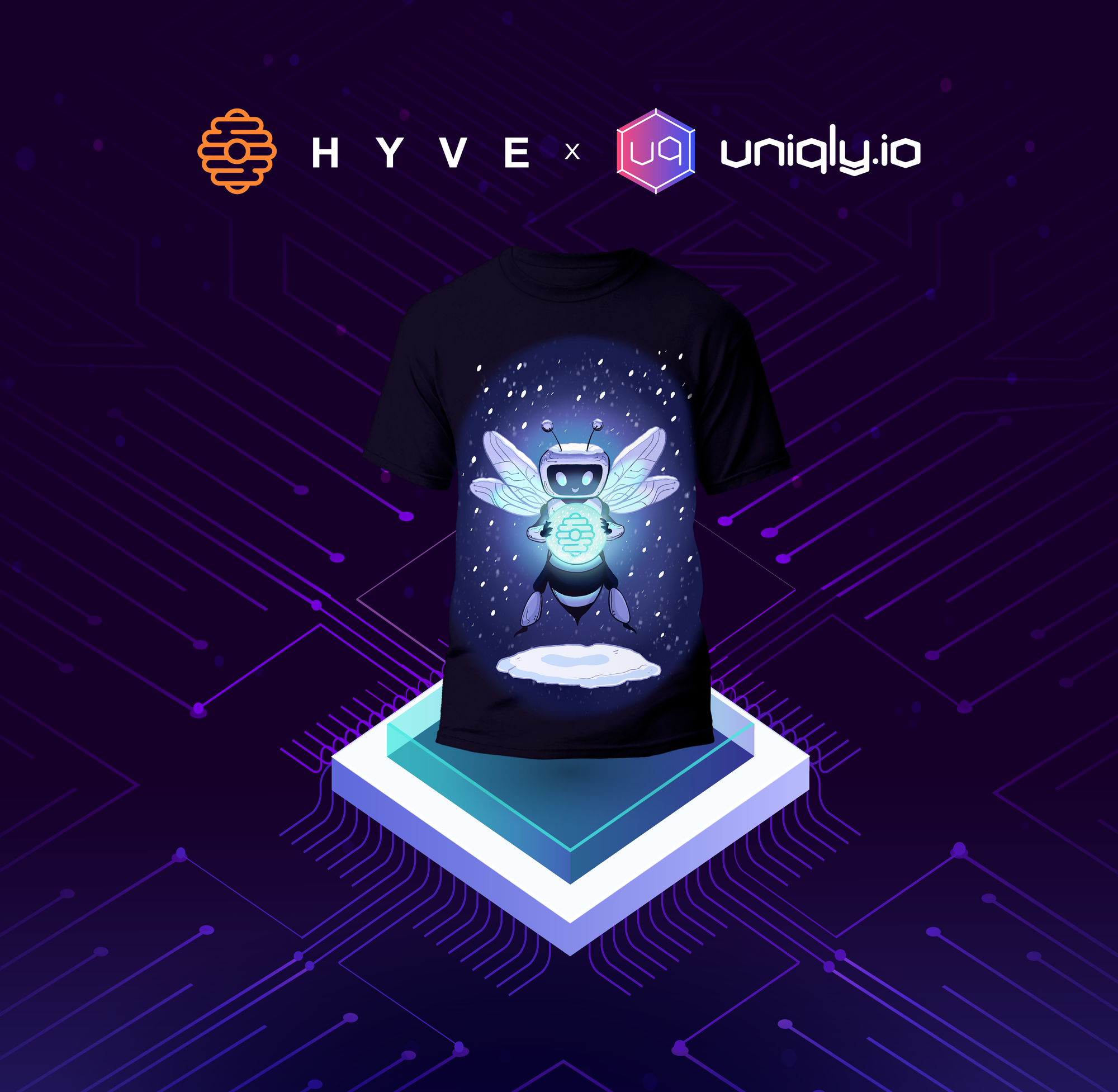 At HYVE, we believe that NFTs have created unique freelancing opportunities, both for artistic and more technical professionals. Just like Uniqly, we want to democratize and revolutionize our industry (workforce), by making it more accessible. We want to stimulate NFT creation on our platform, by allowing talented individuals to supply their NFT-related services and obtain fair compensation for their work. In other words, NFTs have also revolutionized traditional work, creating more submarkets, not only linked to physical or digital goods.
Although we have different approaches regarding NFTs, our new partnership signals our common desire to slowly cement NFTs as a mainstay in our daily lives.
If you have been involved in the HYVE community and are interested in learning more about NFTs, this is the perfect chance to do so! For many, acquiring these limited edition NFTs may represent the perfect introduction to the phenomenon, even understanding their further applicability within the metaverse. Many might find the concept of clothing NFTs hard to grasp, nevertheless, their usefulness will soon be revealed. Whether some like it or not, our digital and real lives will soon be even more intertwined. Just imagine a future where most of the tasks or jobs you perform daily could be done in a digital space, where interaction feels just as real, as your digital avatar. Now you are responsible for customizing your avatar, and choosing what to wear since other users' perception of you is reliant on your appearance. However, unlike regular items of clothing, which usually decrease in value due to regular use, clothing NFTs are bound to be unique and tied to you, with a higher possibility of them increasing in value.
Since the future of work is decentralized, with an increased likelihood of becoming mostly virtual, there is no better way than to show your contribution to this movement by sporting your unique, HYVE-related NFT while solving tasks in the metaverse! Stay tuned for even more exciting news!

🐝 Want to learn more about HYVE?
🐦 Follow us on Twitter.
🗨️ Join our Telegram Group.
📢 Join our Announcement Channel.
💡 Join our Discord.
✅ Follow us on Instagram.
👍 Like us on Facebook.
💡 Visit our Website.

🏦Want to learn more about Uniqly?
🐦 Follow them on Twitter.
🗨️ Join their Telegram Group.
💡 Visit Uniqly Website.