$HYVE Staking Incentives Pool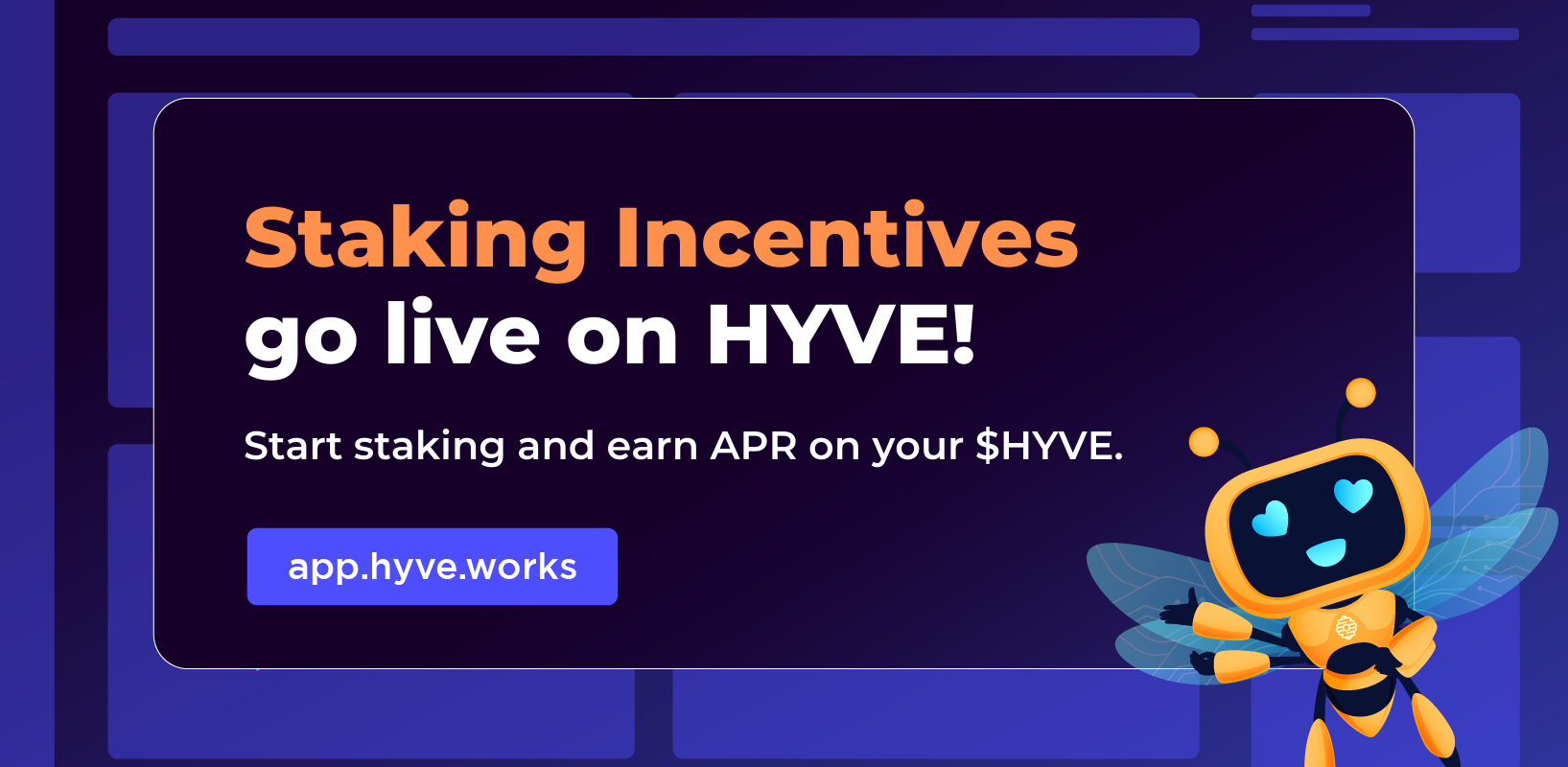 As everyone knows, HYVE Jobs and Tasks are now live on two different blockchains, Ethereum and Binance Smart Chain. In other words, this means we will be gathering fees on both those chains, a percentage of which then goes directly towards staking.
The purpose of this article is to announce that for the first year we will be offering a set of incentives to jumpstart the ecosystem.
One thing to note is that this is only the first out of several upcoming different types of incentive programmes we will run. Examples can range from sign-up bonuses to taking specific actions within the platform or even writing an editorial about HYVE.
Ethereum Staking goes live in the next 12-24 hours.  
---
HYVE; a part of an everyday future.
Our main intention supporting the ecosystem to the best of our abilities, and today's announcement marks the beginning of a new and exciting era for HYVE; a post-product environment where we can focus on improving the product and expanding HYVE into different facets of life and collaboration in general.
Perhaps by the end of our post-product era, we will already have achieved a nascent example of a post-scarcity society, and in this not too distant future, several organisations have become self-governed Hyves and individuals are collaborating freely with both AI agents and Hyves alike.
In the upcoming weeks and months, we will be unveiling more layers of our vision and our step by step plan to materialise our future, backed by a customised marketing strategy.
---
Staking Incentive Pool
As the pandemic redefines the structure of work environments and formats, the freelancing sector becomes a headliner in the industry. To help users discover the advantages of the HYVE ecosystem, we will be elaborating on the general rules and growth opportunities of our incentive programme, steadily expanding towards new adoptable blockchains
Below we will be explaining the general rules of how the incentives programme will function. In the future, there will be small additions as we continue to add new blockchains.  
The Pool
We will be allocating 1,200,000 HYVE to the incentive pool for a total of 1 year. This pool will be split equally over 12 months, with each month having a reward pool of 100,000 HYVE.
Furthermore, the amount of HYVE we are offering is fixed, meaning that regardless of potential upside, we will not be changing the number of HYVE we offer monthly.
The pool we put at stake represents more than ±3% of the current circulating supply. In other words, using very simple math just for the sake of this example, if 10M HYVE are staked for an entire year, then the average APR would be 12%. This does not take into account any fees that the ecosystem will earn on top of this.
Division between Chains
At this moment, only Ethereum and Binance Smart Chain are live, but soon we will be adding Polygon and by the end of the year we still have some surprises left in store regarding this topic.
The exact percentage split between chains is going to evolve, depending on the total number of integrated chains, total activity, amount of supply that is on one particular chain and other such variables.
For now, we will be using a split that only includes 3 chains: ETH, BSC & Polygon:
Ethereum - 85%
BSC - 10%
Polygon - 5%
We have chosen to allocate so much to Ethereum staking because as of right now over 90% of the entire $HYVE supply is on Ethereum, and as such, it remains an important point of interest. If over time, a different chain becomes more popular, we will adjust these percentages every month, to cater to the needs of our growing community.
---
How does Staking on HYVE work?
Users are currently able to stake their HYVE for 1 month, 3 months, 6 months or 12 months. Additional to the existing variations, the near future will offer new possibilities that would include:
A no-lock staking option as well
Plus two new periods: 2 years and 3 years
That would bring the total of possible staking options to 7 by the end of this year. Naturally, there will be some differences depending on which option is chosen. We will be publishing more information about this in an upcoming article that will also explore the different staking tiers that we'll be offering.
The upcoming staking tiers will include access of varying degrees to all the different products in the ecosystem, both live and upcoming ones. It also comes packed with exciting surprises that remain to be announced in future updates.
By the end of next week, we will start displaying the APR that users can earn on each of these different options dynamically on the staking page. Additionally, we are already working on implementing auto-compound into the staking mechanism and should have it done by year's end as well.
---
🐝 Want to learn more about HYVE?
🐦 Follow us on Twitter.
🗨️ Join our Telegram Group.
📢 Join our Announcement Channel.
💡 Join our Discord.
✅ Follow us on Instagram.
👍 Like us on Facebook.
💡 Visit our Website.