HYVE V2.3 is live: Development Update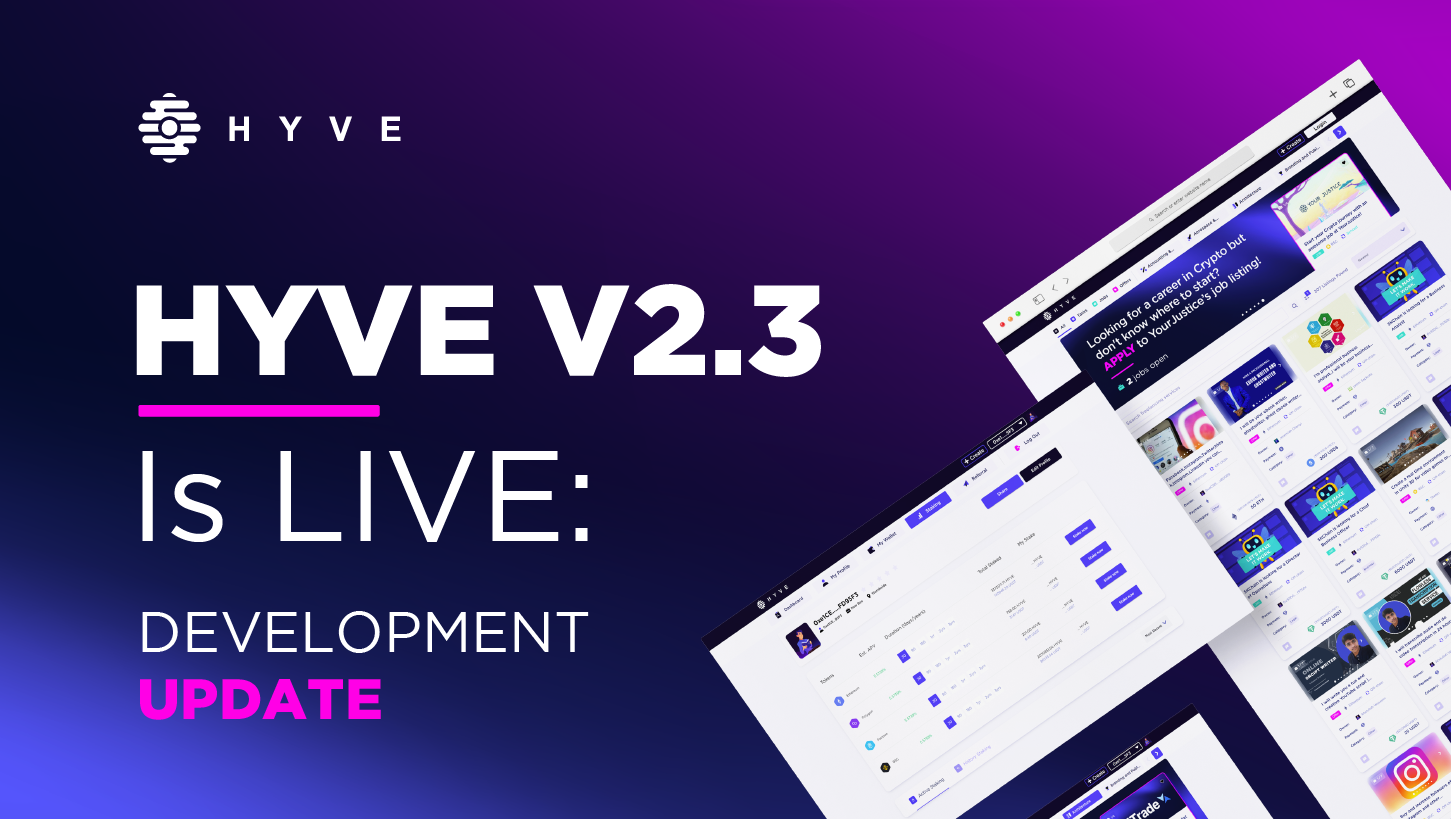 It's been quite a long time since our latest development update, however this doesn't mean we haven't been working tirelessly to improve the platform and create a seamless experience for freelancers. You are accustomed with our almost daily token integrations, diversifying payment methods in order to create a universal platform where users have freedom over every aspect of their freelancing journey.
Alas, we are pleased to announce that HYVE V2.3 is now live! There are many improvements and optimizations, some more visual and some more discrete - so let's get down to business and provide a recap of what we have done!
Visual interface improvements

HYVE V2.3 comes with many improvements, some of which have quite a visual impact on the platform. You might have noticed now that when a job is posted, we have added pop-up notifications for the most important or most recent listings on the platform. Through this feature, we ensure that freelancers never miss any potential jobs and tasks that could be of great interest to them. Moreover, our partners are assured that we are committed to creating an impact within the web3 workforce by highlighting any potential career opportunities within the crypto space.
In order to offer higher visibility to the jobs posted on our platform, we have also added a banner carousel, namely some hovering banner images of the most recent jobs on the platform. Again, we are committed to make sure that the right professionals match with the perfect assignments for them. We are working on implementing job listings on our landing page, with a direct link to our platform. This will ensure that users get to know the latest developments and updates on the platform in real time, never missing any potential career opportunity.
Another interesting feature we have implemented is the chatroom. Many traditional platforms have such a feature, allowing users to discuss. In addition, we now allow users to delete their accounts. This new functionality is not live yet, but will be deployed in the near future.
Backend optimizations
Backend is vital for the good functioning of any platform. The minor bug fixes and various improvements will not be visible to a regular user. Nonetheless, they ensure that things run smoothly. We have optimized our admin panel, which allows platform administrators to integrate tokens more easily.

There are several bugs which we have fixed, namely the social media login, as well as the addition of new listings. Moreover, there was a bug that prevented users from editing offers, but now that is a worry of the past!
In terms of optimizations, we have improved conversion rates - so expect more accuracy in real time!
Expect big things from HYVE!
When looking towards the future, you know that token integrations are one of the things to expect. In spite of the unfavorable market conditions, HYVE will not stop building! We have released the V2 version of the platform during a bear market, and we will continue to develop solutions and products to redefine collaboration at all levels.
Together with our token integration partners, we are examining ways to implement new solutions within the HYVE Platform. This process is quite time intensive because we want to ensure that freelancers benefit from the true utility of integrated solutions. Nevertheless, we are also looking forward to our partners using HYVE's infrastructure when looking to expand their teams!
HYVE is currently working on a new product, which we aim to launch early in 2023. We can't spill out more details for now, but we can assure you it is quite impressive. Stay tuned for more and make sure you check our social media channels regularly!
🐝 Want to learn more about HYVE?
🐦 Follow us on Twitter.
🗨️ Join our Telegram Group.