New payment method: $JELLY is live on HYVE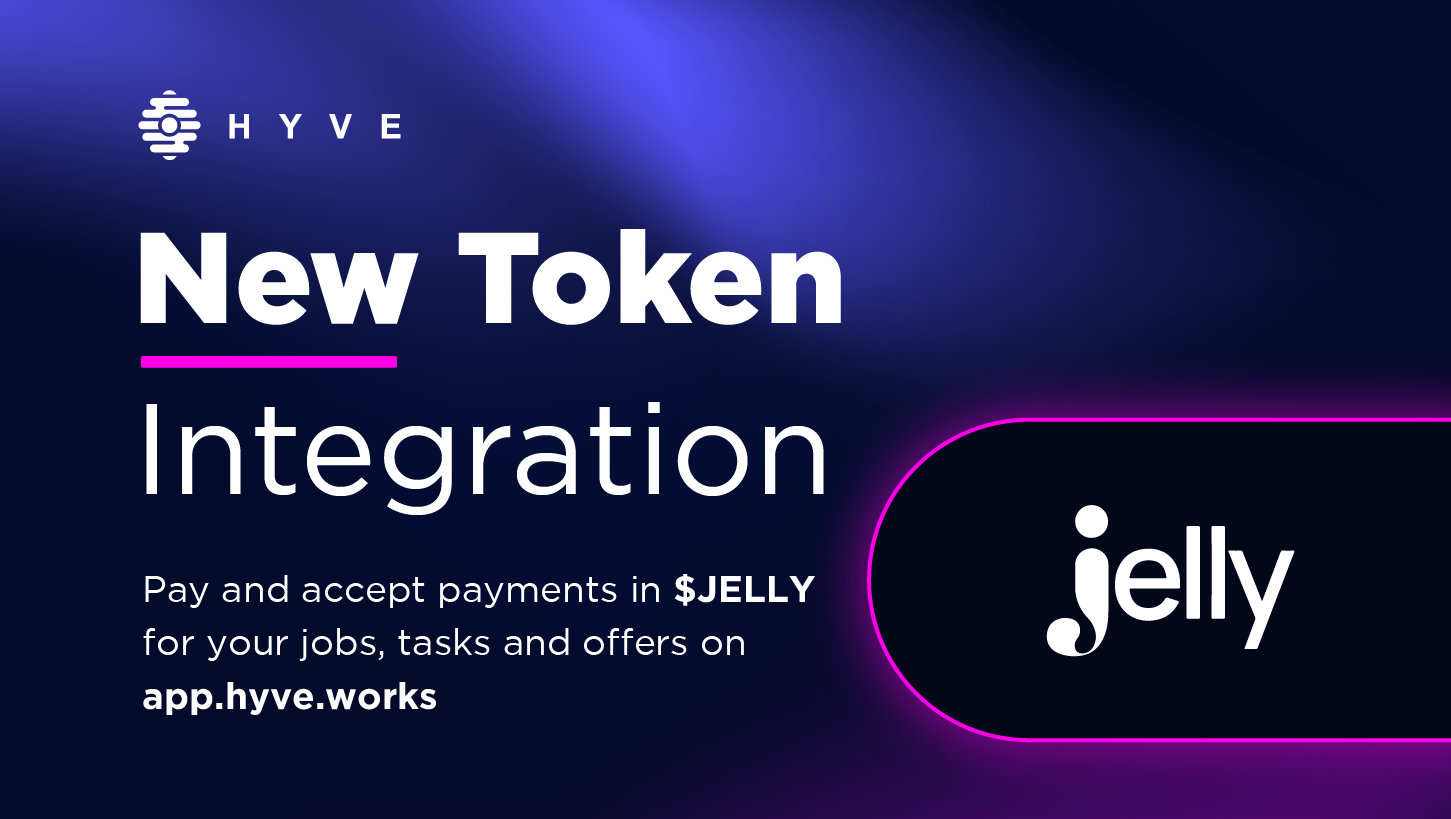 HYVERS are already familiar with our weekly token integrations, expanding payment options and allowing freelancers ultimate freedom over payment options. This week is no exception, with $JELLY becoming our latest addition to the HYVE ecosystem, allowing payment for tasks, jobs and offers.
About Jelly
The Jelly Protocol has the purpose of serving up and distributing token rewards through a set of smart contract templates, also known as recipes. Powered by the Jelly Factory, recipes enabled many projects to launch their own Airdrops, Staking and Farming programs.
Jelly is more than a protocol, thus aiming to build a rewards community. More than half of its tokens have been allocated for Rewards, incentivizing platform testing, marketing growth, liquidity, user onboarding and partnerships.
With Jelly currently in its Alpha phase, this means that future developments are expected in the coming months. Ultimately, the JellyDAO will have a vital role in rewards allocation. From the looks of it, Jelly will be adding some incredibly useful features, that could have an immense impact and high potential for adoption.
$JELLY Token
The Jelly ecosystem has 2 main tokens, $JELLY is at the centre of the rewards ecosystem and when JELLY is locked users receive veJELLY. veJELLY is the Governance token and used for voting on rewards distribution.
There are currently over 23 million $Jelly tokens in circulation, with a maximum supply of 1 billion (in May 2022, there were roughly 431 million $JELLY tokens minted). The main utility of $JELLY is paying out rewards within the whole ecosystem.
You can trade the token directly on Sushiswap and Balancer, with users now able to purchase the token it in order to pay and get paid for your services on HYVE (https://app.hyve.works/) We will be integrating the $JELLY token on the Ethereum blockchain, so please find the contract address below and make sure to add it to your digital wallets.
ETH: 0xf5f06fFa53Ad7F5914F493F16E57B56C8dd2eA80
What to expect from HYVE
As you guys already know, token integrations have become an important part of our work. Later on this week, we might have a new dual token integration, which will further diversify our payment options. This summer has been quite eventful in this regard, with a recap article planned in the near future to highlight the intense activity we have had.

In addition, as mentioned, following the BiLira integration, we will be releasing an article for freelancers from developing countries, listing the benefits of payments in cryptocurrencies. In the current climate, we believe this is incredibly important, considering soaring inflation and global volatility, therefore keep an eye out for our next piece.


Disclaimer
The information provided does not constitute investment advice, financial advice, trading advice, or any other sort of advice, HYVE does not recommend that any cryptocurrency should be bought, sold, or held by you. Please do your own risk assessment when deciding how to invest in cryptocurrency and blockchain technology. HYVE is not liable for investment gains or losses.

🐝 Want to learn more about HYVE?
🐦 Follow us on Twitter.
🗨️ Join our Telegram Group.
Want to learn more about Jelly Protocol?
🐦 Follow them on Twitter.
🗨️Join their Discord Server.