HYVE x KOINSAATI AMA session summary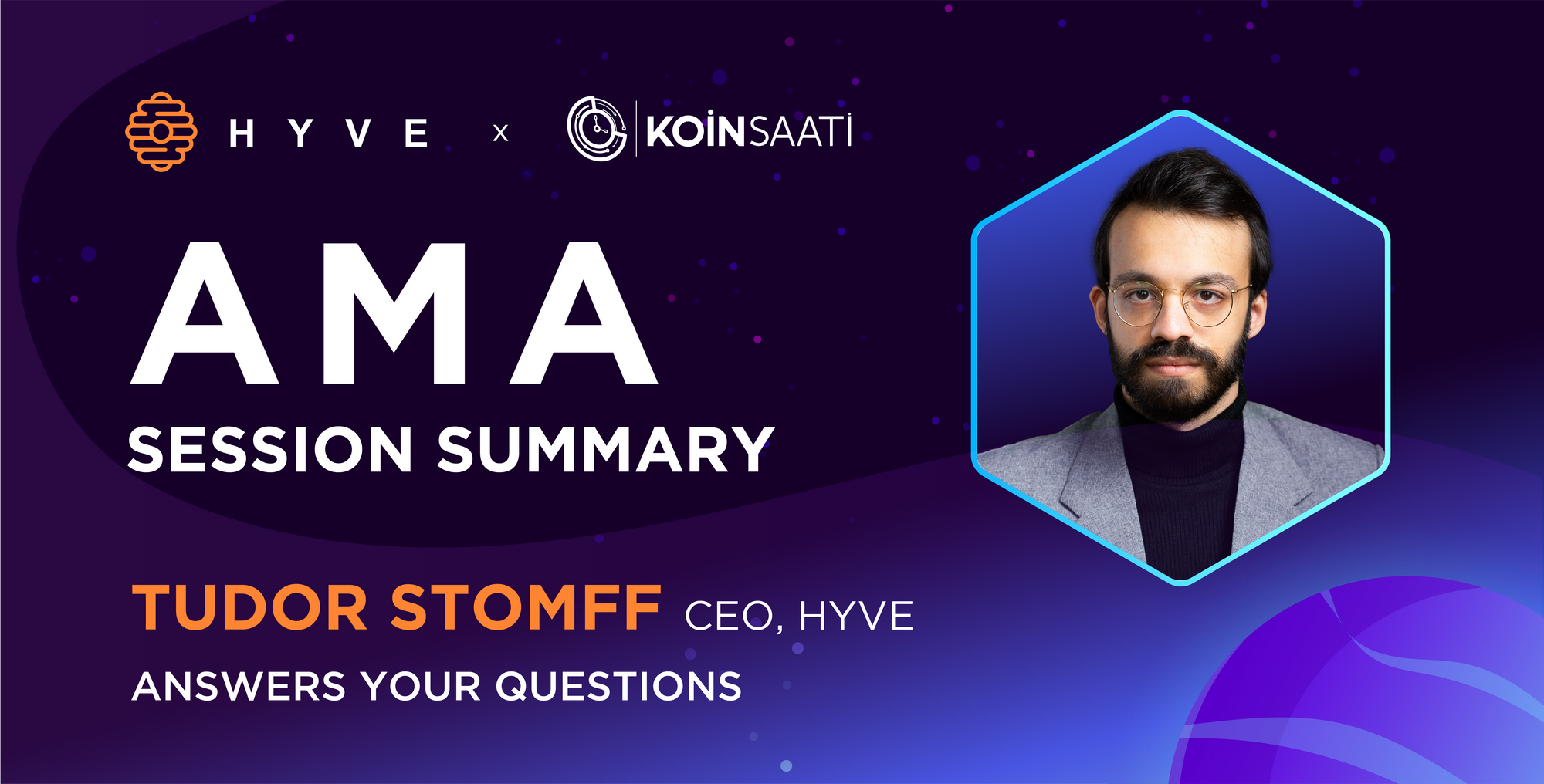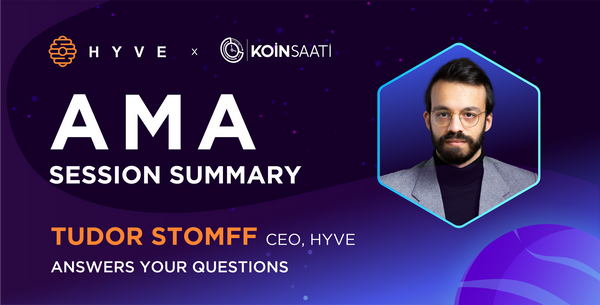 A couple of days ago, our CEO Tudor Stomff answered your questions during an AMA session hosted by KOINSAATI on their Telegram Channel. We love to offer you precious information daily, so having an AMA Summary is the perfect opportunity to deliver fresh updates on how the project is unfolding so far.
Q: Could you please introduce yourself to our group members, what was your education, and how did you get into Blockchain and Crypto? What is your experience?
A: Sure, I've been in crypto since ~2013, and have been actively opening startups in the space since ~2017. Used to run Bountyhive along with Dominic, our CTO. As for my education, I'm an electrical engineer by profession but I pivoted to software development because it's always been a passion, and have been doing this for quite some years now.
Q: Thanks for the answer. I'm moving forward with our second question.
What is HYVE? What does HYVE aim to change in the Freelance and Collaboration Industry?
A: HYVE is a global collaboration protocol. We allow both humans and robots to work together in any possible way they can imagine. HYVE is decentralized, open, and thus allowing other projects to build on top of our ecosystem and based entirely on game theory, which means the platform revenue ends up back in the ecosystem.
What we aim to change is simply offering people everywhere in the world the necessary tools and opportunities to earn money through their skills.
Q: Great! How did the idea of HYVE came to mind? What does "Hyve" mean?
A: HYVE comes from two different things:
1. It comes from Hyves, which is a feature of the platform that allows people to work together in a collaborative manner. They can accept jobs together, have employees of the HYVE, take votes inside the HYVE, etc.
2. It refers to a hyve of people working together because that's what HYVE is all about, enabling people to collaborate.
The main difference between humans and other species is our ability to collaborate and so we wanted to bring collaboration to the 21st century :)
Q: Great answer, it's meaningful 👌 Thanks for the answer.
Can we learn about the team behind HYVE, how big is the team behind HYVE? HYVE has recently announced JRNY and David Orban as Advisors. How will they affect HYVE and will we see more advisors joining HYVE?
A: Sure. The team is currently at around 20 people full-time, excluding external contractors and part-time people. But we are planning to increase the team over the next year.
Tony (JRNY) and David are great additions to the team. Tony comes with a lot of marketing experience and he is helping us on that front, whereas David comes with experience in scaling businesses and academic research. Yes, we do plan to take more advisors onboard.
Q: HYVE will have a Launchpad called HYVE LAUNCH, could you elaborate on this subject, what type of projects will launch? How will the holders benefit from this?
A: Sure thing. We will launch projects that get built on top of the HYVE Ecosystem or integrate HYVE to some extent. HYVE is an open ecosystem so that's the purpose behind it.
Yes, holders benefit from this, because the fee that HYVE Launch takes goes into a vault where people can stake to earn those fees.
Q: Thanks for your explanations, Tudor! When can we expect HYVE to be operational and be able to use the platform?
A: Sure, HYVE will be operational ~15th of October. In this way, I'd like to let our community know a little surprise. People will be able to post tasks on both the Ethereum and Polygon networks from the very beginning. This is specifically because of the gas issue that has become globally known by everybody. So if you want to post a small $value task you'll be able to just use Polygon and avoid paying large fees.
Q: HYVE claims decentralization but still you have a CEO. That's counterintuitive. How will you truly ensure decentralization? Won't the CEO have special control of the governance?
A: The end goal is indeed for HYVE to not have a CEO anymore but you cannot achieve that overnight.
Q: In HYVE, files and data live on IPFS nodes, and the main trade-off of this protocol is that you cannot delete information from the network. How do you handle this, do you consider it an advantage or disadvantage for your project?
A: They do, but not everything lives on IPFS so I wouldn't consider it a disadvantage.
Q: HYVE is a community-governed ecosystem but your Mainnet Launch is planned for Q4 2021. So, in the meantime, how can new members take part in the HYVE ecosystem?
A: Well you can be involved as an active community member in the chat. You'll also be able to participate in projects that get posted in HYVE LAUNCH in just as little as a couple of weeks when our first project goes live.
Q: Have you made it easy for startups/companies to develop applications on top of the HYVE protocol? Specifically, what should small companies do to start developing the HYVE protocol?
A: Yes we will be publishing APIs and full documentation towards the end of the year.
Q: As the world changes significantly, freelancer roles are becoming hype. On this point, I wonder if headhunter agencies might feel HYVE as a tough rival to get affected. Are you a tough rival for them or also a tool to be used to reach more freelancers?
A: Headhunter agencies can just create a Hyve and go recruit people and earn money in the same way they did before so I don't think they'll feel so attacked.
Q: What is the role of HYVE tokens in the network? Does the payment need to pay for HYVE? Do I need to pay for HYVE to send a message? In other words, what is the HYVE token appreciation logic?
A: Payment doesn't have to be in HYVE. The token itself has many uses though. You can get a reduced fee or even 0 fees by using HYVE. You can stake HYVE to receive platform fees, and use it for governance votes, curation, disputes, and lots of other features.
Q: As a Global workforce market, Verifying Jobs and service authenticity could be a herculean task considering bottlenecks. How does HYVE Work deal with this issue and ensure only legitimate Jobs and services come in the HYVE platform?
A: We will be using curators. Anybody will be able to sign up as a curator. This feature won't be live on day 1 but shortly after.
We hope that these answers help you better understand our project and give you a glimpse into the future path we want to create with HYVE. We are looking forward to the next AMA session with our community.
🐝 Want to learn more about HYVE?
🐦 Follow us on Twitter.
🗨️ Join our Telegram Group.
📢 Join our Announcement Channel.
💡 Join our Discord.
✅ Follow us on Instagram.
👍 Like us on Facebook.
💡 Visit our Website.
🐝 Want to learn more about KOINSAATI?
🐦 Follow KOINSAATI on Twitter.
🗨️ Join KOINSAATI Telegram Group.