KuCoin AMA With HYVE — A DeFi Centric Autonomous Ecosystem Built on Top of the Workforce Industry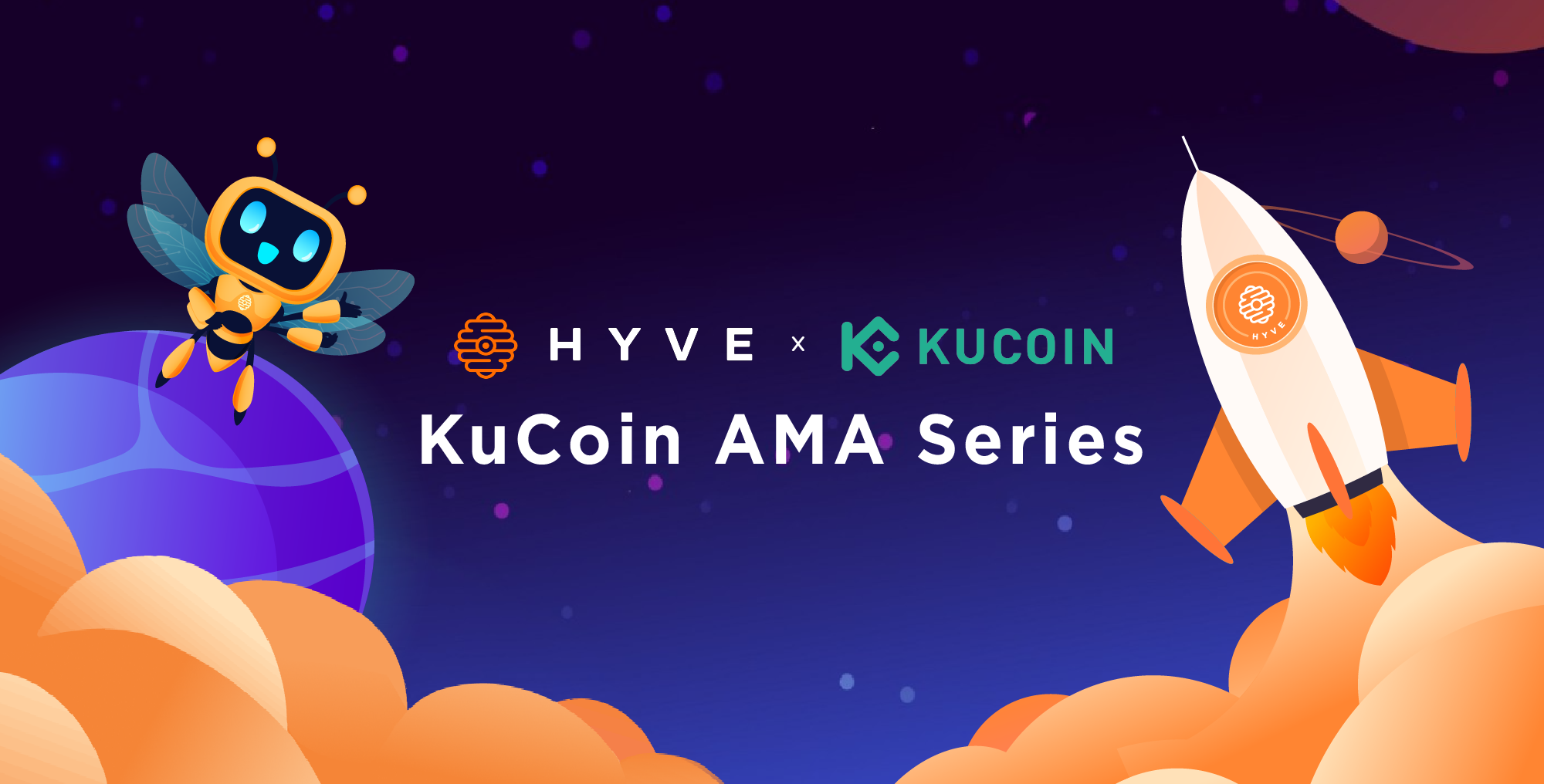 KuCoin hosted an AMA (Ask-Me-Anything) session with HYVE CEO Tudor Stomff in the KuCoin Exchange Group, who shared how HYVE is breaking the barriers and enabling the full potential of the workforce industry.
Project Introduction
HYVE is a DeFi-centric autonomous ecosystem that solves the current problems in the global freelance and workforce market, leveraging the power of decentralized technologies while adding features that are non-existent on any current platform (centralized and decentralized). The result is a community-governed system that drastically brings down costs for all parties involved, offers wider flexibility, cuts out the middleman, welcomes the unbanked, provides transparency, and ensures safety, all in a decentralized manner while rewarding token holders.
Official Website: https://hyve.works
White Paper: https://hyve.works/whitepaper.pdf
Follow HYVE on Twitter and Telegram.
Guest:
Tudor is a technical founder, having joined the blockchain space in 2013. Before HYVE, he used to run Bountyhive along with Dominic Burghelea (HYVE CTO). The platform achieved great success reaching over 250,000 active users and generating more than a million completed tasks for 150+ projects. Tudor's main focus nowadays is trying to redefine collaboration through HYVE. He believes in a largely autonomous future and, in addition to blockchain, is excited about space.
Q&A from KuCoin
Tudor: Hey guys, it's a pleasure to be here. I am excited to be talking today about what the future of collaboration will look like! Taking into consideration all of the recent events taking place around the world, I believe it's the prime time for us to be looking towards more efficient ways of working together.
Q: You have successfully excelled throughout COVID. Please highlight your key success factors.
Tudor: On one hand, it was a bit easier for us because we were used to running a decentralized company ever since 2017 and so we already had most of the tools necessary to collaborate well with one another. Leaving that aside, I'd say the most important factor in having been able to navigate this tumultuous period successfully has been the presence of so many great team members; things are a lot easier when you have people supporting you throughout the way.
Q: Where is your business heading in the next 12 months?
Tudor: I'll split that out into parts.
- For the next 3 months (the first upcoming quarter), we are focused on getting the product out there. This includes the HYVE Client, where people can work together, the HYVE Launch, where projects that build on HYVE can take care of their governance, create Vaults, raise their funds, etc., and also the API, which allows other platforms to just connect to our infrastructure and like this, they can focus on building their niche platforms. To give some examples, one could build a decentralized version of Uber, Airbnb, or DoorDash on top of HYVE.
- For the 2nd quarter, we have two areas of focus. The first one is iterating the platform based on the user feedback we receive, while our second goal is to attract as many new users.
- For the 3rd and 4th upcoming quarters, our main focus will be onboarding companies that want to build on HYVE and/or use HYVE directly. We will also be offering some Grants for great projects that build on top.
Q: What makes HYVE unique?
Tudor: We have a few things that distinguish us from any other project:
1. The HYVE Protocol; enables self-verifiable tasks, whether that be a digital action (e.g., download, sign up, do a particular task in an app, etc.), and second of all, it allows robots to work with one another.
2. HYVES; are self-governed organizations or, in simple terms, decentralized startups. Anyone can get together with anyone and just solve tasks together, take votes, add new people, etc.
3. Open Infrastructure; we're opening up the ecosystem and allowing every platform to just build on top of our infrastructure while they focus on their niches.
Lastly, HYVE is multi-chain. Right from the first iteration, we will support BSC and ETH with plans to already integrate Stacks, Fantom and Solana.
Q: People are used to centralized technologies, and HYVE promises a good shift, turning centralized visions into decentralized ones. How are people going to understand blockchain and everything that comes to it by using HYVE?
Tudor: Let me answer this from a different perspective. Almost nobody knows how debit cards work from a technical perspective. Still, everybody uses them. Let's take the simplest example. Everyone has once gone through inputting their card data on an online website and being told "incorrect number". Well, here's how that works, take every uneven digit from the full number, then add them all up, the resulting sum has to be divisible by 10. That's the actual check.
Nobody has to know this, however, to use them. And this is where blockchain failed, at least for now. Because right now, you need to understand a lot of the inner workings to just be a basic user. HYVE is here to change that. We are making an easy-to-use interface and giving users a lot of freedom. Our target isn't necessarily crypto users, it's just people that need a job, a side income, or just want to hire someone.
As for platforms, we are making it very easy for them right from the get-go. By offering so much infrastructure, i.e., decentralized disputes, hosting, encryption, modular collaboration components, Hyves, governance, etc., we allow them to just focus on what their business does while we handle the heavy-lifting in terms of blockchain. On HYVE Launch, for example, we allow projects to generate their ERC20 and BEP20 tokens which come pre-audited by a reputable company. We also allow them to automatically provide liquidity in a DEX and create their Vaults etc.
Q: Besides the main three components of HYVE (HYVE Core, HYVE Protocol, and HYVE Client), you implement HYVE Launch. Why is HYVE better for implementing other projects on top of the platform?
Tudor: I mean, we did this mostly because it goes hand-in-hand with our vision of allowing platforms to easily switch from a centralized solution to a decentralized one and so it made sense for us to make sure that these projects are being taken care of from all aspects. For that reason, we also added the 4th component, HYVE Launch, so projects don't need to worry about governance, creating a token, Vaults, vesting, raising money, etc.
Free-Ask from KuCoin Community
Q: There are many freelancers who counterfeit their skills or profiles to get a job. What will HYVE do to ensure the authenticity of the client data?
Tudor: That's a great question, actually. Each freelancer will have a section where they can add any sort of certification.
Q: How important is the HYVE community for the HYVE project? And what is the role of the community for HYVE?
Why choose HYVE to represent the project? How does the project protocol work?
Tudor: I mean HYVE is a DAO. That means that the community will be able to vote to change anything. We also extend this governance towards the projects that can build on top of HYVE.
Q: Which one of these aspects is important for you?
1. Increasing Token Price and Value
2. Empowering Platform Development
3. Building Community Trust
4. Expanding Partnership Globally
In what order?

Tudor:
1. Building Community Trust; a project isn't much without its community.
2. Platform Development; after a community, this is the most important aspect for a successful product, good tech.
3. Global Partnerships
Q: As a global workforce market, verifying jobs and service authenticity could be a herculean task considering bottlenecks. How does HYVE deal with this issue and ensure only legitimate jobs and services come in the HYVE platform?
Tudor: First off, a lot of jobs can simply be automated through the HYVE Protocol. Second of all, we will have curators that get rewarded for reporting tasks that don't follow the guidelines.
Q: Nowadays, the main problem of the crypto market is high gas fees and scalability. How do you plan to overcome these issues? Will you focus on the L2 solution?
Tudor: We will be launching on both BSC and ETH from the get-go, and yes, we will be using L2 scaling solutions as well.
Q: How does HYVE ensure that the rights and interests of both buyers and sellers are protected so that neither party would be able to obtain unjust benefits through cheating or gaming the system?
Tudor: HYVE is built upon the principles of game theory. The ecosystem is a non-zero-sum game. As long as game theory stands, HYVE will be safe.
Q: I think the concept of HYVES could be very disruptive for the industry. As a freelancer myself this could mean I could take on bigger projects or more projects and pass them down to a HYVE for collaboration. Could I also request to join HYVE by offering my skills to such HYVE? How autonomous and decentralized do you plan these HYVES to be? Are there any plans or ideas on how to promote the adoption of the HYVE work model?
Tudor: That's exactly right! You can totally do that. And yes, you can apply to join an existing HYVE or create your own. The HYVEs are completely self-governed. That means you can vote on adding new people, kicking someone out, redistributing shares, having an employee of the HYVE with no shares, etc.
Q: How many people or organizations use the platform right now?
Tudor: Mainnet is getting launched in Q3, so none yet, but we previously ran Bountyhive, which at its peak had over 250K, active users.
Q: At first, they talked about trying to bring the common, unbanked worker into their application or project. How do you think that a person without financial knowledge could trust a company and also the world of cryptocurrencies? Will you promote them or encourage their use through benefits?
Tudor: Not necessarily, but we have options that make life easy for users. For example, someone can choose to get paid only in USDT. So regardless of what the employer uses to pay, say they use $HYVE, that will be automatically exchanged to USDT when the user receives it, thus making it much easier for non-crypto users.
Q: In HYVE, files and data live on IPFS nodes, and the main trade-off of this protocol is that you cannot delete information from the network. How do you handle this? Do you consider it an advantage or disadvantage for your project?
Tudor: Yes, you can't delete information. But we can store encrypted information such as agreements between parties, etc., so I don't see it as an issue. What would be the problem of being able to publicly prove that you have a good reputation after all?
Q: Do you agree with everyone that community is everything? How important is the community to you? How can we cooperate and help you to develop a project?
Tudor: You can join our Telegram group and you'll see that everyone is pretty active. We really care about our community.
Q: You assure 50% of the fee is sent to staking rewards and 50% to the community vault; those last ones, how can they be distributed? Have you thought about any airdrops or something?
Tudor: 50% of task fees go to the people that stake their tokens. 50% become items that get auctioned in the Vault, whereby anyone can bid with $HYVE and get those items. All bids are anonymous, and the 2nd highest bidder wins. Of the proceeds (i.e., what people pay in the Vault), 50% of it is burned, and the other 50% goes to the Treasury.
Q: Let's start strong, I would like to ask some questions that are interesting to me. What transparency do the community and the HYVE token provide, and how does it guarantee security in a sense for us buyers or investors? I would also like it if you could give us an example of characteristics that decentralized technologies would add to power.
Have you improved the mainnet yet? If so, what improvements did they have compared to the previous one?
How would the users who start holding HYVE have profits?
What is the minimum liquidity that would be granted in a medium DEX x of HYVE Launch?
Those were already some questions that I considered short.
Tudor: Hey sure.
1. Tokens are investing contracts. The team has chosen to buy tokens off the market instead of using Foundation tokens when providing liquidity in DEXs, etc. We've been quite transparent throughout the way. We've also been around in the space for a pretty long time. I mean just with Bountyhive alone, we distributed tokens that were equivalent to over 100K ETH without a single cent missing.
2. Mainnet will be out in Q3.
3. Users can choose to stake their tokens, bid in the Vault, or stake their tokens on HYVE Launch. Each one is a different component with different mechanics.
4. All in all, I think we have ~$3M in DEX Liquidity on Uni V2, Uni V3, and PancakeSwap V2.
Q: I was checking a project that they are into the event organization, and they are planning to create a stablecoin down the road for the people to have the option to work with a steady number. Not sure of the pros and cons, but have you discussed this? Is it feasible and useful?
Tudor: There are already several stablecoins that people can use.
Q: Does your project support a staking program? If yes, how does your stake system work? What is the requirement for users if they want to stake in your platform?
Tudor: The staking will be live at the same time as the mainnet. There won't be any requirements except for having $HYVE so you can stake it.
Q: What is HYVE coin and how do I get HYVE crypto?
Tudor: $HYVE is the token of the HYVE Ecosystem. You can get it on KuCoin.
Q: What is Mutual Bridge?
Tudor: They provide coverage, basically equivalent to insurance. So all jobs/tasks on HYVE will have the possibility of being covered if they want to.
Q: Currently, attracting real users and mass adoption is a problem for blockchain projects. So how will HYVE solve this problem?
Tudor: We are making it extremely useful for non-blockchain people to use HYVE. We actually have quite a few surprises prepared for this, but we'll share them a bit later down the road.
Q: What kind of task will we do using HYVE? Is the task to earn rewards?
Tudor: HYVE supports quite a few different models. You can create offers like on Fiverr, tasks like on Upwork, jobs like in real-life and even competitions like on 99designs. Also, this is just for the first version.
Q: What is the token utility in the ecosystem? Where will it be used, and why would the demand for your token increase?
Please tell us about your 2021 roadmap and beyond.
Tudor: The token is used for pretty much everything inside of HYVE. Making and voting on proposals, curation, disputes, and also being able to stake to share in the task fees, etc.
I already answered the second question.
Q: Hello Tudor, you said you would support BSC and ETH in the Q&A section, so my question is, which wallets are compatible with the $HYVE token?
Tudor: For now, BEP20 and ERC20. We also have a bridge up that you can use to swap between them.
Q: What was the idea that motivated you to create HYVE? What is HYVE focusing on now?
Tudor: It all came from Bountyhive, where we saw a lot of the existing problems and decided to fix them. We're focusing on launching the mainnet.
Q: Why bees?
Tudor: Because bees are incredibly collaborative.
Q: How do you plan to spread awareness about your project in different countries where English is not good? Do you plan to develop many different communities such as Vietnam, Indonesia, and Korea about your project so that they can easily communicate and understand your project?
Tudor: We already have some local communities, 3 of them to be exact: a Korean one, a Turkish one, and a French one.
Q: Burning tokens is the best way to keep the price of the token under control and reduce the quantity. So, what are your plans for burning tokens?
Tudor: HYVE has had a burning mechanism since before this was popular. However, we are not burning tokens arbitrarily to inflate the price; rather, the burning of HYVE tokens is based on game-theoretical principles.
When someone posts a task, he pays a variable fee:
- 0.5% if the task is paid in $whatever and the fee is paid in $whatever -> this goes to staking and the vault
- 0.25% if the task is paid in $whatever and the fee is paid in $hyve -> this is burned
- 0% if the task itself is paid in $HYVE

Also, half of all the tokens paid in the Vault get burned as well.
Q: By robots working with one another means Alexa working with Google assistant, something like that?
Tudor: I mean something like the following.
Say you need a very quick delivery on a distance of 12 KM, and so only a drone could do that. But the drones on HYVE only have an autonomy of 8 KM each. So they can create HYVE and just deliver the package together and then split the reward.
Q: Is there anything else you would like to share or you want us to know?
Tudor: Thank you for inviting me today, it was great being here.
Feel free to check out our website: hyve. works or just join our Telegram at @hyveworks
I'd just like to say that the future of collaboration is quite interesting and we're here to enable that.
🐝 Want to learn more about HYVE?
🐦 Follow us on Twitter.
🗨️ Join our Telegram Group.
📢 Join our Announcement Channel.
💡 Join our Discord.
✅ Follow us on Instagram.
👍 Like us on Facebook.
💡 Visit our Website.