New Token Integration: $LQDR integrated on HYVE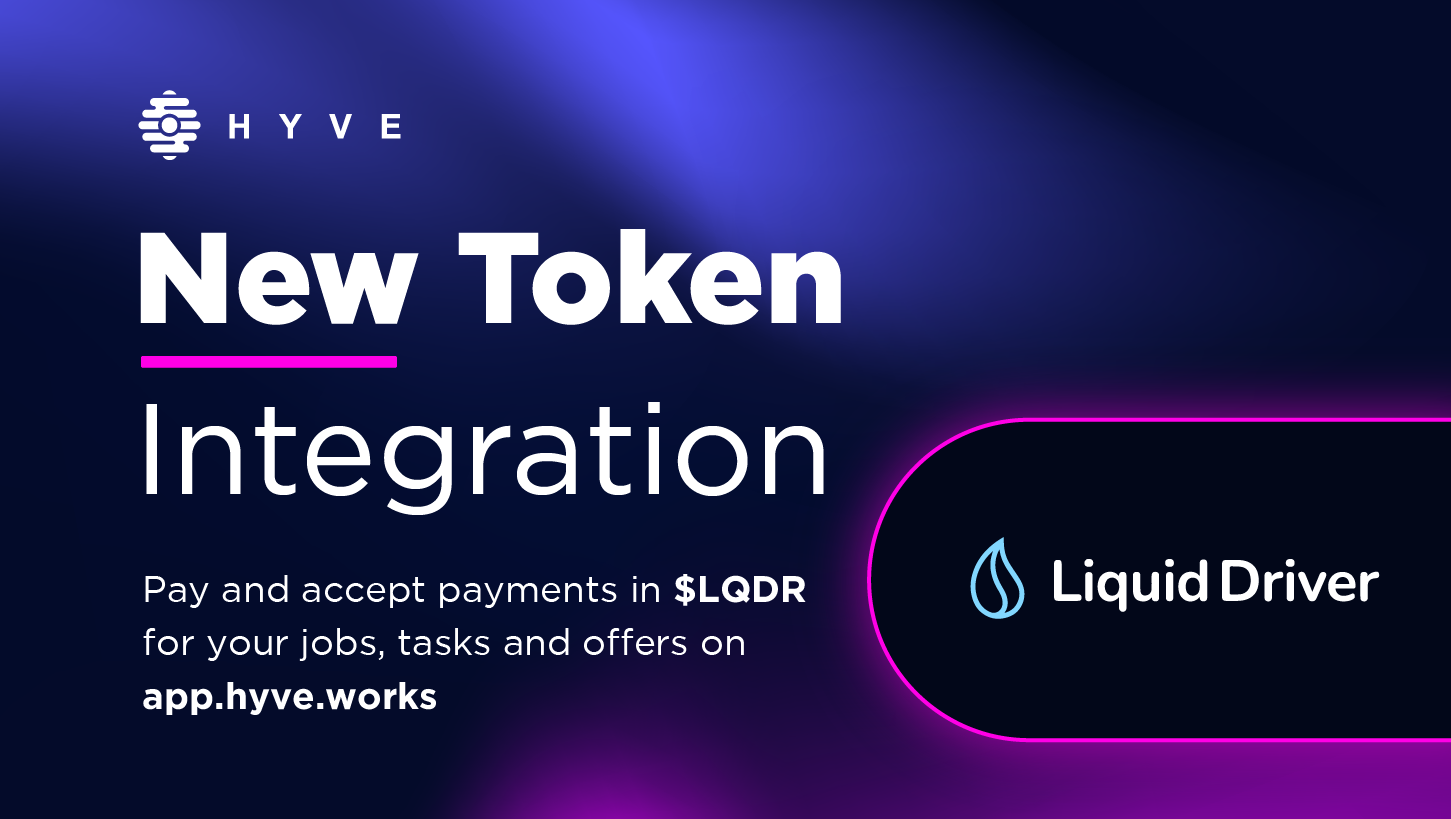 It seems that token integrations are never ending at HYVE, but there's no doubt that it's all for your benefit, offering optimal and endless payment options for tasks, jobs, and offers on the HYVE platform is our long term goal. But if this doesn't prove our dedication to making freelancers' lives as easy as possible, let's not forget about HYVE's ultra low fees.

$LQDR from Liquid Driver

This week's new token integration is $LQDR from Liquid Driver, which will be integrated on Fantom, the contract address is listed below for those that already know what it's all about and would like to add it to your wallets!

Fantom: 0x10b620b2dbac4faa7d7ffd71da486f5d44cd86f9

The $LQDR token as well as all new features introduced by Liquid Driver are obliged to contribute value for holders, keeping tokenholders interests in view. Moreover, $LQDR holders are incentivized to lock their tokens and earn yields farmed by their TVL. One major point of the Liquid Driver platform is that they accumulate governance tokens of other platforms and leverage that power to generate higher yields for users, maximizing rewards.

For those of you who aren't familiar with Liquid Driver, it is the first Yield Aggregator offering "Liquidity-as-a-Service" on Fantom. The importance of liquidity is quite fundamental actually as it plays the role of being the backbone of a decentralized finance ecosystem, and also doubles as the driving force in establishing and expanding financial markets. If we remove liquidity from any project, it wouldn't be possible to build or develop anything.

Liquid Driver addresses some of the issues faced in DeFi such as dumping and manipulation from whales, price suppression as a result of intensive emission of tokens and of course farming and dumping from those who bear less risk.

So how does Liquid Driver work? Its users (or liquidity providers) deposit funds in their pools, with their strategy being to deploy those funds to partner farms. Thus, users are incentivized to lock the $LQDR, earning up to 93% of the revenue generated by the platform
Most of the $LQDR is locked indefinitely, essentially taking it off circulation. Because xLQDR also acts as a governance proxy to other tokens, Liquid Driver accumulates and generates revenue, and demand for locking increases, further reducing inflationary pressure.
The mission that LiquideDriver is on aims to allow users to experience the sheer power of DeFi, in a seamless fashion and encourage 'innovation, development, and integration' on Fantom.

Looking forward…

There's no doubt that HYVE will be persevering on the journey to further adoption, remain patient and informed as we periodically integrate more new tokens. HYVE is always working towards developing its ecosystem and bringing more utility to its users. If you have any suggestions relating to a partnership, project or would like to make a proposal please don't hesitate to get in touch with us on any of our social media!

If you need a reminder on just how low HYVE's fees are; it's only 0.9% for jobs listed in HYVE, 2.9% for jobs listed in ETH, BTC or stable coins and 7.9% for jobs listed in altcoins, however the fun doesn't stop there, if you pay the fee in HYVE you get a further 50% off, so only 3.95% and 1.45%! (We'd like to see another freelancing platform attempt to price match us.)
HYVE is focused on providing its users with complete control over the services they provide, instead of trying to cash in on your hard work, which is why there are unbeatable low prices.

If you are a promising crypto project and want to become a payment option on HYVE, you could read more about it here, where you will be prompted to complete the following application form. We're always excited to hear from you so don't be shy and share your thoughts on our Twitter. page.

🐝 Want to learn more about HYVE?
🐦 Follow us on Twitter.
🗨️ Join our Telegram Group.
🏦Want to learn more about LiquidDriver?
🐦 Follow them on Twitter.
🗨️ Join their Telegram Group.