New token integration: $ALPACA is now available on HYVE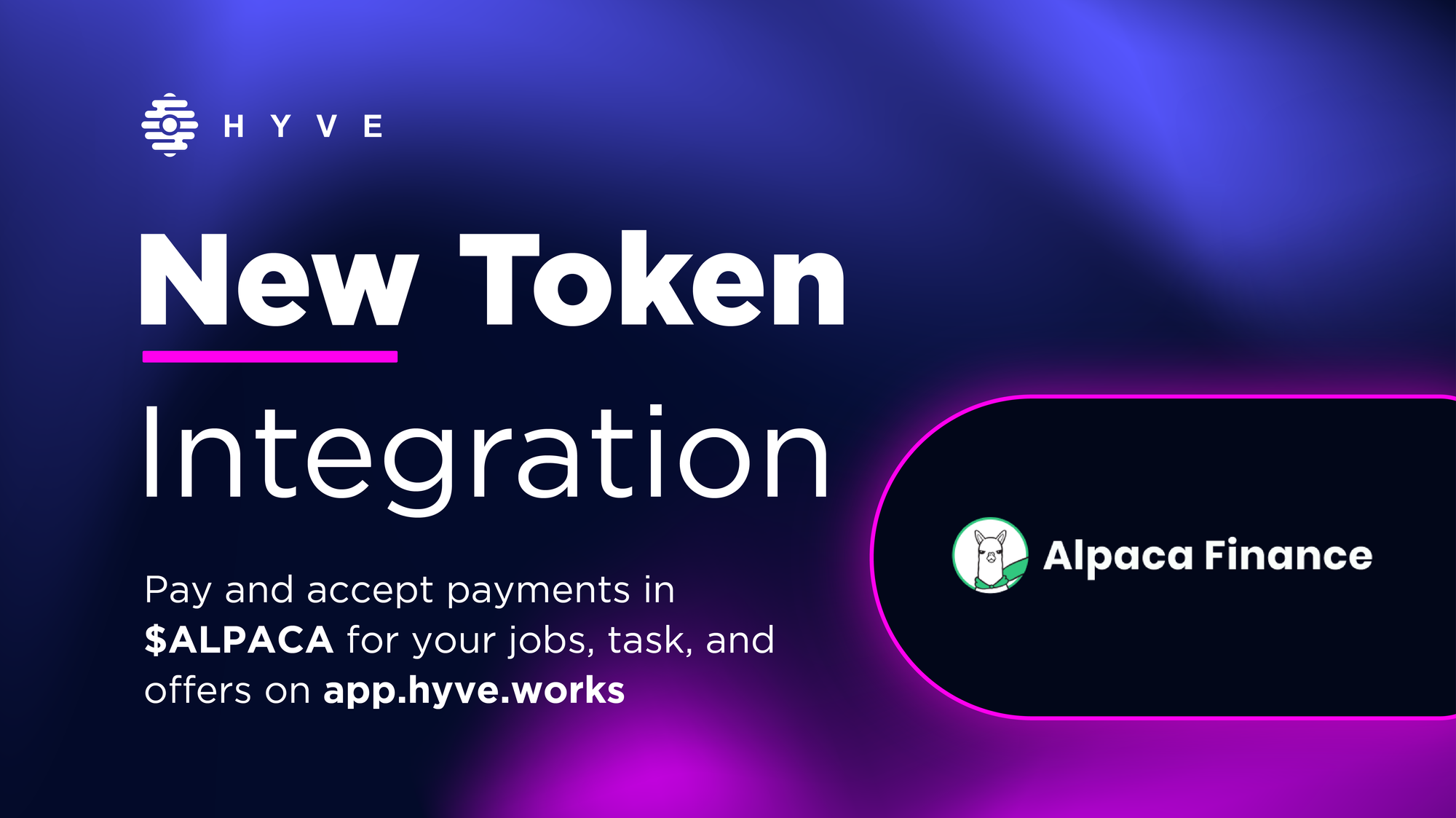 HYVE is currently undergoing massive changes, with the final aim of making our platform universal and enabling further adoption. You might have noticed the latest token integrations within the last couple of weeks, namely $RADAR and $UNIQ. Well, today we've got some more news in store: $ALPACA is our most recent addition, available now for paying for tasks and jobs, as well as offers.

The $ALPACA token
Acting as the utility token of the Alpaca ecosystem, employing a deflationary model, $ALPACA captures the main economic benefits of its platforms, used for performance fee sharing, token buyback, and burn - a mechanism used to create a long-term community base, an efficient way to increase the price and discourage speculative trading.

Just like the $HYVE token, $ALPACA empowers its tokenholders, through direct and indirect rewards. Currently, the $ALPACA token is available on two networks, BSC and Fantom, with us integrating the token only on the BSC network, for the moment. You can find the contract address in order to add $ALPACA in your wallets down below.

0x8F0528cE5eF7B51152A59745bEfDD91D97091d2F
The $ALPACA token can be traded on Binance, MEXC, or Gate. Once you purchase $ALPACA, you can send it to your metamask wallet in order to use it on HYVE to instantly pay freelancers. In addition, when creating an offer, you can select to be paid in $ALPACA, without priorly owning the token. We like to give freelancers the freedom over payment options, and by integrating a multitude of cryptocurrencies, we achieve exactly that.

About Alpaca Finance:
Alpaca is the largest lending and savings platform allowing leveraged yield farmingon Binance Smart Chain. Lenders are empowered to earn safe and stable yields, while borrowers can maximize their profits by taking uncollateralized loans for leveraged yield farming positions. Alpaca has revolutionized the DeFi space and created innovative earning potential for everyone, optimizing capital efficiency.

Leveraged yield farming revolutionized DeFi , but most platforms were built on the Ethereum network, and as of late, the rising gas fees have made several DeFi projects inaccessible. This kind of defies the purpose of a decentralized financial system, promising high returns and yields for everyone, not just the so-called "whales". Due to the reduced fees offered by the BSC blockchain, Alpaca became a pioneer on the network, fulfilling one of the gaps for an on-chain leveraged protocol.

What's in store for HYVE?
HYVE's cross-chain architecture creates a decentralized ecosystem, which redefines collaborative methods. Through its blockchain-based freelancing platform, HYVE eliminates intermediaries within the freelancing industry, by reducing fees and connecting clients with matching professionals, enabling them to work together securely.

It is probably worth reminding you that HYVE has one of the lowest fee structures out of all freelancing platforms, with the perceived commissions starting from 1% for tasks, jobs and offers completed in $HYVE, rising up to 3.5% for payments performed in $ETH, $BTC or $USDT and lastly 9% for altcoins. Nevertheless, the fee can be halved by paying it in $HYVE.

As we have finished the rebranding of our website, HYVE has adopted a new approach in order to facilitate further adoption of the platform, with the rebranding live in the coming days. We will be integrating a variety of new tokens in the coming weeks since we have eased up the process from a technical point of view. By expanding our payment options, we not only attract tokehnolders from communities that were not part of our initial target, but we provide established and promising projects alike a gateway to a new audience, made out of blockchain enthusiasts and crypto newbies alike.

We will be onboarding various companies to start using our platform in the near future and directly provide their services to diversify their revenue streams with crypto. Moreover, besides our latest reveals, we can give you a sneak peek for the end of this month, which should be incredibly enticing - HYVE will tackle another hot topic within the crypto world, so stay tuned for more!


🐝 Want to learn more about HYVE?
🐦 Follow us on Twitter.
🗨️ Join our Telegram Group.
📢 Join our Announcement Channel.
💡 Join our Discord.
✅ Follow us on Instagram.
👍 Like us on Facebook.
💡 Visit our Website.

🦙Want to learn more about Alpaca.Finance?
🐦 Follow them onTwitter.
🗨️ Join their Telegram Group.
💡 Visit the Alpaca Website.