New Token Integration: $ALTB is now available on HYVE!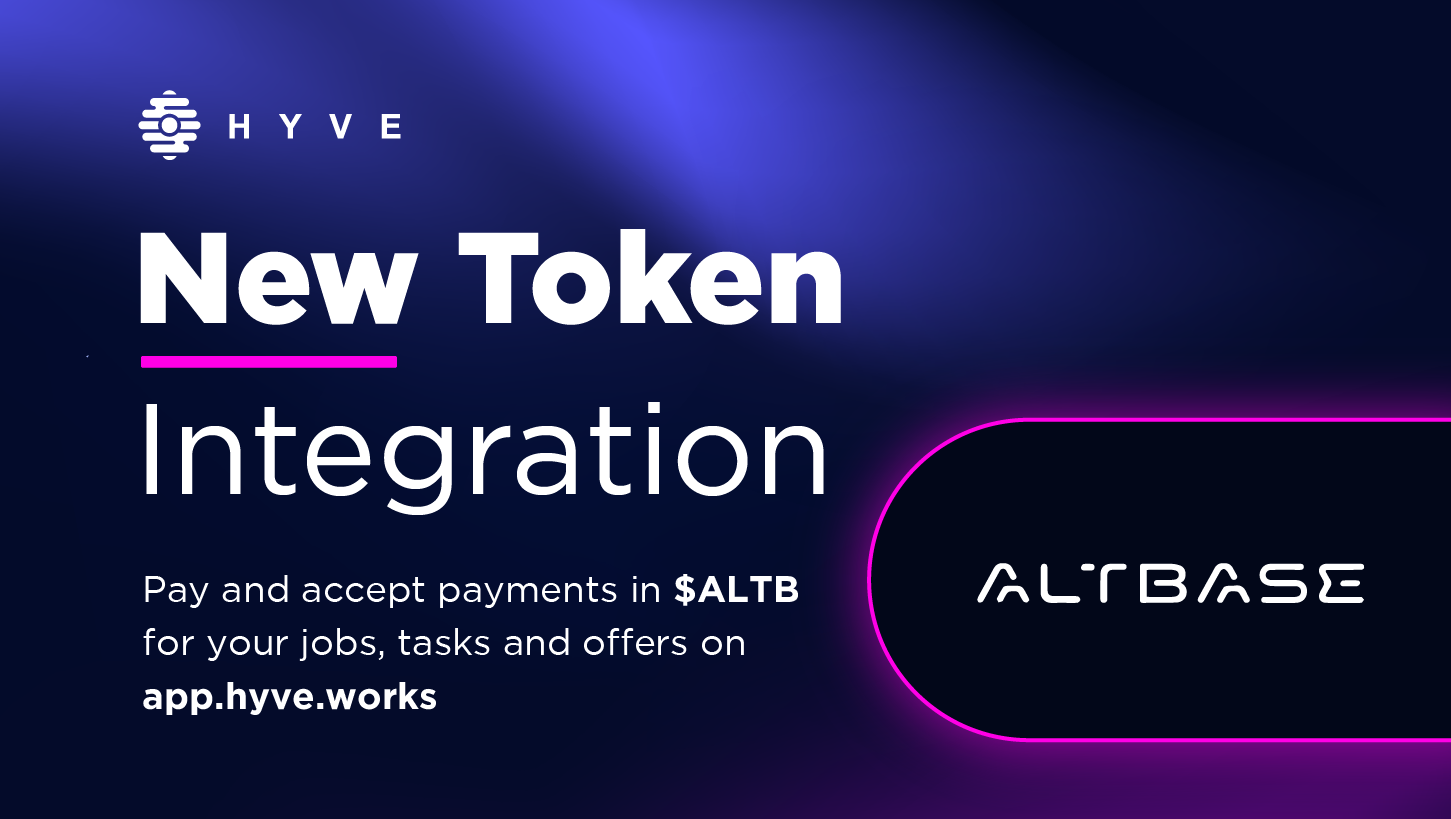 Summer has wrapped up already, and we can only observe that HYVE's activity is only going up, finding new ways to allow our freelancers full control and accessibility over their payment methods while attracting new users too!
Our goal is to make HYVE the perfect mean for starting your freelancing career and that would not be possible without diverting our payment structure by adding more and more each day. As we are aiming to become a well-known all-embracingl platform, we are welcoming another token into HYVE's payment system: $ALTB, a token that is different from what we've integrated in the past weeks.
More about Altbase and its platform
Altbase's goal is to be the leading altcoin application, an innovative platform to purchase altcoins and exchange them, and its purpose is to make the process of purchasing altcoins straightforward for newcomers to crypto. The platform aims to have a simple setup, no extra complicated purchasing processes, and no top-up errors as it is seeking to lower the barriers for new traders so there is no confusion of trading new projects.  
Besides this, the app aims to offer an integrated secure wallet for users to store cryptocurrency. The existing wallets seek to seamlessly connect to the Altbase app with safe seed phrase import. Also, the network allows quick sending and receiving of new altcoins at a press of a button. The currency permits easy transactions between different wallets, aiming to introduce multichain support.
Get to know $ALTB…
Previously named $100x, $ALTB is back and better than ever! Its name makes branding more succinct and transforms the coin into a truly native coin that powers the whole ecosystem! $ALTB aims to increase sustainability for use inside exchanges and for better utility when pairing with other coins and tokens. $ALTB allows users to purchase the latest cryptocurrency offerings completely hassle-free, by using a credit or a debit card.
Furthermore, the token is paired with other currencies on the app, directing the volume of the native tokens through transactions on the app. In addition, $ALTB is an auto-deflationary and auto-liquidity coin that runs on the Binance Smart Chain (BSC), developed to benefit long-term holders with transparency and sound tokenomics.
If we caught your attention and you think you will become a big fan of Altbase, another benefit is you can use this coin to get products, merchandise and services as loyalty rewards will be directed to exchange users.
Altbase is currently working on its launchpad, a platform for decentralized projects and altcoins to raise and exchange capital, with investors participation guaranteed through First Come First Serve pools.  Moreover, Altbase seeks to provide a full-fledged NFT marketplace that carries exclusive NFT projects in collaboration with the platform.
Buy the token directly on the Altbase platform, with users now able to purchase the token in order to pay and get paid for your services on HYVE. Also, $ALTB will be incorporated on the BNB blockchain, so just take a glimpse at the contact address down below and add it to your digital wallet.
BNB: 0x9b3a01f8b4abd2e2a74597b21b7c269abf4e9f41
Coming up for HYVE…
HYVE has been working on improving the platform, with tokens integrated every couple of days. We are always working on incremental improvements, so in case you missed anything this summer do read our Summer Recap. In addition, there are many companies looking to externalize their hiring process through our platform, with Jelly being the latest, meaning that you should keep an eye out for any future jobs if you want to have a job in the blockchain space.
We are currently looking to integrate our fifth blockchain, so make sure that you keep an eye out!
Disclaimer
The information provided does not constitute investment advice, financial advice, trading advice, or any other sort of advice, HYVE does not recommend that any cryptocurrency should be bought, sold, or held by you. Please do your own risk assessment when deciding how to invest in cryptocurrency and blockchain technology. HYVE is not liable for investment gains or losses.

🐝 Want to learn more about HYVE?
🐦 Follow us on Twitter.
🗨️ Join our Telegram Group.
🏦Want to learn more about Altbase?
🐦 Follow them on Twitter.
🗨️ Join their Telegram Group.