New Token Integration: $CULT is now integrated on the HYVE platform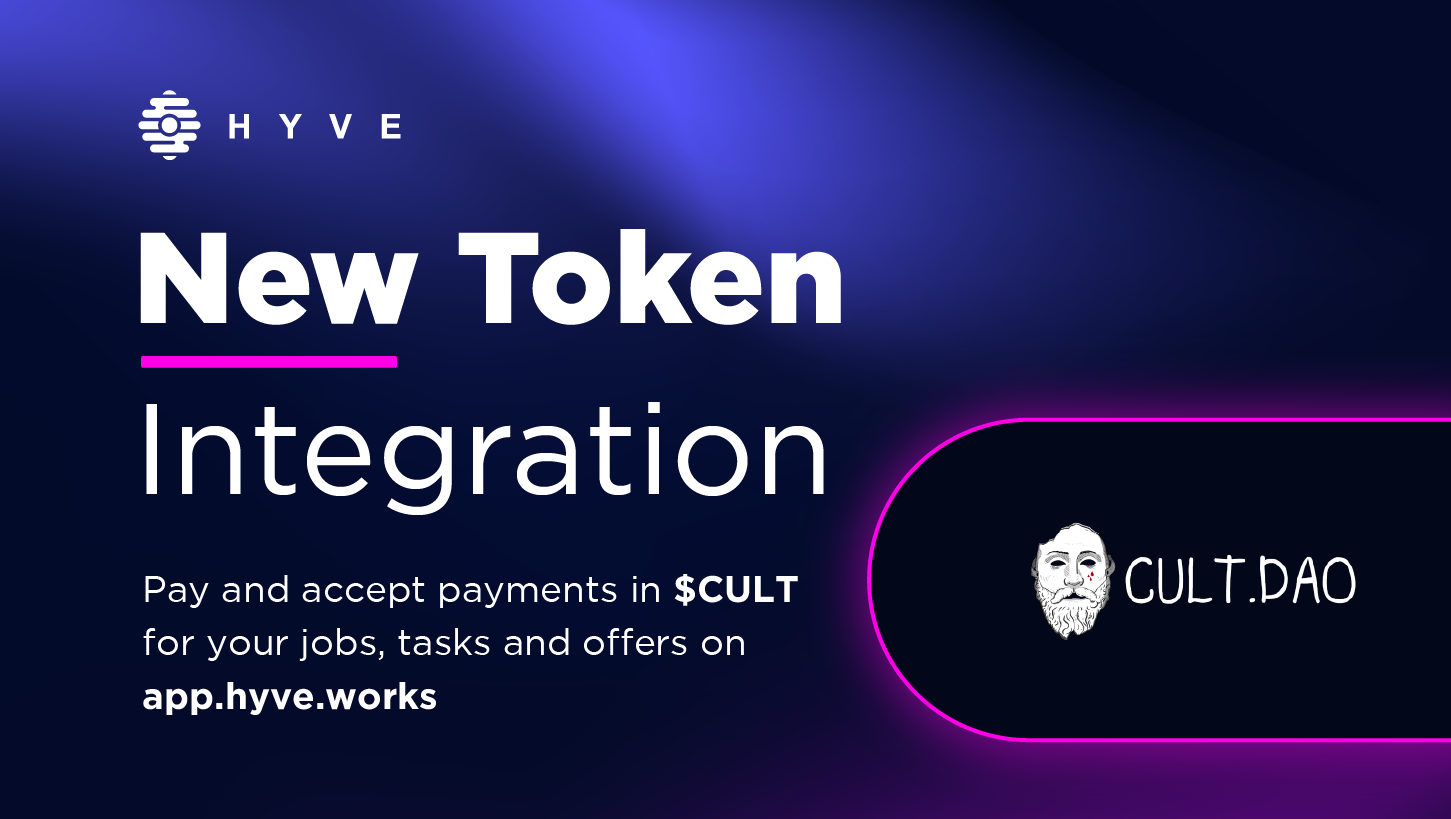 Great news, HYVERS! This week we are excited to announce that another great project will see its token integrated on the HYVE platform, a project part of Cult Dao's ecosystem. Let's all give a friendly welcome to our newly integrated addition: $CULT is now part of the HYVE family.

In hopes of attracting users from diverse communities, HYVE will continuously work to improve its ecosystem. As a result of this integration, we are looking forward to new users joining the HYVE army.

We believe that this move marks an important step towards becoming a universal platform for freelancers, allowing payment in an increasing number of cryptocurrencies, and giving users the ultimate freedom.

HYVE's dedicated approach is yet again highlighted with this token integration, the result of which is hoped to further empower our freelancers and clients by bestowing them with full control over their payment methods. Scroll down below to find out more about $CULT x HYVE!
Join the CULT!
$CULT is the tradable and liquid token of CULT DAO. Transacting $CULT will
contribute to the protocol by filling the DAO treasury slowly, to fund investments into decentralized technologies. This is achieved thanks to a 0.4% tax on all $CULT transactions.

What makes CULT different from other decentralized investment platforms? Well, for starters, there is no control, no interference whatsoever. CULT cannot be changed, nor  the liquidity can be accessed. One cannot upgrade or edit the smart contracts nor the token. CULT is different because it cannot be stopped: not by the Guardians, not by the developers, not even by the government or any other regulation.

When you stake your $CULT on the dApp into the DAO, you are given dCULT, this can be swapped back at any time into the amount of CULT you staked originally, plus any rewards that were given to the DAO in the time period you owned dCULT.
Learn more about $CULT

Purchase $CULT and use it to pay for jobs and tasks on the HYVE platform. Also, you can now start earning $CULT for the provision of your services.

EthereumPolygon: 0xf0f9D895aCa5c8678f706FB8216fa22957685A13
What to expect from us

HYVE, the freelancing platform that is setting the bar for incredibly low fees: with 0.9% for jobs listed in HYVE, 2.9% for jobs listed in ETH, BTC or stablecoins, 7.9% for jobs listed in altcoins and the cherry on top is that if you pay the fee in HYVE it's half, so 3.95% and 1.45% respectively!

The first thing to look forward to is the fact that HYVE will be restarting its informative blog series on the topic of freelancing, this comes after a brief break whilst we focused on resolving technicalities and consolidating the V2 among other novelties such as our referral program. If you have any specific content that you would like HYVE to write about we invite you to comment on our Twitter as all suggestions are welcome!
Stay tuned for more! Make sure you regularly check out our social media channels for further announcements. Keep an eye out for any future updates.
Disclaimer
The information provided does not constitute investment advice, financial advice, trading advice, or any other sort of advice, HYVE does not recommend that any cryptocurrency should be bought, sold, or held by you. Please do your own risk assessment when deciding how to invest in cryptocurrency and blockchain technology. HYVE is not liable for investment gains or losses.
🐝 Want to learn more about HYVE?
🐦 Follow us on Twitter.
🗨️ Join our Telegram Group.
Want to learn more about $CULT?
Follow CultDao on Twitter.
Chat with them on Discord.
Join their Telegram Group.