New Token Integration: $eRSDL integrated on HYVE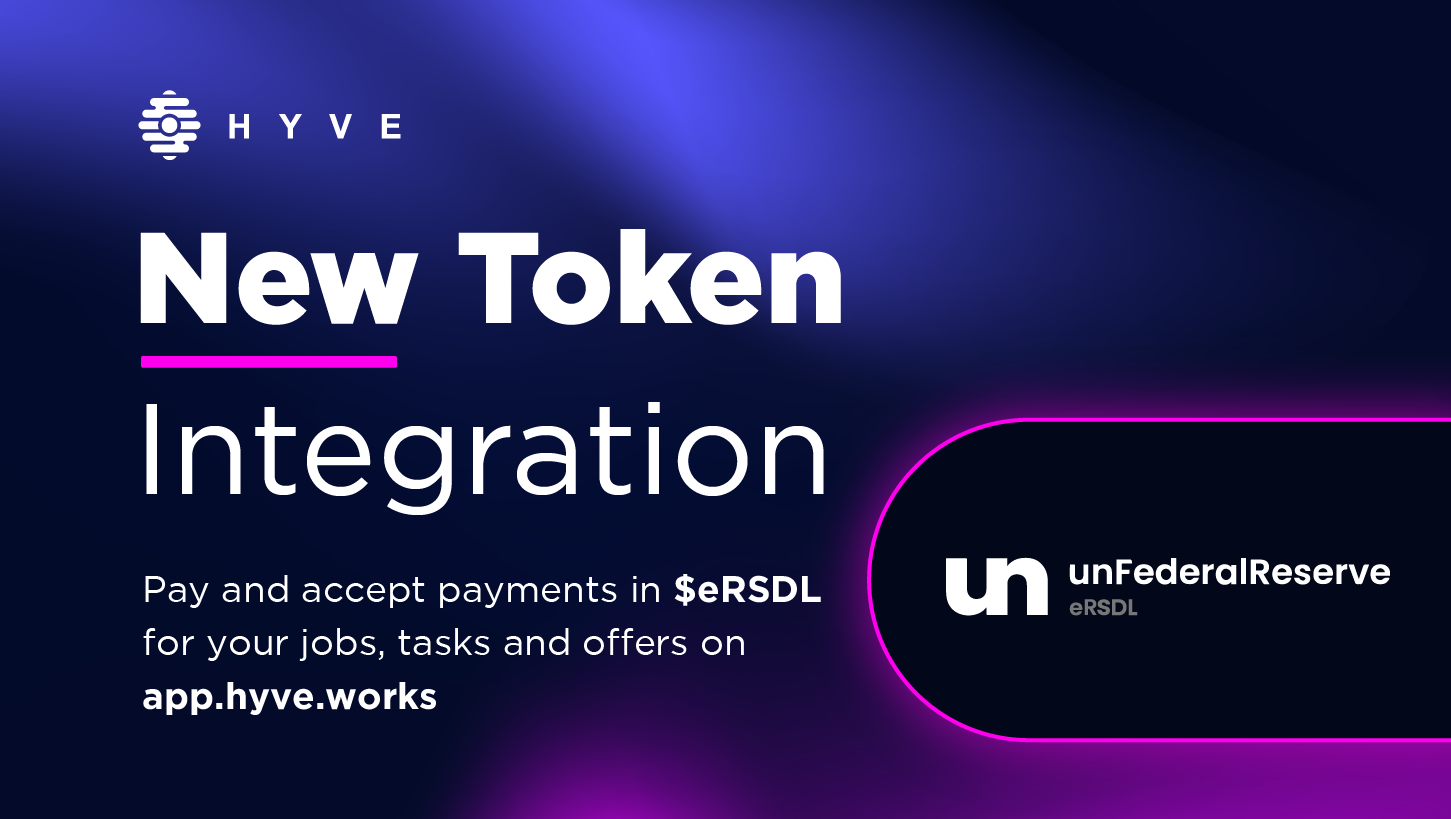 As promised HYVE will not lose momentum on its journey to further adoption and creating a universal platform for freelancers. Our latest token integration is the Residual token, $eRSDL from unFederalReserve, which will be integrated on Ethereum. Through continuous support and constant innovation, a perfectly decentralized environment will be achieved, where freelancers and enterprises alike can collaborate without any intermediation and of course with almost no fees
Here's everything you need to know about $eRSDL
$eRSDL is a utility token for unFederalReserve, it facilitates the B2B lending, cash reporting, and overnight lending/borrowing platform. $eRSDL is conceived to be an exchangeable element within a multi-token system used to create debt instruments. Its full name is Residual Token and its flagship product is 'ReserveLending+' which provides crypto holders with permission-less access to deposit, earn and borrow top digital assets in a safe, easy, and effective manner for cash management, hedging, or other speculative purposes. In other words, it provides a 'safe harbor in the open ocean of DeFI', as unFederealReserve like to call it.
There are many benefits to being an $eRSDL token holder such as receiving prioritized access and discounts on the DAO's bonding program. $eRSDL is the primary means of interacting with the unFederealReserve Protocol; when a user mints, redeems, borrows, repays a loan, liquidates a loan, or transfers $eRSDL, they will do so using the unToken contract.
$eRSDL is now one of the accepted payment methods on HYVE, you can now use $eRSDL to pay or get paid for tasks, jobs, and offers on the HYVE platform.
It is integrated on the ETH Blockchain, make sure you add the contract address in your MetaMask wallet.
ETH: 0x5218e472cfcfe0b64a064f055b43b4cdc9efd3a6
About unFederalReserve
The project is focused on transparency, efficiency, and professionalism. unFederalReserve aims to provide their clients with seamless lending and borrowing experiences. In short, unFederalReserve is a Fintech SaaS company that has applied its immense consumer lending experience to blockchain technology.
ReserveLending is their live DeFi (P2P) lending and borrowing platform. Their banking products are aimed at helping smaller U.S. Treasury chartered banks and non-bank lenders in need of a DeFi strategy and greater liquidity without sacrificing security or compliance. $eRSDL helps businesses that lack access to the Federal Reserve due to institutional restraints or regulatory matters, hence the name #UnFederalReserve.
Coming up next…
We've had lots of exciting things happen recently such as the V2, token and blockchain integrations, and job posts from some of our partners. We look forward to bringing you more of the same soon as well as many new surprises too.
HYVE stands out due to its incredibly low fees for freelancers which have yet to be beaten by any other freelancing platform.  We will continue to steadily integrate new tokens in order to reach the complete diversification of our payment options and provide you with only the most advantageous methods to pay. Lastly, HYVE has been working on something very exciting that will be shared with you in the close future! Can you guess what it is?
Keep an eye out for the big news and be the first to find out about our next token integration.
🐝 Want to learn more about HYVE?
🐦 Follow us on Twitter.
🗨️ Join our Telegram Group.
📢 Join our Announcement Channel.
💡 Join our Discord.
✅ Follow us on Instagram.
👍 Like us on Facebook.
💡 Visit our Website.

🏦Want to learn more about unFederalReserve?
🐦 Follow them on Twitter.
🗨️ Join their Telegram Group.
💡 Join their Discord.
💡 Visit their Website.
✅ Follow them on Reddit.