New token integration: $FIRO on HYVE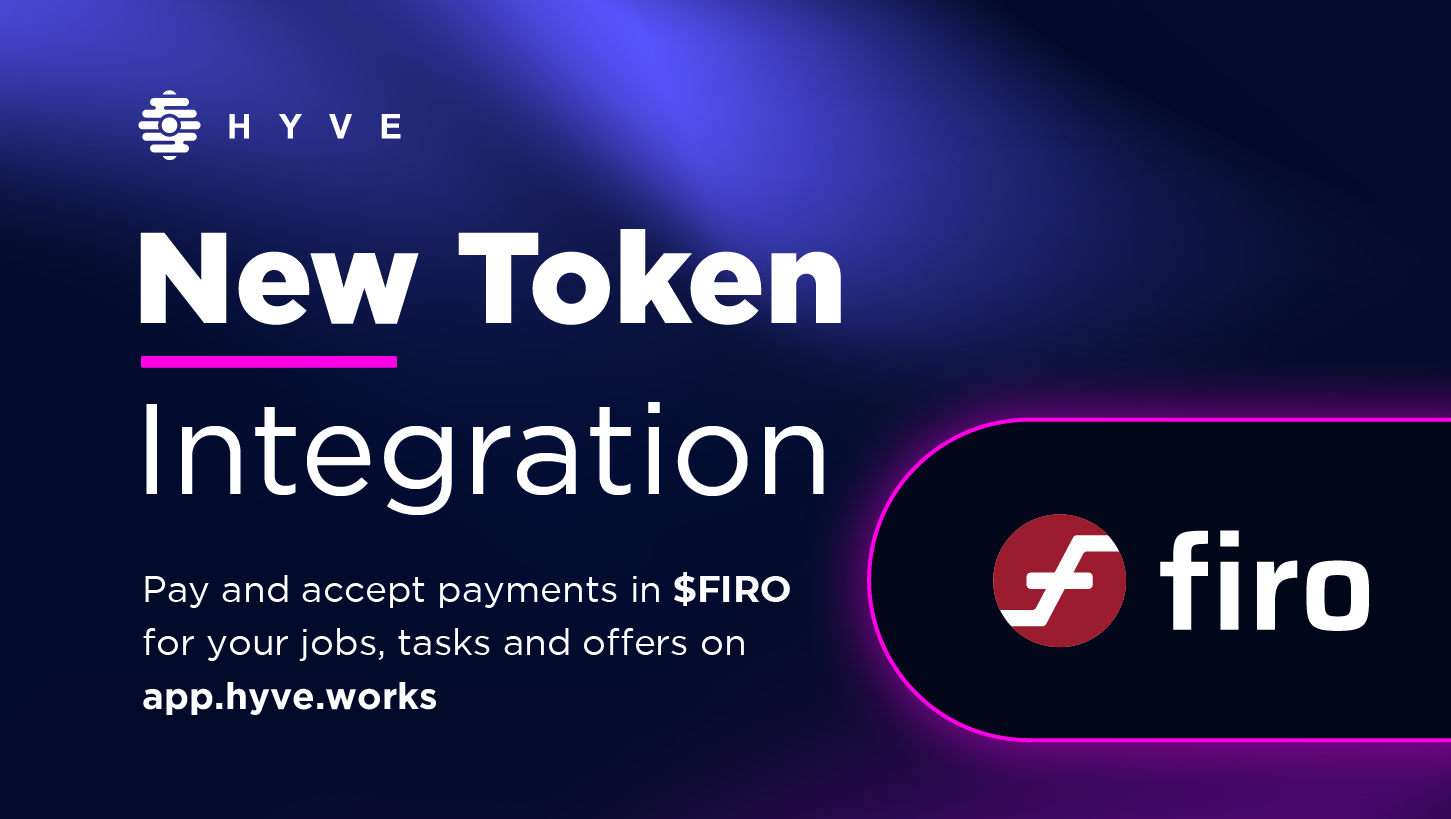 Welcome back, fellow HYVERS! We're right on track to reaching 100 token integrations by the end of the year, thus becoming a universal platform for freelancers, with ultimate freedom over payment options! Our new partnership for this week involves bringing in Firo, a cryptocurrency that focuses on being private digital cash, so dive into this article if you want to find out about it!
Value your privacy as much as Firo!
Privacy in the crypto environment is crucial for protecting and safeguarding the interest of users in this decentralized world. Rebranded from Zcoin in October 2020, Firo is responsible for some of the most significant blockchain privacy protocols on record.
This project uses a PoW-Chainlock hybrid consensus model whereby quorums are formed by several hundred master-nodes out of thousands, deterministically selected (LLMQ) that perform a verifiable network-wide measurement/vote of the "first-seen" rule and locks in the block that is first-seen. Firo has its own minable blockchain, based on PoW technology. Firo's blockchain offers unparalleled privacy compared to any other blockchains
Blocks are final with a single confirmation, as no reorganizations are allowed past this point. This also mitigates 51% mining attacks as more than half the master-node network would need to be compromised to disable Chainlocks before a 51% attack can be mounted.
Dive into $FIRO
$FIRO is a cryptocurrency that focuses on being private digital cash, implementing the Lelantus privacy protocol, which allows users to burn their coins and redeem them later for brand-new ones with no prior transaction history.
Before Lelantus, it was also the first cryptocurrency to code and launch a practical implementation of the Zerocoin protocol, which became one of the most prevalent privacy protocols in use. Before being replaced by Sigma and then Lelantus, cryptographic flaws were discovered in the Zerocoin protocol in 2019.
Firo's Lelantus privacy protocol and its predecessor, Sigma, relies, as part of its construction, on a specialized zero-knowledge proof called one-out-of-many proofs which. Unlike other zk constructions, it does not require a trusted setup or exotic math/cryptographic assumptions while retaining high anonymity sets.
If Firo's utility has caught your eye, look no further - scroll down below for the contract address and add it to your digital wallets:
BNB: 0xd5d0322b6bab6a762c79f8c81a0b674778e13aed
What's cooking at HYVE…
Do not worry, the grind does not stop at HYVE! We are truly excited to announce that new AMA's are coming (we know how much you like these ones!), new token integrations (of course!), and HYVE 2.3! Our new development update is finally out, so give that a read and find out more about our latest improvements and backend fixes.
Finally, we want to remind you that HYVE cannot thank you enough for joining us in our freelancing journey, and that we strive to make your experience the best on our platform! As we want to grow our user base, we have a very rewarding referral system where freelancers get paid for every action performed on the HYVE Platform. See you soon!
Disclaimer
The information provided does not constitute investment advice, financial advice, trading advice, or any other sort of advice, HYVE does not recommend that any cryptocurrency should be bought, sold, or held by you. When deciding how to invest in cryptocurrency and blockchain technology, please do your own risk assessment. HYVE is not liable for investment gains or losses.
🐝 Want to learn more about HYVE?
🐦 Follow us on Twitter.
🗨️ Join our Telegram Group.
🚀Want to learn more about Firo?
🐦 Follow them on Twitter.
🗨️ Join their Telegram Group.