New Token Integration: $FLUX is now part of the HYVE ecosystem!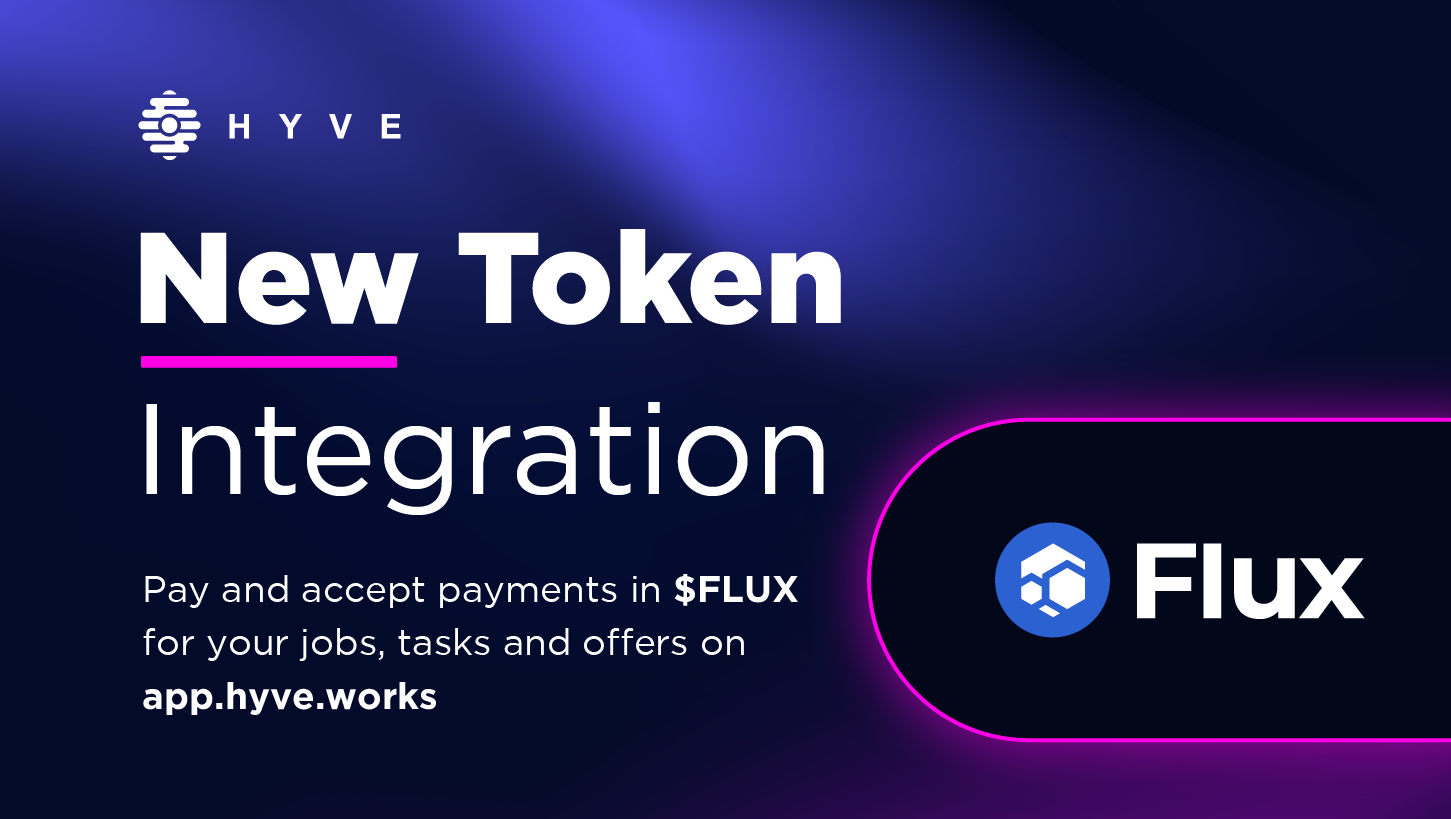 As you already know, HYVE is trying its best to become the best web3 environment for freelancers from all over the world every day! To show our commitment to making freelancers' life easier, we are currently adopting new tokens as we speak, until we get to offer them never-ending options whether it is for tasks, jobs, and offers.

By diversifying our methods of payment, HYVE is continuously expanding and growing, and therefore, this week we are welcoming a new token to the platform: $FLUX.

Dive into the FLUX project
Previously named Zel, and then rebranded as Flux, this crypto project aims to be the next generation decentralized cloud architecture that is scalable, collecting decentralized computing and blockchain as service solutions. The idea behind Flux's project was to  create a revolutionary second-layer operating system that allows hardened dockerized apps to run on Flux's fully decentralized computational network.

Therefore, the Flux ecosystem is a suite of decentralized computing services and blockchain-as-a-service solutions which offer an interoperable, decentralized, AWS-like development environment, utilizing a native POW (Proof-of-Work) coin to power this ecosystem, providing incentive for hardware hosters, governance on-chain, and bad actor mitigation via staking requirements for running hardware.

Flux is vital to the blockchain space as it provides critical infrastructure, development tools, and industry experience necessary to quicken the pace of blockchain solution rollouts. Flux allows building your own novel blockchain products, for strategic partners to leverage computing power and services they require to thrive, and for independent blockchain developers to launch their ideas efficiently and effectively.
Flux is a native crypto asset with its own blockchain. There are Flux "parallel assets" to allow the Flux governance coin to function on all DeFi protocols including Kadena, Binance Smart Chain, Ethereum, Tron, Solana and more, over time.
Dive into $FLUX
$FLUX is a fair-mined, proof-of-work cryptocurrency that acts as a utility asset for onboarding to the ecosystem and powering the transaction of information across the ecosystem. The asset also acts as the main incentivization for operating a FluxNode: enterprise-grade server hardware powering the Ecosystem. Flux can be attained via GPU mining, trading on available exchanges, and as rewards for operating nodes. Our Ecosystem is a community-based project with a foundation that represents the community's voice and protects the community's wishes for the project.
To get your attention, here is a list of $FLUX platform's use-cases:
Blockchain as a service - hosting blockchain nodes and apps
DApps - run decentralized applications
Oracles - run apps to provide decentralized data sets (DibiFetch is achieving this by pulling pricing data for cryptocurrencies from multiple exchanges)
Price Rate Servers - The ZelCore wallet pulls all pricing data from price rate servers running on FluxOS
Game and web servers - hosting of game and web servers to provide content for end-users
If the FLUX project caught your eye, the contract address for $FLUX is down below:

BSC: 0xaFF9084f2374585879e8B434C399E29E80ccE635

Following steps for HYVE…
Since the summer season is finally coming to an end, HYVE is preparing for more incremental upgrades and further token additions. What we mean by this, is that we have been working on our fifth blockchain integration, which we hope to reveal as soon as possible. In addition, we will continue our almost daily token integrations, so make sure that you stay tuned for more info in the coming days!

Disclaimer
The information provided does not constitute investment advice, financial advice, trading advice, or any other sort of advice, HYVE does not recommend that any cryptocurrency should be bought, sold, or held by you. Please do your own risk assessment when deciding how to invest in cryptocurrency and blockchain technology. HYVE is not liable for investment gains or losses.
🐝 Want to learn more about HYVE?
🐦 Follow us on Twitter.
🗨️ Join our Telegram Group.
🏦Want to learn more about Flux?
🐦 Follow them on Twitter.
🗨️ Join their Telegram Group.