New Token Integration: $ICON is now live on HYVE!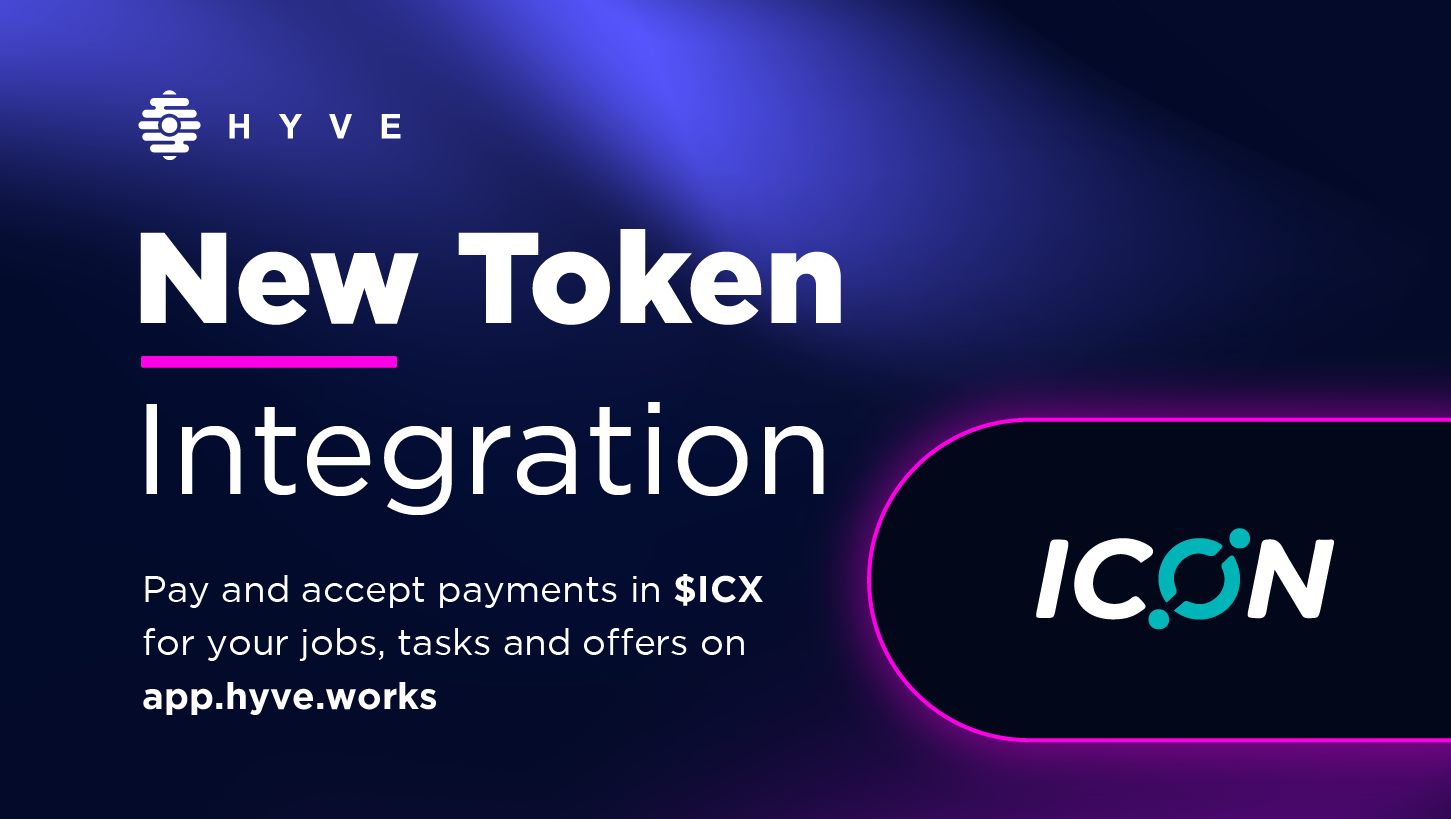 Welcome back, fellow HYVERS! It's December already, and we could not be happier as it means that gifting season is just around the corner! This month HYVE will have a special giveaway with one of our long-time partners, while also adding more and more tokens to our payment system.
Today's star is ICON Network, a public blockchain protocol that aims to connect the whole world with its BTP interoperability solution!
Have you ever dreamed of becoming an ICON?
ICON is a decentralized autonomous organization (DAO) that seeks to connect every blockchain in the world, regardless of its design or consensus mechanism (i.e. proof of stake, proof of work, etc.).
ICON Network is an open-source, layer one, delegated proof-of-stake (DPoS) blockchain and smart contract platform that connects unique blockchains and their respective communities. ICON's Blockchain Transmission Protocol (BTP) is a trustless and chain-agnostic interoperability solution that supports generic smart contract calls between connected blockchains.
ICON offers a unique high-performance smart contract execution environment powered by the Java Virtual Machine (JVM) that is ideal for developing minimal-latency cross-chain dApps. The ICON blockchain is governed by validators elected through the network's ICX staking and delegation mechanism.
As you might have guessed, ICON is an extremely sophisticated protocol. Each component within would require an entire article to explain properly, that's a lot to learn! For sake of readability (and sanity), we will mention the following elements, standing at the core of the ICON Network:
Interested in $ICX?
$ICX is the basic currency unit of the ICON Network. The fundamental economic activities on the ICON Network are based on the functionality of $ICX and $ICX is a medium of exchange for users on the ICON Network.
In addition, the price of $ICX is correlated with the value of computational power on the ICON Network. Briefly said, $ICX is the cryptocurrency used on the ICON blockchain for all economic activities. These include staking, paying fees for smart contracts and transactions, rewarding users for participating in the ICON Network, and will eventually be used to back the liquidity of any tokens issued on the ICON Network.
We will be integrating $ICX on the BNB chain, so make sure to add the contract address to your digital wallets and use it to pay for tasks, jobs, and offers on the HYVE Platform.
BNB: 0x9b7b6A964f8870699Ae74744941663D257b0ec1f
Find a list of ICON Network native assets and their respective Binance Smart Chain (BNB Chain) contract addresses here.
What to expect next
The ICON Foundation is looking to help expand ICON Network operations, thus incentivizing the hiring of the right professionals to help fulfill this goal. What is even better news is that ICON will start using HYVE's platform to enhance the search and find the matching candidate. If you are interested in making a career switch to Web3 or simply looking to switch jobs, make sure to keep an eye out in the coming days for any news from ICON. We will definitely promote it on all our social media channels!
We are looking forward to the release of HYVE V2.4 by the end of the year, as our dev team is well committed to achieving this goal. As we mentioned in the last articles, after the FTX scandal, we have created an initiative that helps displaced professionals, namely the Web3 Job Alliance.
HYVE is committed to developing a healthy environment for web3 professionals through the development of good actors and deepening trust within the industry! Join us later this week for more token integrations, as well as some new blogs telling you how to protect your crypto assets!
Disclaimer
The information provided does not constitute investment advice, financial advice, trading advice, or any other sort of advice, HYVE does not recommend that any cryptocurrency should be bought, sold, or held by you. When deciding how to invest in cryptocurrency and blockchain technology, please assess your own risk. HYVE is not liable for investment gains or losses.

🐝 Want to learn more about HYVE?
🐦 Follow us on Twitter.
🗨️ Join our Telegram Group.
💥Want to learn more about Icon Network?
🐦 Follow them on Twitter.
🗨️ Join their Discord.