New token integration: introducing $DOLA on our platform!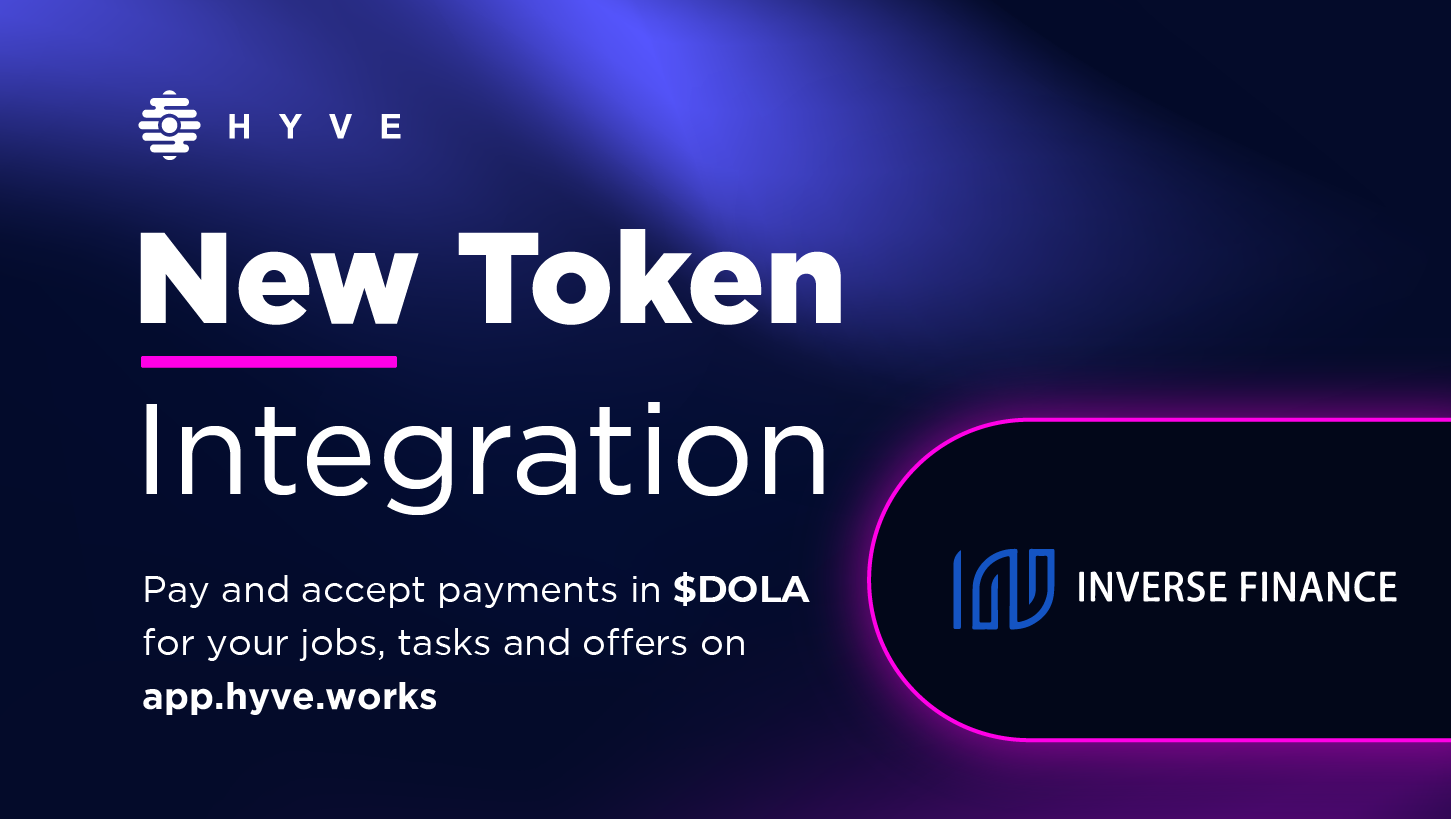 Some of you might ask - will token integrations ever stop? The answer is no, as we reiterate our commitment to become a universal platform, where freelancers have ultimate freedom over payment options. However, we have quite a process in selecting what tokens to integrate next, picking only projects that we believe are interesting for our community
Become a Master in DeFi with Inverse Finance and DOLA …
Forget the reckless, outdated systems of the past, and get ready to move towards a better solution! Inverse Finance has come to save the day! Inverse Finance is a positive sum DeFi protocol based around the cross-chain $DOLA stablecoin that aims to build a decentralized and sustainable foundation for economic freedom worldwide.
DOLA is a non-algorithmic, debt-backed, fully-recallable stablecoin pegged to the US dollar. This means it is designed to be valued as close to $1 as possible with minimal volatility. DOLA is debt-backed, meaning that every single DOLA in circulation is backed by retractable debt worth a higher value than the dollar price of DOLA. Regardless of DOLA's market conditions or peg, each DOLA always represents $1 of borrowing power.
There are several yield opportunities for DOLA holders on Curve, Convex and Balancer on the Ethereum blockchain, and also on Velodrome and Tarot on Optimism, a layer two scaling solution for Ethereum.
DOLA is added into circulation on the supply side of money markets by Inverse Finance's Feds, and then made available to be borrowed through over-collateralized loans. Similarly, DOLA is injected into the Curve DOLA-3POOL through our partnership with Yearn and their DOLA vault. DOLA can also be purchased with DAI stablecoin using The Stabilizer.
Dig into $DOLA…
$DOLA can be bought on both Centralized and Decentralized Exchanges and can now be used to pay for tasks and jobs on the HYVE Platform, so make sure to add the contract address into your wallets:
ETH: 0x865377367054516e17014CcdED1e7d814EDC9ce4
Next steps for HYVE…
HYVE is always on the lookout to improve its platform, as we are aiming to reach more than 100 integrated tokens by the end of the year, with an additional blockchain as well. In addition, we are looking to facilitate freelancer activity at all levels, thus striving for more partnerships and technology improvements. In the following weeks, you should also expect more blogs and opinion pieces posted so stay tuned for more!

Disclaimer
The information provided does not constitute investment advice, financial advice, trading advice, or any other sort of advice, HYVE does not recommend that any cryptocurrency should be bought, sold, or held by you. Please do your own risk assessment when deciding how to invest in cryptocurrency and blockchain technology. HYVE is not liable for investment gains or losses.
🐝 Want to learn more about HYVE?
🐦 Follow us on Twitter.
🗨️ Join our Telegram Group.
🌎Want to learn more about Inverse Finance?
🐦 Follow them on Twitter.
🗨️ Join their Discord.