New token integration: introducing $THOR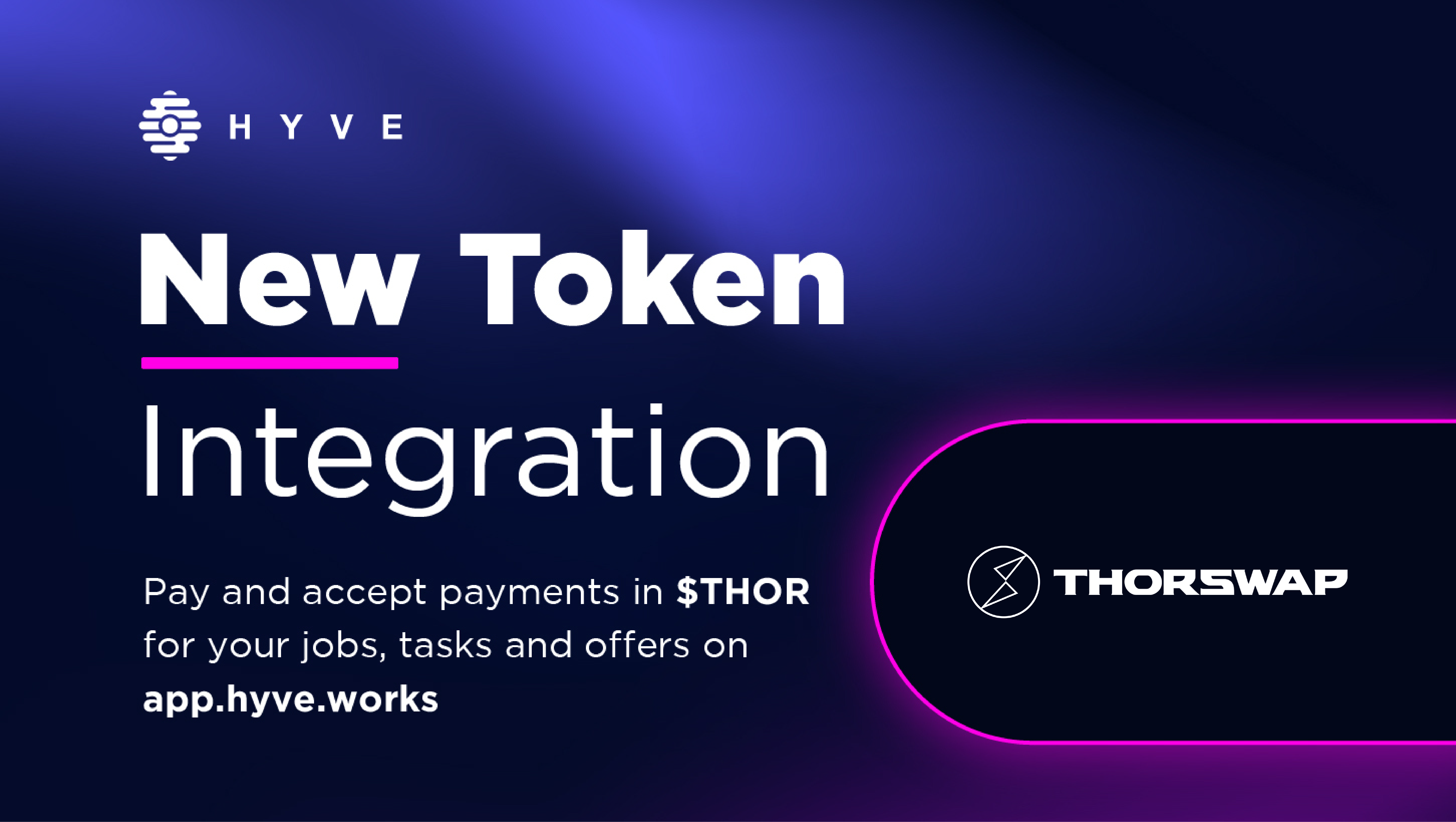 Another day, another token integration, meaning that it's time to expand payment possibilities for all freelancers on the HYVE platform. This week we have the $THOR token from THORSwap, integrated on the Ethereum blockchain, which freelancers can now use to pay for tasks, jobs and offers. THORSwap  is a powerful decentralized cross-chain exchange enabling 1-click trade between 4,800 tokens across 9 Blockchains right from your own self-custodied wallet. No centralized bridges, no asset wrapping required. THORSwap users can also earn a real yield on native assets including $BTC with Impermanent Loss Protection in addition to other powerful DeFi products which we will detail below.
Welcome to DeFi Valhalla!
THORSwap is a multi-chain decentralized exchange, allowing all crypto users to easily swap assets among any chain they desire. This is made possible through THORChain's cross-chain liquidity protocol and THORSwap's DEX Aggregator enabling permissionless swaps of native assets between blockchains and other decentralized exchanges/ aggregators.

THORSwap's powerful DEX Aggregator connects liquidity across 9 blockchains and compares pricing from numerous Aggregators (1inch, Matcha) & DEXs (Uniswap, Sushiswap) to provide the best cross-chain swap in one click.

THORSwap currently supports 9 major L1's such as Bitcoin, Ethereum, Cosmos, BNB Beacon Chain (BEP2), THORChain, Avalanche, DogeCoin, Litecoin, Bitcoin Cash and 4,800+ ERC-20 & ARC-20 long-tail assets.

As the flagship interface of THORChain, THORSwap offers a full-featured DeFi experience including:
Wallets: providing users with robust multi-chain support in order to trade directly without intermediaries
THORYield (Web + Mobile App): enabling users to easily track their yields, liquidities, LPs, staking rewards and much more within the THORChain ecosystem
THORName: THORChain's cross-chain name service solution allowing users to easily manage multiple personal wallet addresses
THORSafe: creation and management of multi-sig wallets for enhanced self-custody and governance

THORSwap's own Pathfinder API/SDK also offers a one-stop solution for any dev/protocol to easily add cross-chain functionality to web3 dApps.
About $THOR
$THOR is the native token of the protocol, providing governance and proof of membership purposes. Striving towards decentralization, 65% of $THOR will be owned by the community, distributed through "community incentives" such as staking rewards, LP rewards, airdrops, giveaways or prizes and more.

$THOR can be staked to receive $vTHOR (ERC-4626 tokenized vault standard), a composable and transferable representation of staked $THOR positions: https://app.thorswap.finance/staking

$vTHOR enables many benefits including:
Trading Discounts: THORSwap users holding $vTHOR will be entitled to trading fee discounts.
Additional Staking Rewards: Receive rewards in the form of Community Incentives emissions plus 75% of all THORSwap revenues.
Auto-compounding Staking Rewards

If THORSwap ($THOR) has caught your eye, simply add the contract address down below, in order to pay for services within the HYVE platform:
ETH: 0xa5f2211b9b8170f694421f2046281775e8468044
What comes next
THORSwap also provides powerful cross-chain APIs/SDK services, meaning that you can expect a future integration with HYVE in the near term. This is one of our incremental improvements that will provide utility to our users. In addition, as these coming couple of weeks will be quite busy in terms of token integrations, we want to give you all a glimpse of the future. The $HYVE token will expand its audience, but we can't give out all the details just yet - so make sure that you stay tuned for all upcoming updates!

Disclaimer
The information provided does not constitute investment advice, financial advice, trading advice, or any other sort of advice, HYVE does not recommend that any cryptocurrency should be bought, sold, or held by you. Please do your own risk assessment when deciding how to invest in cryptocurrency and blockchain technology. HYVE is not liable for investment gains or losses.
🐝 Want to learn more about HYVE?
🐦 Follow us on Twitter.
🗨️ Join our Telegram Group.
⚡️Want to learn more about THORSwap?
🐦 Follow them on Twitter.
🗨️ Join their Discord Community
▶️ Learn more on their Community Youtube.