New token integration: $MIT is live on HYVE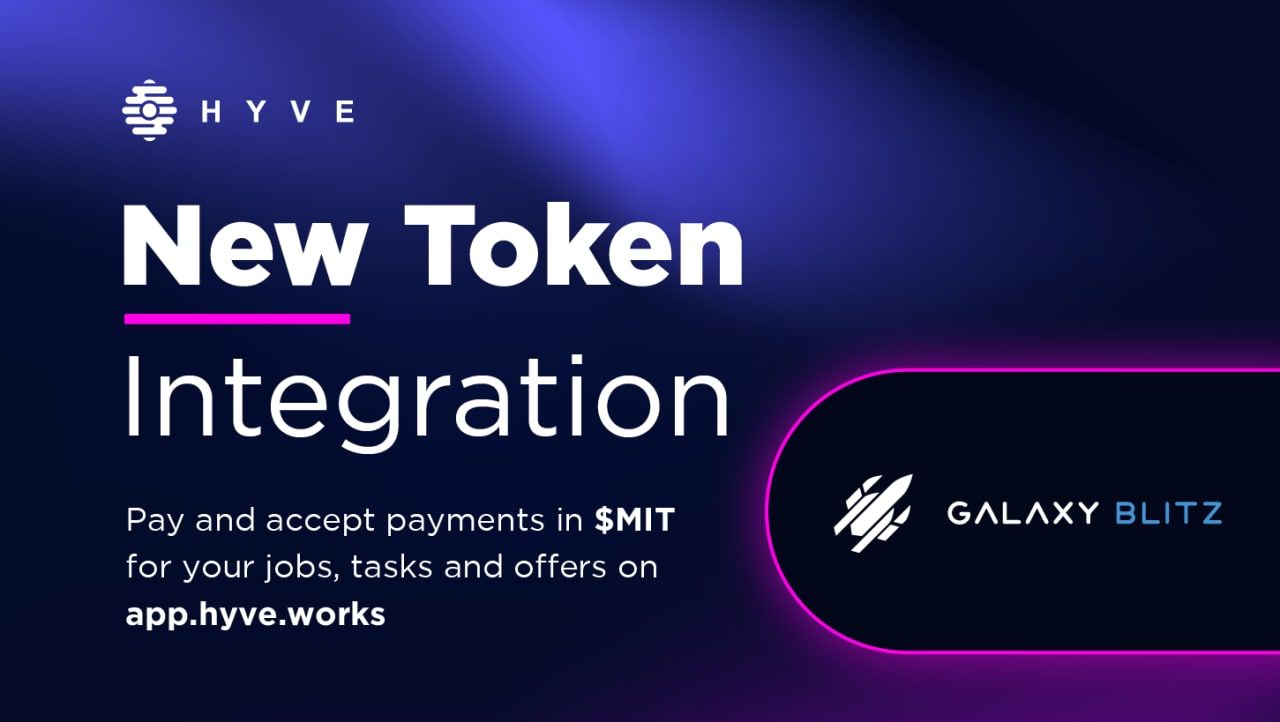 It wouldn't be a good week without a new token integration on the HYVE platform, with this Summer quite lucrative in this regard, integrating over 30 tokens in total, with 22 in the last couple of months. As we are heading into Fall, we will be continuing this trend, looking for promising projects to partner with.

For this week, we are very excited to be integrating $MIT, the native token of Galaxy Blitz, a play-to-earn, mobile strategy NFT-based game where you lead the descendants of humanity to forge new empirex! We are very excited to announce our latest integration, $MIT from Galaxy Blitz.

See what Galaxy Blitz is all about…
Galaxy Blitz is a Play-To-Earn combat strategy NFT game. The game is set in the future, as four unique highly evolved descendants of humanity fight for dominance in battles on both land and in space. This intergalactic world is all about building civilizations and competing for resources in remote galaxies. Starting with just a humble base consisting of a handful facilities, the player collects and farms resources, builds all kinds of military structures, and colonizes planets, emerging as the commander-in-chief of an established and prosperous civilization. What's this project goal? Galaxy Blitz wants to align the generation of in-game resources with players' interests, while allowing players to obtain sustainable benefits when cooperating with other players from the same faction.

Most games available in the market are based on intertwined systems. Players may get motivated with in-game profits and the novelty of new dungeons in the first, but the excitement wears off as time passes by. As the game evolves, systems get more and more complicated, leaving confused players facing increasingly boring tasks. While in Galaxy Blitz, everything is kept minimal. The entanglement between systems is forestalled, resulting a game that never gets complicated. With goals at each stage clearly set by the Hyperspace Institute to free them from repetitive and arduous tasks, players are able to focus on nothing but exciting gameplay.

So, buckle up for your intergalactic trip in space because this what the gameplay is all about:

Build a powerful interstellar army.
Build a strong troop complex with other players.
Sell your produced minerals, munitions, heroes, starships, blueprints to other players.
Conquer other players' bases and resources.
Loot resources from other players' transportation ships.
Begin the majestic battle of combined fleets.

More about the $MIT token…
There are three unique in-game assets within the Galaxy Blitz universe, namely the in-game resources (Start Coins, Ice Ore, Star Coins, Gas and Hydroxyl), NFTs (Starships, Heroes etc.) and lastly the $MIT token.

$MIT is the main payment option in Galaxy Blitz. It can be used both in the marketplace as well as in-game, where it can speed up the process of minting of repairing/healing NFTs.

Within the marketplace, $MIT is the means of payment for NFTs or resources. Inflationary in nature, $MIT is the in-game engine for economic activities.

Here's a list with the utility the $MIT token provides:

With $MIT staking, players get up to 20% more Star Coins, while being rewarded with rare resources that are required when minting, upgrading (forging), and repairing/healing NFTs.
$MIT can be used to activate more builders (only one builder is activated by default and for free).
$MIT can be used to increase the time length during which players are immune to attacks (up to 24 hours), while also reducing cooldown time for troop breading, structure construction, and research upgrade.
$MIT can be used to buy Star Coins in the game.
$MIT can be used in DApps to mint original NFTs and buy other NFTs.
$MIT can be used to shorten the flight time of spaceships.
MIT can be used to repair/heal NFTs, or increase the durability of NFTs (combined with Hydroxyls).
$MIT can be used to improve the success probability of NFT minting and forging significantly.

There are many other utilities of the coin, but with our latest integration, you can now also use the $MIT token to pay for tasks, jobs and offers on the HYVE platform. If we got your attention and you are ready to reach the stars, take a look at the address down below and add the $MIT token into your wallet:

BNB: 0xe6906717f129427eebade5406de68cadd57aa0c0

What's next for HYVE
With Summer now over, we are looking forward to delivering the same amount of quality work that we have accustomed you with. For this reason, we will be having a new token integration early this week, followed by a series of informative articles on the topic of crypto-friendly destinations. Nevertheless, we have given you some snippets on our fifth blockchain integration which we will hopefully deliver in the near future, so make sure to keep an eye out for more news!


Disclaimer
The information provided does not constitute investment advice, financial advice, trading advice, or any other sort of advice, HYVE does not recommend that any cryptocurrency should be bought, sold, or held by you. Please do your own risk assessment when deciding how to invest in cryptocurrency and blockchain technology. HYVE is not liable for investment gains or losses.


🐝 Want to learn more about HYVE?
🐦 Follow us on Twitter.
🗨️ Join our Telegram Group.
🚀Want to learn more about Galaxy Blitz?
🐦 Follow them on Twitter.
🗨️ Join their Telegram Group.