New Token Integration: $NFTD is now live on HYVE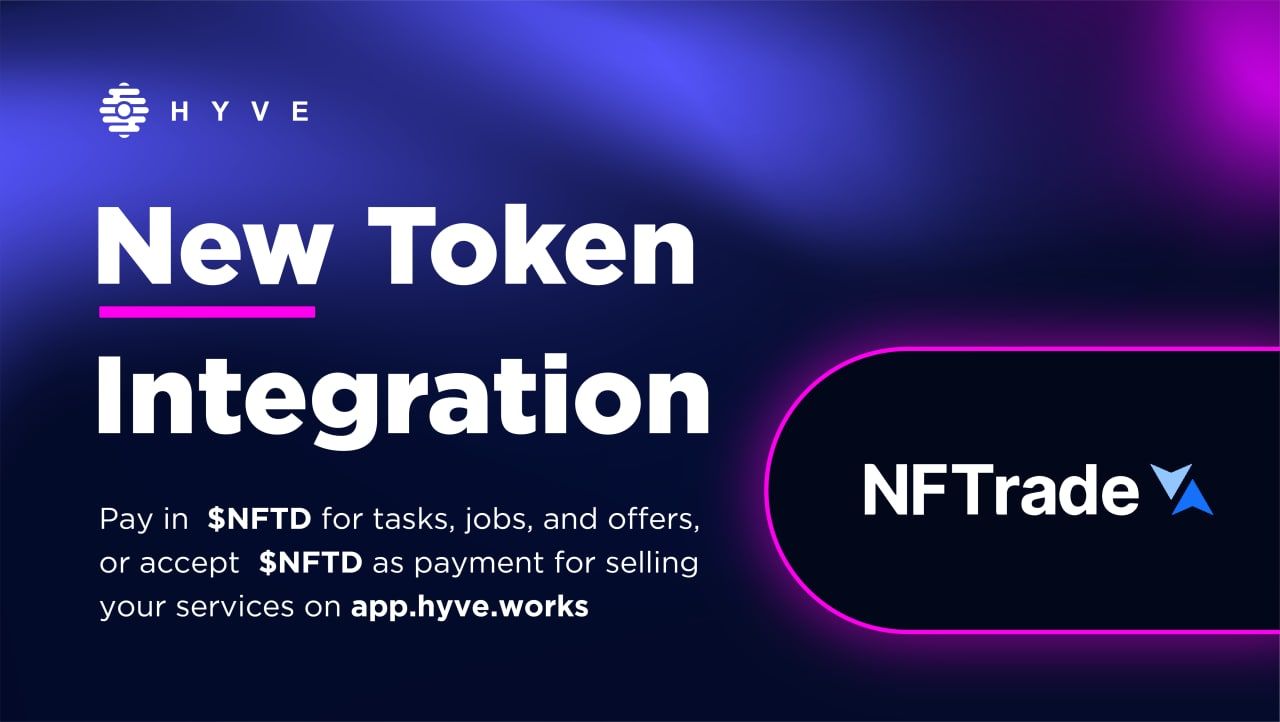 HYVE is quickly becoming a universal platform for freelancers, allowing payment in an increasing number of cryptocurrencies, and giving users the ultimate freedom. In the past couple of months, we have been heavily diversifying payment options, with $RADAR, $UNIQ, and $ALPACA becoming available. Nevertheless, we have also added $MATIC and $FTM as well on our platform, considering our latest two chain integrations. Therefore, today we are excited to announce the integration of our latest token, $NFTD!
About $NFTD
The $NFTD token is the centerpiece of the NFTrade ecosystem, harboring immense utility, and providing tokenholders with benefits in four main areas. Just like the $HYVE token, $NFTD empowers its holders with governance rights, thus being able to vote on proposals and ultimately decide the direction of the NFTrade platform. In addition, another similar feature to $HYVE is that $NFTD holders will benefit from discounted platform transaction fees after 6 months following the mainnet launch.
$NFTD can also be staked, rewarding users with exclusive collectible and utility-based NFTs. Plus, holding the token will provide access to several limited launches and drops through an exclusive $NFTD farm.
You can buy the $NFTD token from the following decentralized exchanges: PancakeSwap, Pangolin, and Dextools, with $NFTD now available as a payment option for completing tasks, jobs, and offers. The $NFTD token is available on three chains, but we will be integrating it on two supported blockchains, ETH and BSC. You can find the contract addresses down below:
ETH: 0x8e0fe2947752be0d5acf73aae77362daf79cb379
BSC: 0xac83271abb4ec95386f08ad2b904a46c61777cef
NFTrade: all chains, all NFTs, one platform
NFTrade has created an optimal, cross-chain marketplace to create, swap, trade, and farm NFTs. It's never been easier to create fully decentralized NFT collections, removing the complexity behind the process and enabling features such as drag and drop.
By offering the lowest fees on the market, NFTrade provides an intuitive UI, creating an easy-to-use platform. Swaps between NFTs can be performed, through an escrow mechanism, solving the issue of trust between parties. Nevertheless, Farming is also an innovative feature, allowing users to use their idle tokens for staking and be rewarded directly in exclusive NFTs.
Coming up for HYVE
HYVE has one of the lowest fee structures out of all freelancing platforms, with the perceived commissions starting from 1% for tasks, jobs, and offers completed in $HYVE, rising to 3.5% for payments performed in $ETH, $BTC, or $USDT and lastly 9% for altcoins. Nevertheless, the fee can be halved by paying it in $HYVE.
HYVE's cross-chain architecture creates a decentralized ecosystem, which redefines collaborative methods. HYVE eliminates intermediaries within the freelancing industry through its blockchain-based platform by reducing fees and connecting clients with matching professionals, enabling them to work securely.
Our newly improved platform will be live with some groundbreaking features that we have prepared for you. By diversifying our payment base, we attract tokenholders from communities that were not part of our initial target, while providing established and promising projects alike a gateway to a new audience, namely the HYVE community, consisting of blockchain enthusiasts and crypto newbies.
There will be several integrations in the coming weeks, so make sure that you keep an eye out for more announcements!

🐝 Want to learn more about HYVE?
🐦 Follow us on Twitter.
🗨️ Join our Telegram Group.
📢 Join our Announcement Channel.
💡 Join our Discord.
✅ Follow us on Instagram.
👍 Like us on Facebook.
💡 Visit our Website.
🏦Want to learn more about NFTrade?
🐦 Follow them on Twitter.
🗨️ Join their Telegram Group.
💡 Visit NFTrade Website.