New Token Integration: Pay now in $SOURCE on HYVE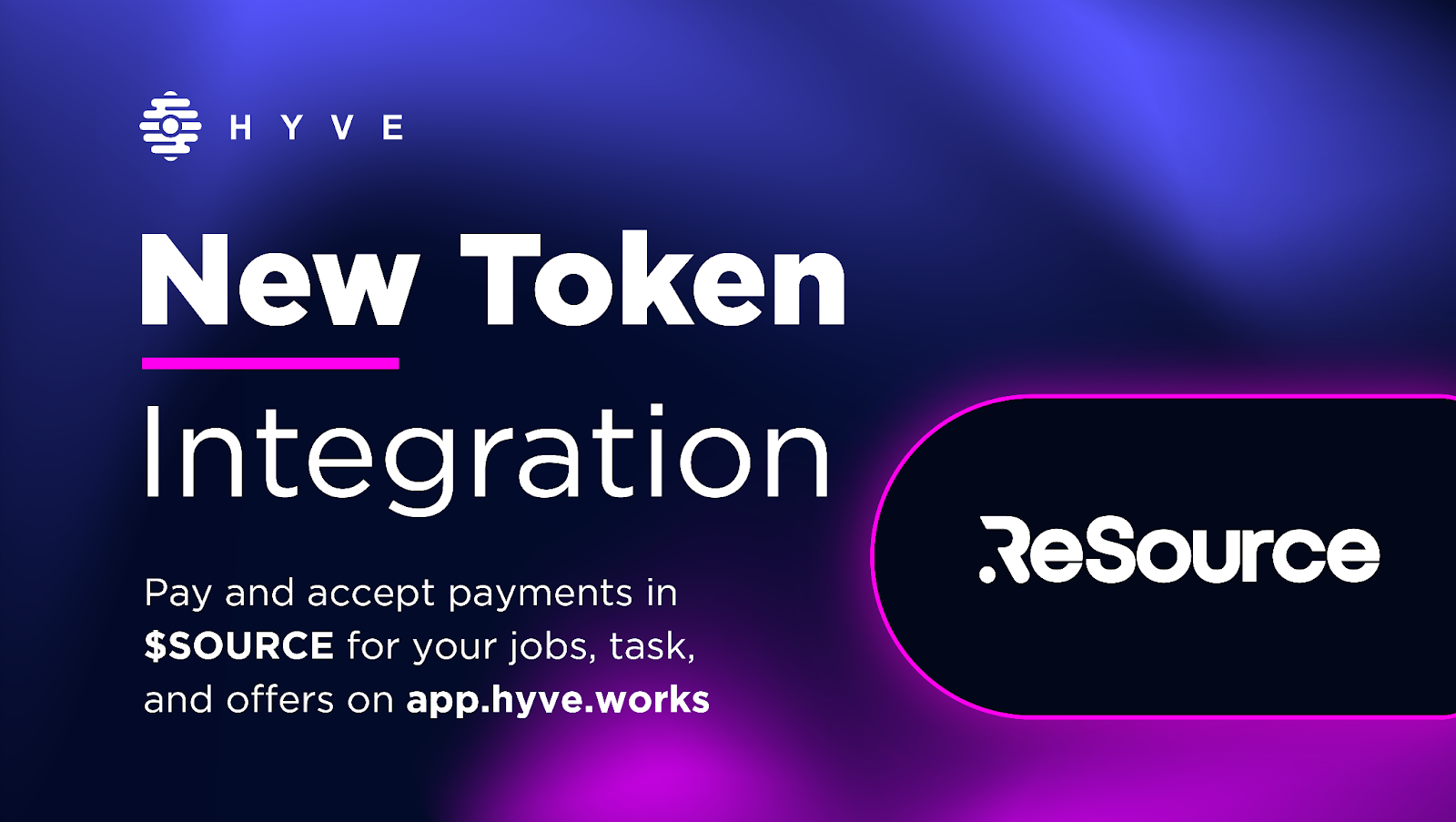 For the past couple of months, HYVE has continuously quest to integrate a wide variety of tokens, permitting freelancers and clients to have ultimate control over payment options. This was possible due to the implementation of a new admin interface and the addition of new supported blockchains.
Today we are excited to announce that $SOURCE has become a payment option on the HYVE platform. ReSource is an incredibly promising crypto project aiming to create bankless infrastructure in a circular decentralized economic system. Find out more below about how you can use $SOURCE on HYVE!
About $SOURCE
$SOURCE acts as the utility and governance token of the ReSource protocol, used for three primary purposes: Fuel, Underwriting, and Governance. All transactions in the ReSource ecosystem are subjected to transaction fees, which can be paid in $SOURCE. The $SOURCE token can be staked to underwrite ReSource credit lines to earn rewards. Moreover, by staking $SOURCE, users can participate in decision-making and governance matters of the protocol.
You can buy the $SOURCE token on several different DEXs (Sushiswap, Pancakeswap, Uniswap, Matcha, Ubewswap) and Gate.io, which you can later use to pay or get paid for tasks, jobs, and offers on the HYVE platform.
$SOURCE was built on the Celo blockchain, but it is also available on the ETH and BSC networks. We will be integrating on two of our supported blockchains, so make sure you add the contract addresses in your metamask wallet for the following networks:
ETH: 0x7118057ff0F4Fd0994fb9d2D94de8231d5cca79E
BSC: 0xeA136Fc555E695Ba96d22e10B7E2151c4C6B2A20
ReSource: the decentralized circular economy
ReSource has developed a fully decentralized monetary ecosystem in which a stable currency arises due to trade, and liquidity can be "bootstrapped" from the ground up. This enables businesses to access interest-free credit without relying on external actors such as banks, creditors, or governments. Thus, decentralized issuance creates a fully regenerative economy with currency supply and demand always in equilibrium.
ReSource empowers purpose-driven businesses to grow using crypto through its decentralized marketplace, increasing brand exposure and benefitting from 0% interest credit. Guided by three core principles, namely Mutual Credit, Circular Design, and Decentralized Governance, ReSource enhances the existing financial system, facilitating access to credit for purpose-driven communities.
What to expect from HYVE
Our second version of the platform will be released shortly, allowing freelancers and enterprises to collaborate in a perfectly decentralized environment. HYVE removes intermediaries within the freelancing industry by reducing fees and connecting clients with matching professionals, allowing them to collaborate reasonably.
On HYVE, freelancers benefit from the lowest fee structure out of all platforms, with the commissions varying between 1% for tasks, jobs, and offers completed in $HYVE, rising to 3.5% for payments performed in $ETH, $BTC, or $USDT and 9% for altcoins. Nevertheless, there is an option of halving the fee by paying it in $HYVE.
This is only the beginning of a series of expanding our payment network by including various tokens and new blockchain integrations, creating a better experience for anyone using our platform. We are also expecting significant organizational changes, with a prominent blockchain figure in talks to join the HYVE Advisory Board, so make sure you keep an eye out for more announcements!
🐝 Want to learn more about HYVE?
🐦 Follow us on Twitter.
🗨️ Join our Telegram Group.
📢 Join our Announcement Channel.
💡 Join our Discord.
✅ Follow us on Instagram.
👍 Like us on Facebook.
💡 Visit our Website.
🏦Want to learn more about ReSource?
🐦 Follow them on Twitter.
🗨️ Join their Telegram Group.
💡 Join their Discord.
💡 Visit their Website.