$RAIL is now on HYVE's trail!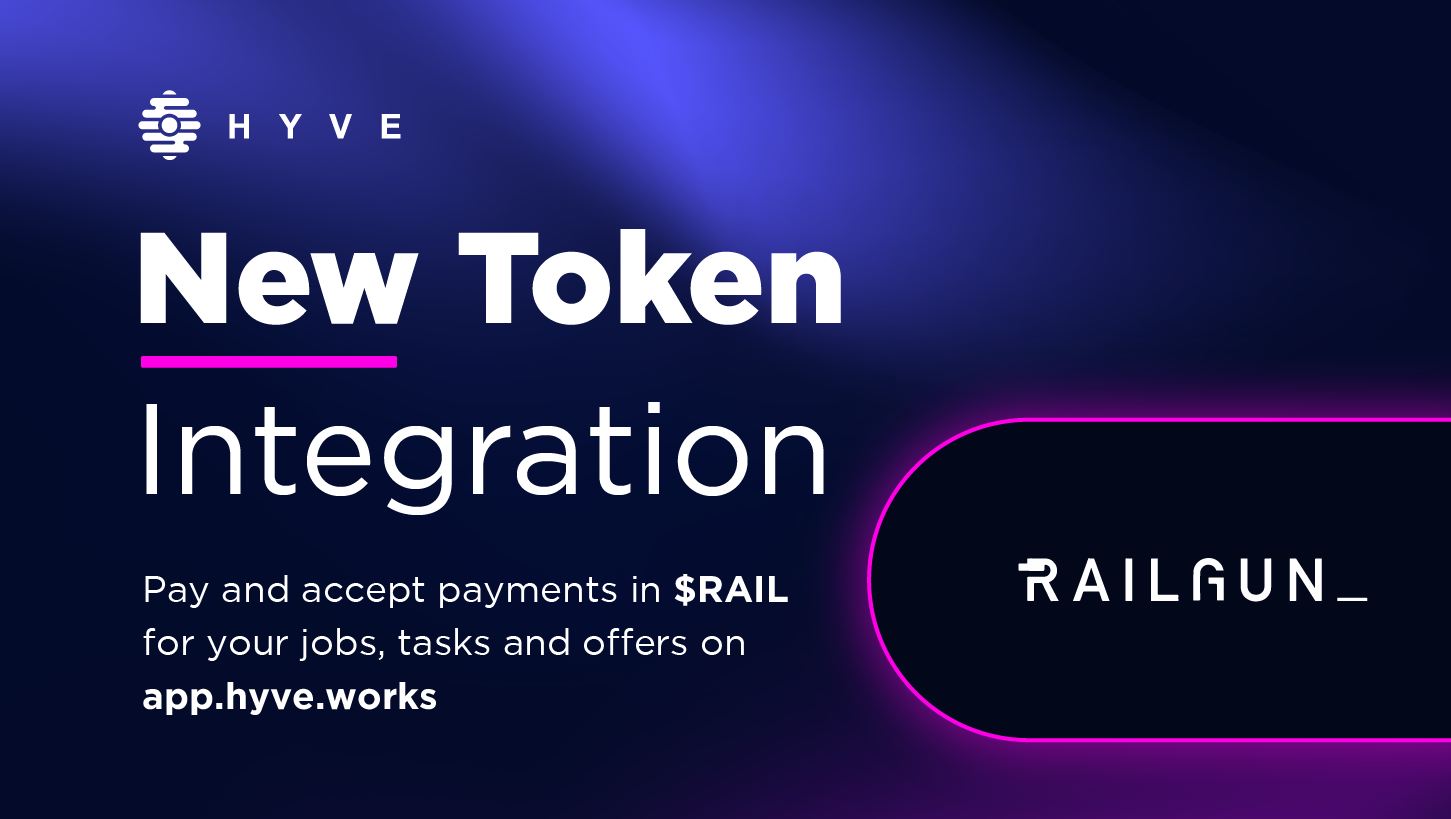 Blue Monday just passed and oh boy we're happy about that! Just then we had an outage on our blog, but now we're back - stronger than before! HYVE is not taking a break but actually thinking of new ways to surprise our loyal supporters. Token integrations are accelerating as we are close to reaching 100 tokens available on our platform.
We are excited to have RAILGUN join us today, with $RAIL being the latest addition to our payment system. Make sure to add their contract address in your digital wallets and start using it on HYVE to pay for offers, tasks and jobs!
ETH: 0xe76c6c83af64e4c60245d8c7de953df673a7a33d
---
Try being anonymous with RAILGUN!
RAILGUN is a robust, zero-knowledge substrate built on Ethereum, enabling privacy and anonymity for users and on-chain applications. More specifically, this project is a collection of smart contracts that verify zero-knowledge proofs, allowing users to make, send or receive transactions without revealing any assets, amounts, or identities.
Additionally, it allows users to interact with smart contracts, such as those used for DEX trading, yield farming, and other dApps (decentralized Apps). Layered on top of this on-chain system is a suite of adapters called Adapt Modules for existing applications on Ethereum that anyone can deploy.
Firstly, it increases the size and noise of the anonymity pool. All transferring, swapping, lending, borrowing, and in general, transacting with all kinds of decentralized applications greatly increases the throughput and variation of interactions with RAILGUN, making it progressively more difficult to correlate withdrawals from it to deposits into it.

Secondly, it allows users to keep their assets in their original form, without converting to a different token, within the RAILGUN system longer term. True privacy and anonymity is achieved when assets can not only be privately transacted but also privately stored.
By creating an ecosystem where privacy, anonymity, transfers, trades, and any other activity all happen in one place, all participants benefit from an increasingly large and noisy anonymity pool.
💸
Using RAILGUN ensures your wallet addresses will be removed from your actions and transactions on blockchains where previously your information was publicly available for anyone to view.
RAILGUN's supporters will enjoy privacy when trading, using leverage platforms and adding liquidity with dApps. RAILGUN sits directly on the Ethereum mainnet, removing the security risk and extra steps associated with layer-2 infrastructure such as trust in third parties.
---
Ready for $RAIL?
$RAIL is the governance token of the RAILGUN DAO. One token (staked in the voting contract) equals one vote. Users who have not staked, or who are unstaking, will not be able to vote. Once the $RAIL tokens are staked, the unstaking period is 30 days, thus there is an effective minimum time of 30 days to hold the token after a vote is cast. This means voters have to look at least a month in advance when they choose how they vote for protocol upgrades or fees. There can be no "Vote Raiding" and voters will look beyond the next few days.
$RAIL will be used to govern the system, its upgrades, and its parameters. It will also be used to incentivize participation in governance and growth. RAIL will be continuously emitted to all liquidity pools. $RAIL's liquidity pool will be the first to exist, and its liquidity providers will earn governance power proportional to the amount of $RAIL deposited.
The private and anonymous nature of liquidity pools allows $RAIL holders to remain unknown in governance matters, a property unique to the RAILGUN system that protects the voters and contributes to a more robust, independent RAILGUN DAO.
---
Next stop…HYVE!
Now back to us - you've had enough token integrations. Just kidding - there is more to come over the next couple of weeks, as we have at least four tokens waiting to be announced.
Furthermore, HYVE will soon be launching its own Gitbook. We decided that it was time to document every action a user could take on the platform, from account creation to payment for the completion of a task or a job. We have split our tutorials into three categories: General, Freelancer and Client. Alas, we are revealing too much - check out or Twitter to be updated!
Watch out for our new blogs, the themes where we tackle a variety of themes, and the next month will be all about NFTs! You would have know this by now if you had subscribed to our newsletter. We've rebranded our newsletter, and now it's written in a much more fun manner. Do make sure to subscribe - we have a link on Twitter, where we also post our latest updates about new open positions on the platform!
I'm a new HYVER and don't know much about the Newsletter
The HYVE newsletter comes out twice a week, providing you with technical updates during weekdays and the latest insights into freelancing on Fridays/Saturdays. Thus, you'll always be up to date with what skills are in demand and what jobs and tasks our clients want while also knowing what new payment options are available!
Disclaimer
The information provided does not constitute investment advice, financial advice, trading advice, or any other sort of advice. Please do your own risk assessment when deciding how to invest in cryptocurrency and blockchain technology. HYVE is not liable for investment gains or losses.