New token integration: $REQ is available for you on HYVE!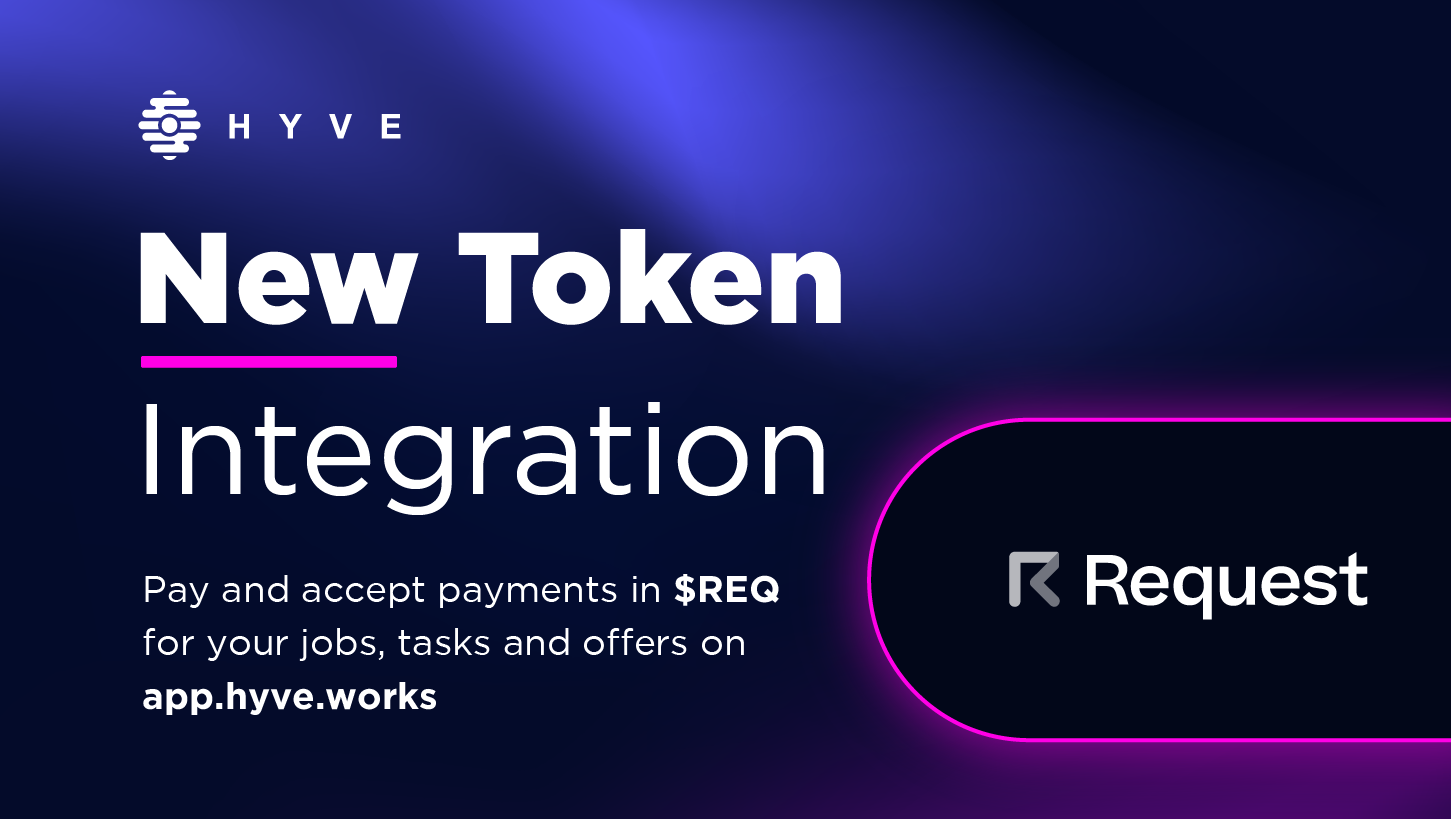 As we are settling into fall, HYVE is thrilled to announce that we are back with a bang, as we are better than ever. This is our third token integration in less than a week, each from a different project. Therefore, as you're sipping your hot chocolates and pumpkin-spiced lattes, we are thrilled to announce you that we are back with yet another token integration. This week we have $REQ from Request Network joining the HYVE ecosystem.
Get to know Request…
Request is a network that allows anyone to simply create, share or fulfill a request for payment. When creating a request, the user defines to which address the payment request needs to be allocated and what the amount due is. Through Request Finance, web3 businesses can enjoy a tailor-made, all-in-one business solution. Companies, DAOs, and Freelancers alike can use Request to easily manage crypto invoices, salaries, and expenses in a fast, non-custodial, and compliant way.
Optionally, the user can define terms and conditions to the payment request, upgrading the simple request for payment into an invoice. After creation the user can share this request for payment/invoice, to make sure it's paid by the other party. All these steps are documented and stored on the Request network, allowing everyone involved to easily keep track of their invoices, receipts, and payments for (personal) accounting purposes. This results in cheaper, easier, and more secure payments, and it allows for a wide range of automation possibilities.
Anyone can write on the Request Ledger or create a Request for Payment as it can be detected by the recipient monitoring the network (via a wallet or via a financial application). If the request is approved by the user, it can be paid with a single click, and after that the request is completed and the network is updated.
When a Request is created, the trade laws that are applicable to its specific case are taken into account, and taxes are applied, and when necessary, advanced payment terms may be selected.
Interested in $REQ?
$REQ is a deflationary ERC-20 token that powers Request Network's payment requests. Built on Ethereum, $REQ aims to be independent from other currencies, monetary policies, or technological choices so that we build the most robust system possible. Thus this is the key to sustainably evolving while growing a growing community and developing an ecosystem around a framework where more dApps are created.
REQ supply decreases proportionally to the increasing adoption of the Request network. The higher the growth, the more deflationary the REQ token is. If $REQ's caught your eye, scroll a little more for the contract address, to add it to your wallet and use it to pay for tasks, jobs and offers on the HYVE platform:
ETH: 0x8f8221afbb33998d8584a2b05749ba73c37a938a
Polygon 0xb25e20de2f2ebb4cffd4d16a55c7b395e8a94762
What comes next for HYVE?
Even if it's still under wraps, we still like to tease our supporters by telling you that a new partnership is coming our way! We will be working with Request to develop something unique. In addition, we will be continuing our token integration series, while also working on constantly improving the platform and creating a seamless experience for freelancers, so make sure you always keep an eye out on our platform!
Disclaimer
The information provided does not constitute investment advice, financial advice, trading advice, or any other sort of advice, HYVE does not recommend that any cryptocurrency should be bought, sold, or held by you. Please do your own risk assessment when deciding how to invest in cryptocurrency and blockchain technology. HYVE is not liable for investment gains or losses.
🐝 Want to learn more about HYVE?
🐦 Follow us on Twitter.
🗨️ Join our Telegram Group.
Want to learn more about Request?
🐦 Follow them on Twitter.
🗨️ Join their Telegram Group.
Call with Remote