New token integration: $RSS3 is now on HYVE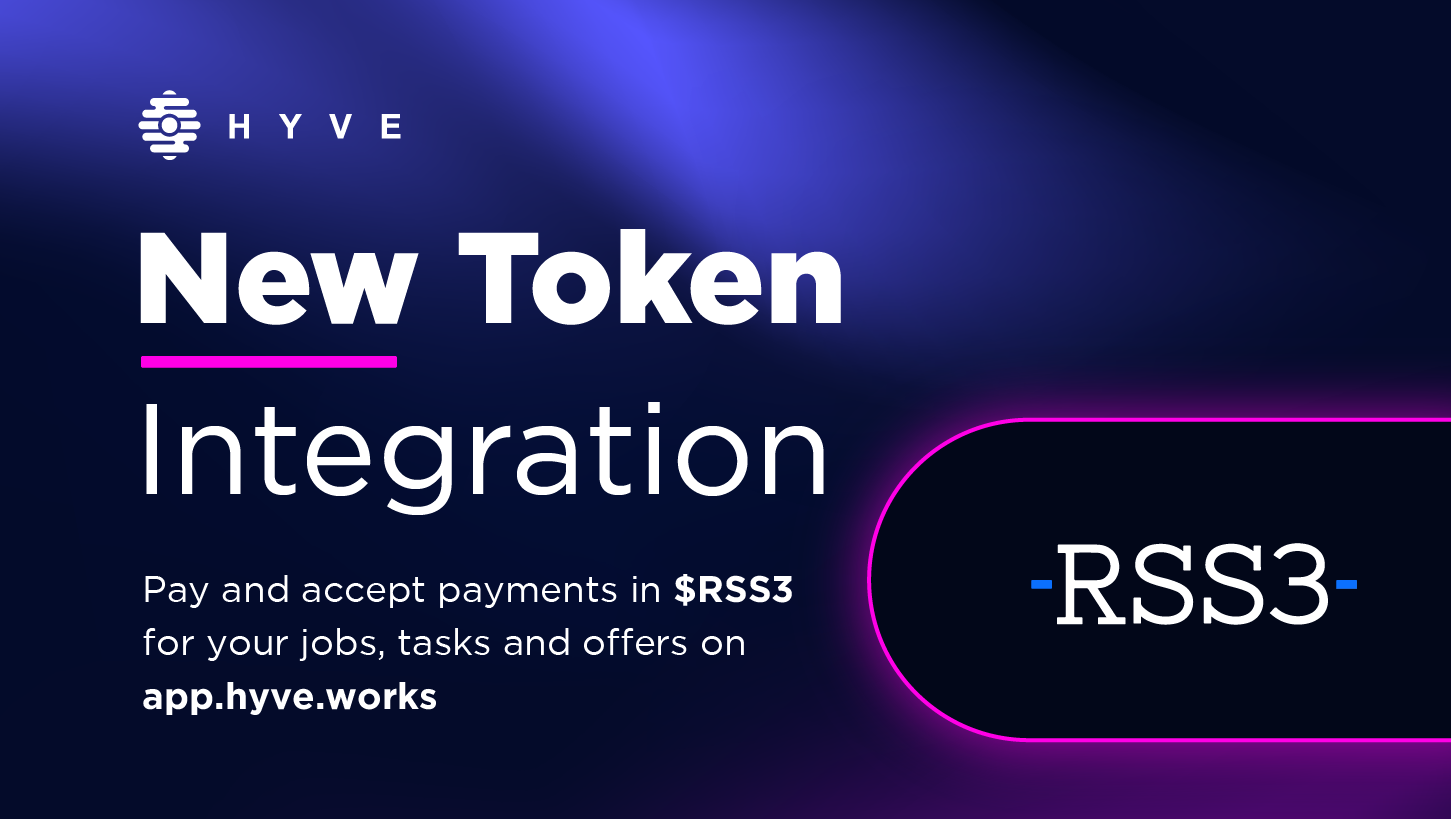 Token integrations have become a regular occurrence here at HYVE, with new payment methods available on a weekly basis, empowering freelancers with ultimate freedom. Nevertheless, we have noticed that our token integrations have become a great point of interest for our users, allowing them to discover new and exciting projects within the blockchain space, thus benefiting from unique and innovative solutions.
Moreover, we believe that by partnering with many promising projects, our communities will blend, with the HYVE platform gaining further traction. Today we are excited to announce the integration of $RRS3, which is supported by the eponymous project!
Ushering RSS into the Web3 era
Most of you might be familiar with RSS feeds, however not many know that the original RSS Standard was open, neutral, and decentralized in nature. The advent of web2 and centralized platforms consequently has drastically reduced privacy, enabled profit misappropriation, and created potential for censorship through algorithm abuses.

Nevertheless, the RSS3 Standard is here to fix all these issues, through a next-generation feed standard designed for information distribution. How does RSS3 work? It enforces strong data ownership by including asset verification and on-chain governance and furthermore equips the feed with native support for interoperable interactions. The standard naturally enables flexible recommendation and searching implementation.

Aided by the RSS3 Protocol, fully conformed to the standard, RSS3 supports complicated dApp scenarios. Therefore, data consistency and redundancy are achieved through:
1) a sophisticated network architecture that guarantees network usability and stability;
2) a curated incentivization scheme that encourages all network participants to contribute toward the network's development.

It truly puts a decentralized twist to classic information feeds!
About $RSS3
$RSS3 is the governance token of the RSS ecosystem, which will ultimately be run through an RRSDAO, responding to all relevant matters of the project. The token currently allows voting on Global Indexers and Serving Node elections. In addition, it is also used for Subgroup Scaling, Module upgrade, Epoch Round duration, and DKG key fragments threshold. $RRS3 will also be used for internal matters of the project such as Treasury and Incentive Management.

Below you can find the contract address for the integration, so make sure to add it to your digital wallets in order to pay for tasks, jobs, and offers on the HYVE Platform:

ETH: 0xc98d64da73a6616c42117b582e832812e7b8d57f
More from HYVE
We know token integrations have become the norm now, which means that future additions are always to be expected. Nevertheless, we have also planned a new partnership, which aims to drastically simplify freelancer invoicing, so make sure that you keep an eye out for it, since it will be announced in the coming weeks.
Disclaimer
The information provided does not constitute investment advice, financial advice, trading advice, or any other sort of advice, HYVE does not recommend that any cryptocurrency should be bought, sold, or held by you. Please do your own risk assessment when deciding how to invest in cryptocurrency and blockchain technology. HYVE is not liable for investment gains or losses.

🐝 Want to learn more about HYVE?
🐦 Follow us on Twitter.
🗨️ Join our Telegram Group.
🌎Want to learn more about RSS3?
🐦 Follow them on Twitter.
🗨️ Join their Telegram Group.