New Token Integration: say hi to $USDD!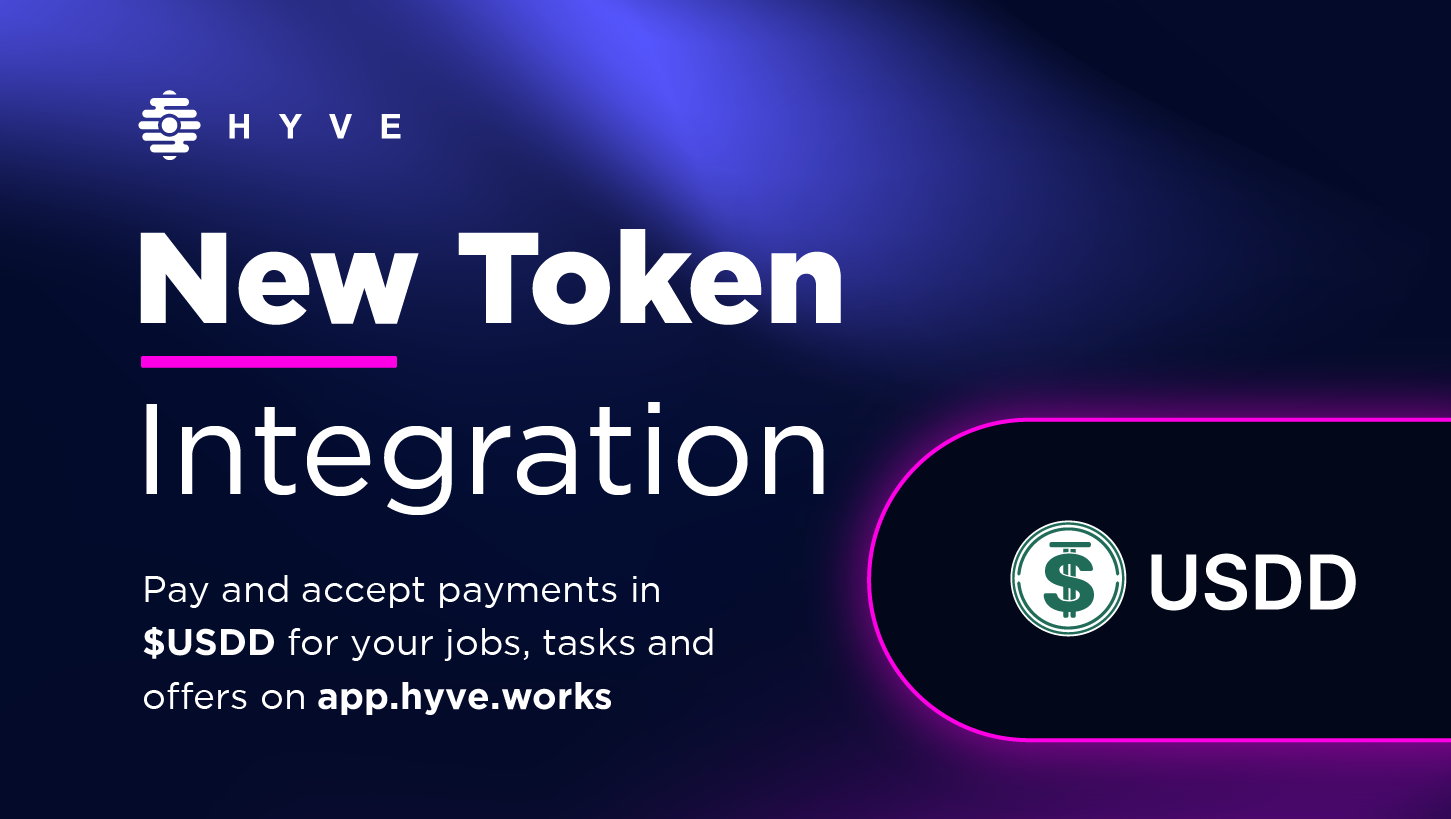 Happy Thanksgiving to all our american HYVERS! The end of the month marks another complete list of integrating tokens to easen your payment process throughout your own HYVE experience. This week, we are integrating a new token that is coming from TRON, a well known project around the crypto community. Scroll down below to read about the token that is gonna be the revolution of stablecoins!
Get to know TRON!
TRON aims to be one of the leading blockchain projects in the market, offering a platform for deploying decentralised applications via smart contracts. If this sounds familiar to you, it's because TRON was inspired by Ethereum's value proposition to build its network.
TRON is one of the fastest-growing public chains in the world. Its network has gained incredible traction in recent years, with over 123 million users on the blockchain and upwards of 4.2 billion transactions. In addition, TRON hosts the largest circulating supply of stablecoins across the globe, overtaking USDT on Ethereum in April 2021. The TRON network completed full decentralization in Dec 2021 and is now a purely community-governed DAO.
Ultimately, TRON's purpose is to provide free content and storage distributed through the Blockchain and to give back control of the data to content creators who often face compensation challenges with centralized platforms like Youtube.
Play it safe with $USDD!
Named Decentralized USD, it is a stablecoin pegged 1:1 to the US dollar. According to TRON DAO Reserve, its releaser, $USDD will rank among the most decentralized stablecoins ever created. $TRON combined all of its resources to build the $USDD stablecoin. $USDD is the first over-collateralized decentralized stablecoin. It has been launched collaboratively by the TRON DAO Reserve (TDR) and top-tier mainstream blockchain institutions. The USDD protocol runs on the TRON network, and is a standard TRC20 token, it is now available on 9 chains, Ethereum, TRON, BNBChain, BTTC, Polygon, Arbitrum, Aurora, Avalanche and Fantom.
TRON DAO Reserve oversees TRON-based mainstream stablecoins and manages Decentralized USD (USDD) on TRON as its early custodian and ensures its price stability with reserves, being pegged to the U.S. dollar at a 1:1 ratio.
Now that you have gathered some info about this token, we will present you what it can do for you:
In case of businesses, $USDD provides a way to send and receive payments without worrying about chargebacks or fraud, while also allowing companies to accept payments in multiple currencies, saving them money on foreign exchange fees.
For individuals, $USDD also finds a way to send and receive payments without worrying about chargebacks or fraud, as individuals tend to hold their money in multiple currencies, saving them on foreign exchange fees.
In addition, we mention some of the advantages that this stablecoin has: it gives a generous return, it has a built-in mechanism to incentivize responsive monetary policy, it will be truly accessible with far-reaching effects, and the most important of all: TRON's decentralized stablecoin is protected by the TRON DAO Reserve, ensuring price stability.
If you are ready to leave that unsure business behind, try stability with $USDD by adding it to your wallets with the contract address down below:
ETH: 0x0c10bf8fcb7bf5412187a595ab97a3609160b5c6
BNB: 0xd17479997f34dd9156deef8f95a52d81d265be9c
Que pasa in the casa of HYVE?
HYVERS…we could not thank you enough for supporting and joining us on our journey! We are trying to emprove everyday just for you guys! To make things even better, we have to announce our new launch of Ignis Orbis, a platform that we worked on together with our friend and advisor, JRNY Crypto! This platform is the new revolution in terms of NFT trading, enabling users to take decisions when researching a collection or purchasing digital art. Try it and let us know how it feels to be in charge!

In addition, we have created an initiative with our parteners in the wake of the FTX scandal, to help disgranted professionals find jobs through the Web3 Job Alliance. Stay tuned because we will release a new article describing the whole process shortly! Until then, we hope you still trust the blockchain space and welcome to our platform! There's no better time to build but now!


Disclaimer
The information provided does not constitute investment advice, financial advice, trading advice, or any other sort of advice, HYVE does not recommend that any cryptocurrency should be bought, sold, or held by you. When deciding how to invest in cryptocurrency and blockchain technology, please do your own risk assessment. HYVE is not liable for investment gains or losses.

🐝 Want to learn more about HYVE?
🐦 Follow us on Twitter.
🗨️ Join our Telegram Group.
💸Want to learn more about $USDD Network?
🐦 Follow them on Twitter.
🗨️ Join their Telegram Group.