New token integration: $SIGNA is now available on HYVE!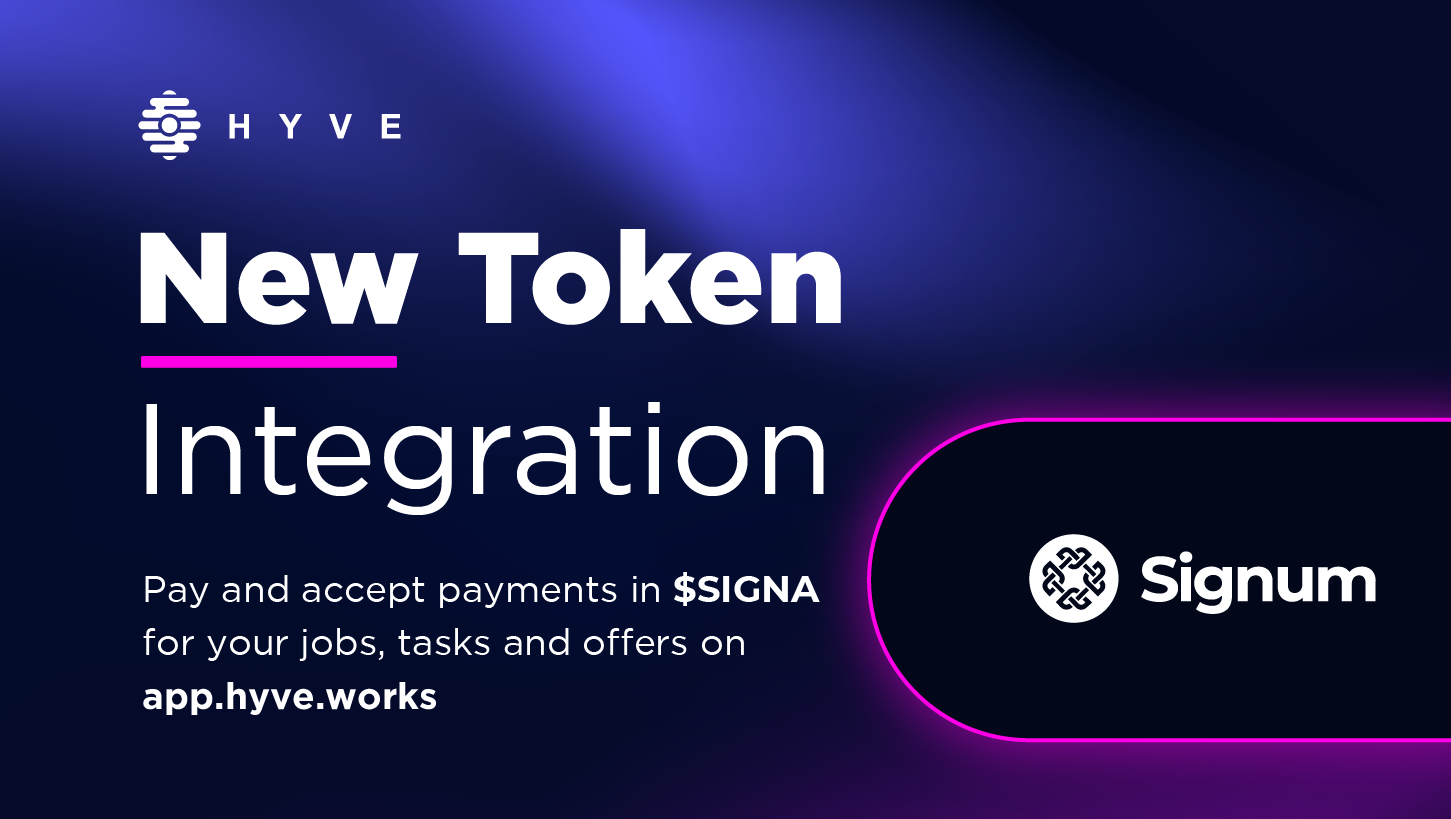 Don't we all dream to make the world a better place and protect it at all costs? Without a healthy environment, what will happen in the next decade? Our goal to move onto a more sustainable future might also be possible in the crypto world with the newest addition to our payment system, Signum.
Before you scroll down for Signum's details, our team just wants to remind you that we are one step closer to becoming a universal platform for freelancers!
What does Signum offer…
No energy downsides, no e-waste. Signum is bringing sustainability to blockchain technology! This project aims to lower the energy consumption for its blockchain, while also featuring unstoppable and censorship-resistant decentralized applications.
Apart from true sustainable mining, Signum's feature-rich architecture includes easy smart contracts, seamless and secure payment solutions, token generation, peer-to-peer messaging, and customizable data shortcuts (aliases). Isn't that amazing?
Briefly said, Signum uses consumer-grade hardware that can easily be repurposed (no e-waste) and it uses hardly any energy to secure the network.
Discover $SIGNA…
Here we are…the first truly sustainable cryptocurrency, $SIGNA. Wonder how long until we have flying cars? Us, too. So, $SIGNA is the first cryptocurrency to use the Proof of Commitment (PoC+) consensus algorithm.
Bitcoin's infamous Proof of Work consensus protocol requires expensive, specialized, energy-hungry hardware, resulting in enormous energy consumption per year and kilotons of e-waste. By using consumer-grade hardware that is easily re-purposed, Signum also avoids e-waste and in comparison, only requires less than 0.002% of that energy to drive the Blockchain.
With $SIGNA, energy-intensive calculations are performed once, when the miners plot their available disk space. After that, the mining process requires reading through a very small fraction of this disk space (1/4096, less than 0.025 % of the plotted capacity). The hard disks are idle most of the time as this small fraction only needs to be read every few minutes to secure the network.
Apart from its native coin $SIGNA, users can create their own coin inside the chain (smart token), as these tokens have the same level of security and features as the native coin. They can be used to invest, store value, make purchases, represent affiliate program points or company shares, and can implement governance mechanisms.
If you are interested in building a more green future, here's the address down below:
BSC: 0x7b0e7e40ee4672599f7095d1ddd730b0805195ba
You can easily trade the wrapped Signa via BSC also to get the native coin Signa by using the Signum DEX converting those wrapped Signa 1:1 into Signa.
HYVE's upcoming steps…
Do not worry, we still got a lot of tokens to integrate! Just to tease you, we might have a partnership with Signum on the way, but we will keep it under wraps for the time being. Sustainability is a key aspect for HYVE, especially when it comes to partnering up with different projects. We'd like to hear from you in order to find an adequate project to partner up with in the near future - we'd be excited for you to drop us a line in our social media channels!

Disclaimer
The information provided does not constitute investment advice, financial advice, trading advice, or any other sort of advice, HYVE does not recommend that any cryptocurrency should be bought, sold, or held by you. When deciding how to invest in cryptocurrency and blockchain technology, please do your own risk assessment. HYVE is not liable for investment gains or losses.
🐝 Want to learn more about HYVE?
🐦 Follow us on Twitter.
🗨️ Join our Telegram Group.
🚀Want to learn more about Signum?
🐦 Follow them on Twitter.
🗨️ Join their Telegram Group.
🗨️ Join their Discord.
🗨️ Follow their Medium.