New token integration: $TNB is now available on the HYVE platform!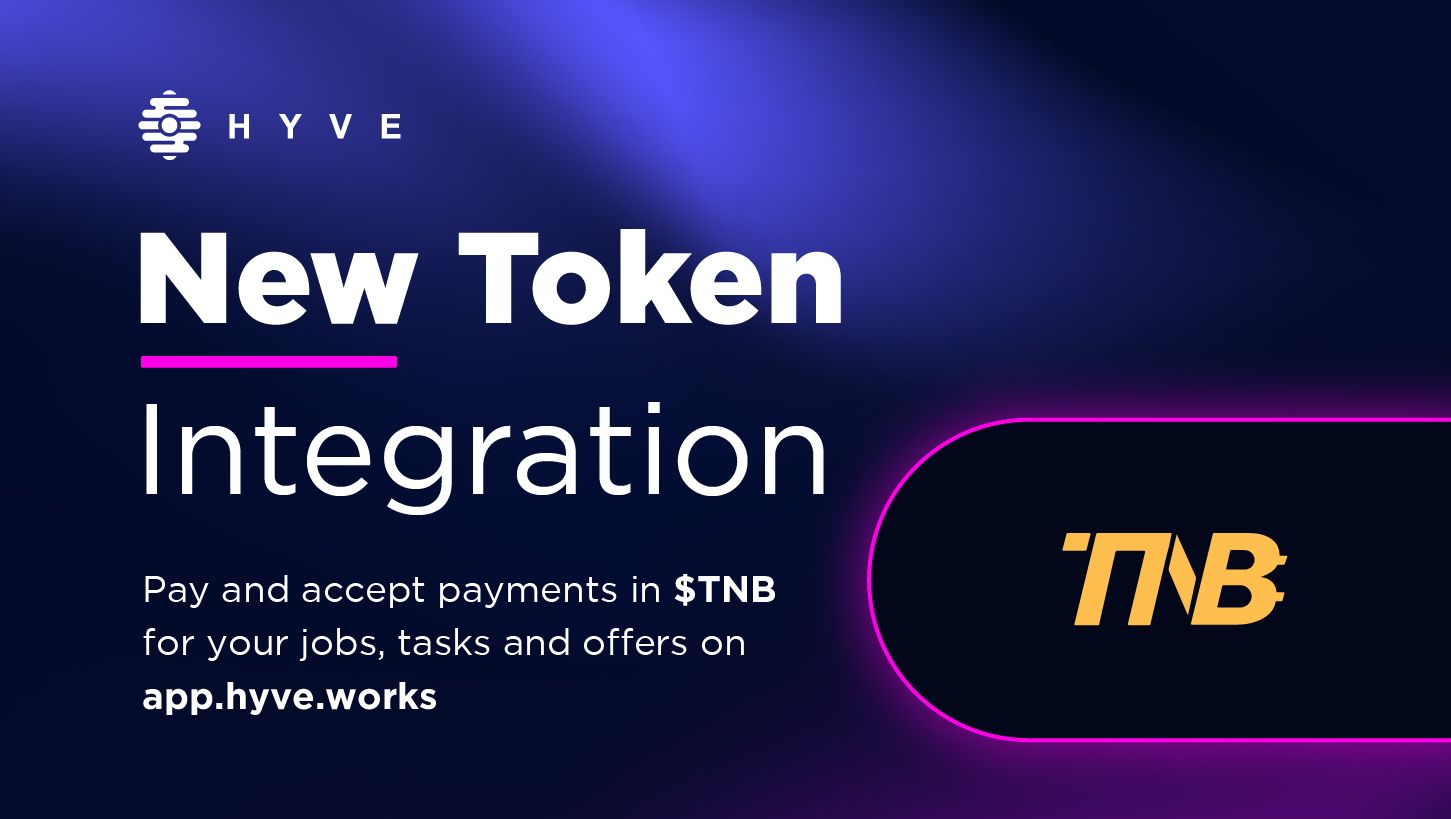 It wouldn't be a great week without a new addition to our payment system as we are continuously improving to become a platform that will provide our freelancers with the full HYVE experience. This means more enhancements and diversification of payment are a must to enable a seamless UX! This week we are integrating $TNB, a cryptographic digital currency based on the M.I.T. platform.
Behind M.I.T.
Miao'A International Timechain refers to the decentralized time commodity value transmission platform based on Grid, the most avant-garde underlying blockchain technology. It is a project dedicated to building a precision time-value-based transmission network, aiming to establish a network encompassing decentralization, internationalization, payment flexibility, pricing transparency, strong rights protection, and proof-of-stake.
Thus, M.I.T aims to deliver a standardized system that fully expresses the value of time commodities based on how time exporters are recognized and demanded via a scientific and systematic analytical model by leveraging its decentralized value transmission platform. In the commodity value transmission process, $TNB will be adopted as the settlement currency to accurately tell the current and future value of the time commodities.
Find out about $TNB
$TNB, a.k.a. Time New Bank, is a cryptographic digital currency issued by M.I.T, which enables transactions on the M.I.T Time Commodity Exchange and M.I.T Time Asset Exchange. For early-stage investors, $TNB serves the purpose of providing project funding, while it could also be used to incentivize individuals or organizations that contribute to the M.I.T ecosystem.
Moreover, $TNB will be able to carry the premium-generated self-promotion of time exporters and deliver it to the end users. In addition, the token will also be circulated on third-party digital currency exchanges.
If you are interested in this innovatory, fresh project, check out the address down below and add it to your wallets for using it on the HYVE platform:
ETH: 0xf7920b0768ecb20a123fac32311d07d193381d6f
HYVE's future plans…
Do not worry, more tokens will be integrated in the following days, as we have a very busy season planned. We are trying to give the $HYVE token more recognition on different platforms, so expect something huge coming up in the next couple of weeks. As you might have noticed, we recently had an AMA with the HYVE team on Instagram, so make sure to give us a follow on all our social media channels!

Disclaimer
The information provided does not constitute investment advice, financial advice, trading advice, or any other sort of advice, HYVE does not recommend that any cryptocurrency should be bought, sold, or held by you. Please do your own risk assessment when deciding how to invest in cryptocurrency and blockchain technology. HYVE is not liable for investment gains or losses.
🐝 Want to learn more about HYVE?
🐦 Follow us on Twitter.
🗨️ Join our Telegram Group.
🪐Want to learn more about M.I.T. TNB?
🐦 Follow them on Twitter.
🗨️ Join their Telegram Group.