New token integration: $UFT is now part of the HYVE ecosystem!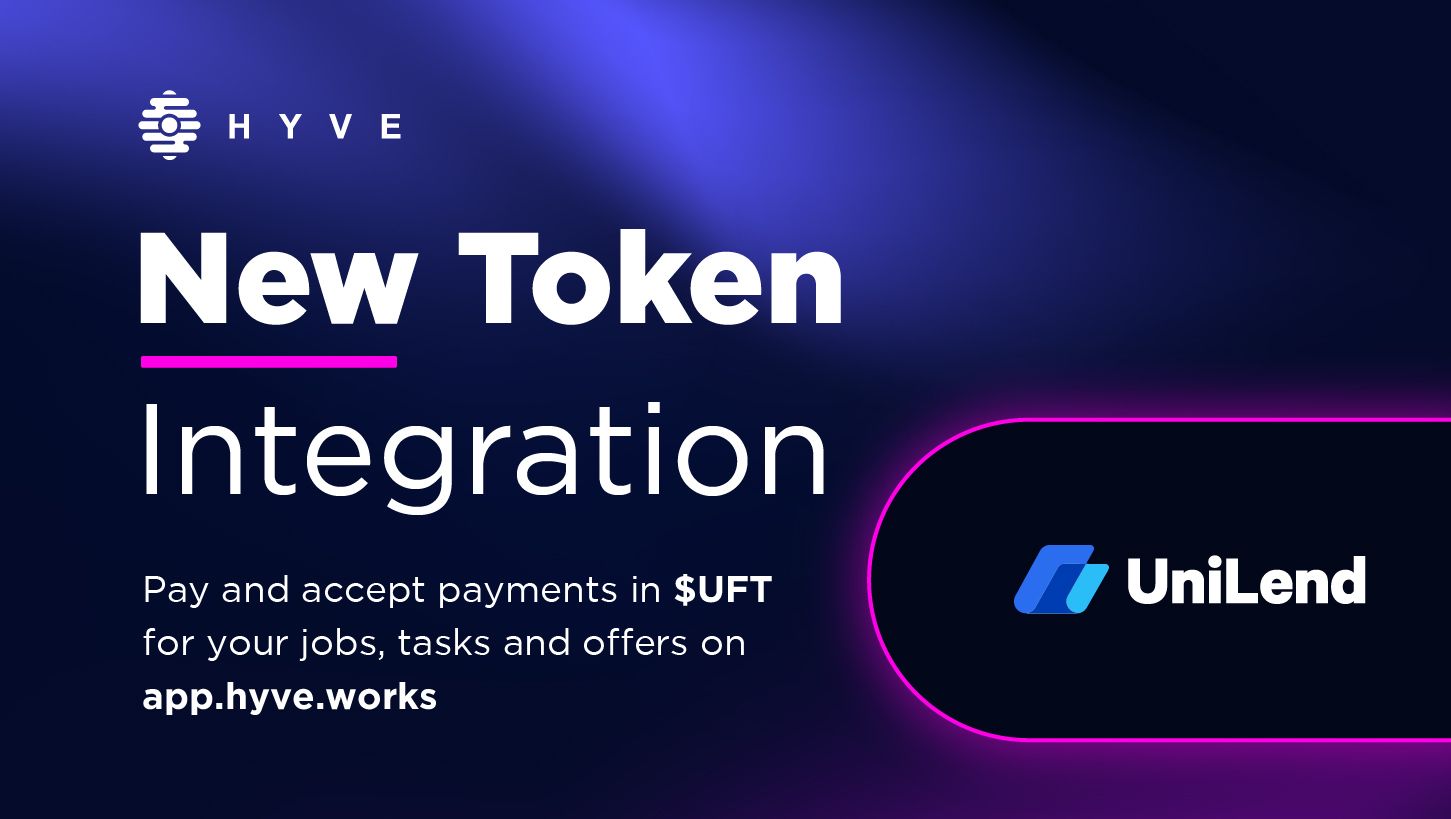 DeFi undoubtedly revolutionized the blockchain space, allowing enrichment opportunities for anybody. Interest for DeFi is still high, even if we are in tumultuous times currently. Nevertheless, DeFi is the future and will impact traditional finance, which is why our freelancers are heavily interested in this topic. For this reason, we are excited to announce the integration of our latest token: $UFT from UniLend Finance!
Revolutionizing the DeFi space through UniLend Finance
Get ready for the future of DeFi, UniLend Finance is here! A multichain permission-less lending and borrowing protocol for all ERC20 assets. What more could you wish for?
UniLend offers a comprehensive set of cutting edge DeFi services. The platform offers permissionless lending and borrowing functionality for all tokens. Users can enable their token's functionality for lending to get an interest rate and borrowing to pay an interest rate. The flash loan feature facilitates uncollateralized loans, arbitrage opportunities, and collateral swaps. With version 2 of the protocol, UniLend brings the dual asset pools for lending & borrowing with price feed oracles and gas optimization.
Introducing UniLend Finance's Native Token $UFT
UniLend's native token UFT (UniLend Finance Token) is the centre of UniLend's Ecosystem. The functions of UFT will assist UniLend and its decentralized community in revolutionizing the decentralized finance space. The token has multiple use cases for governance, platform utility, and much more.
UFT is a highly liquid asset available for spot trading on various popular exchanges. UniLend's UFT is listed on more than 17 major centralised and decentralised exchanges worldwide including Binance, Huobi Global, WazirX, Probit, Uniswap, AscendEX, Gateio, CoinDCX, MXC, Quickswap, SushiSwap, BalancerLabs, Hotbit, Dfyn, Bithumb, Bilaxy and more.
ETH: 0x0202Be363B8a4820f3F4DE7FaF5224fF05943AB1
Coming up next on HYVE…
HYVE is evolving daily through new token integrations, new partnerships, enhancements, improvements, and we could not be any happier! Last but not least, we want to inform you that your unending support of our business does not go unnoticed. Our team at HYVE would like to thank you for continually choosing us. We strive to pay back your support tenfold, thus make sure to keep an eye out for future competitions and giveaways.
Disclaimer
The information provided does not constitute investment advice, financial advice, trading advice, or any other sort of advice, HYVE does not recommend that any cryptocurrency should be bought, sold, or held by you. Please do your own risk assessment when deciding how to invest in cryptocurrency and blockchain technology. HYVE is not liable for investment gains or losses.
🐝 Want to learn more about HYVE?
🐦 Follow us on Twitter.
🗨️ Join our Telegram Group.
Want to learn more about UniLend Finance?
🐦 Follow them on Twitter.
🗨️ Check out their Reddit.
🗨️ Join their Telegram Group.
🗨️ Follow them on Instagram.