New Token Integration: $UQC is being added to our payment system!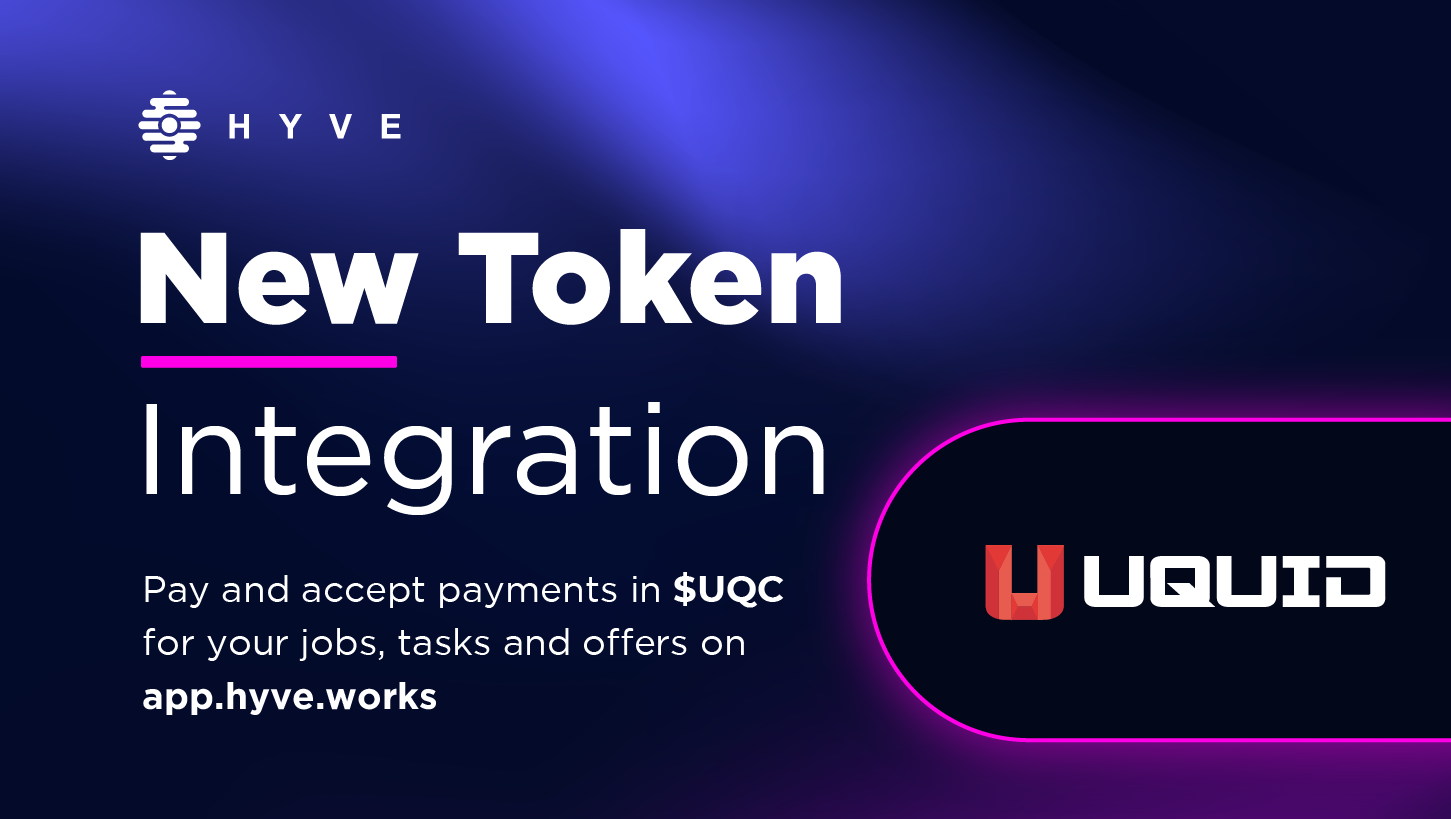 Rise and shine, dear HYVERS! As you may have noticed, we are integrating tokens coming from projects, which have a wide array of utilities, with the hope that HYVE's ecosystem will enable you to make payments in any cryptocurrency you desire.
Do you consider retail therapy effective and have a deep interest in cryptocurrencies? Well, this week we are integrating $UQC, part of the UQUID project that combines these two, being the first smart shopping market in Web3.0 & the Metaverse, with millions of products.
Find out about the Amazon shop of crypto, UQUID!
UQUID aims to establish a bridge between DeFi and e-commerce through Defito, a new ecosystem featuring concepts that haven't been introduced in the retail sector before. With more than 85 million physical products, digital products, NFTs listed and comprehensive shipping services to over 150 countries worldwide, Uquid is confident in bringing users the best Shop-to-earn experience.
The UQUID marketplace is your go-to web3 e-commerce platform accepting flexible and convenient payment methods including cryptocurrency, fiat or wallets.. UQUID is willing to integrate with other blockchains to broaden the DeFi shopping network in near future. In addition, UQUID has also introduced "Buy Now and pay later with Crypto" for the first time, meaning that the UQUID Pay system will allow users to split payments flexibly into 3 installments within 3 months without paying any additional fees!
In addition, UQUID followed the hot trend of NFTs to create a marketplace, to allow artists to list their pieces just like on Opensea or Foundation. The difference is that UQUID supports free mint and list fee for users, so if you are an NFT enthusiast give that a try too!
Shop 'til you drop by investing in $UQC!
$UQC is a decentralized virtual currency based on the ERC20 - a token developed on the Ethereum blockchain. The goal of this asset is to supplement the development of the UQUID ecosystem in protecting the user's information and provide liquidity. For various payments for support users, $UQC collaborates and allows more than 10 tokens such as $BTC, $BNB, $BUSD and $GAS to pay the transaction.
The UQUID system provides value-added services for digital assets linked to the traditional economy, but are far more efficient and cheaper for the consumer. This type of cryptocurrency lowers the risk of coin price volatility and raises the token demand. Investors in UQUID Coin will benefit from instant liquidity at a 0% risk trading environment.
Connecting to the contract address will help buyers enjoy the extra benefits of smarter shopping features such as shopping mining, staking points, or receiving rewards and new tokens airdrops from merchants. That being said, save the contract address in your wallet for the next time you are on the run for a new pair of jeans, or pay with $UQC on our platform!
ETH: 0x8806926ab68eb5a7b909dcaf6fdbe5d93271d6e2
What's up HYVERS?
HYVE has been working on some new things recently. We have partnered up with JRNY Crypto, one of our most trusted advisors, to help him out on launching a successful NFT analytics platform. Our experienced team has already proven that we are more than capable of developing and maintaining an incredibly successful freelancing platform, therefore we wanted to lend out a helping hand in turning this project into a reality.
We will not stop with token integrations, as we plan to reach 100 by the end of 2022. Moreover, considering the recent market turmoil, we want to assure each and every one of you that HYVE will continue to build and improve. For this reason, we have created a new initiative, the Web3 Job Alliance, which will help disgruntled professionals affected by recent events, to continue their careers within the blockchain and crypto space. Head out to our social media channels for more information!
Disclaimer
The information provided does not constitute investment advice, financial advice, trading advice, or any other sort of advice, HYVE does not recommend that any cryptocurrency should be bought, sold, or held by you. When deciding how to invest in cryptocurrency and blockchain technology, please do your own risk assessment. HYVE is not liable for investment gains or losses.

🐝 Want to learn more about HYVE?
🐦 Follow us on Twitter.
🗨️ Join our Telegram Group.
🛒Want to learn more about UQUID Coin?
🐦 Follow them on Twitter.
🗨️ Join their Telegram Group.